Climate scientists: 'No new gas drilling in the Wadden Sea'
The government should not allow any new gas drilling in the Wadden Sea. That urgent appeal is made by hundreds of scientists in a letter to ministers Jetten (Energy) and Van der Wal (Nature), and state secretary Vijlbrief (Mining).
The scientists, some 400 experts on nature and the environment, fear irreparable damage to nature and the environment and possibly a financial trap for the government.
The government will decide in a few weeks whether to allow new drilling, spokesperson and Radboud microbiologist Marjan Smeulders adds to the letter, written on behalf of action group Scientists4Future. 'These permits should not be there', she says on the phone. 'They are contrary to government targets to limit global warming to a degree and a half. It is strange if you then start drilling new gas fields.'
Nursery
Equally important, she continues, is that gas drilling can cause serious ecological damage. There is a good chance that the seabed will subside, causing less mudflats to dry at low tide. 'Dry spots are crucial for mudflats that forage for food there. Their ecosystem will be disrupted.' The same applies to eelgrass, which only grows at specific depths in tidal areas and has an important nursery function for fish, for instance.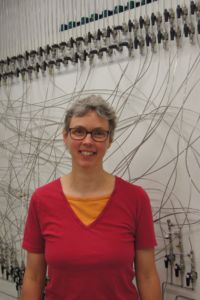 Smeulders: 'It was only last year that the Wadden Academy wrote about how this poses legal problems. The Wadden Sea is a Natura2000 area and is on the UNESCO world heritage list. We, as a country, cannot treat our own heritage badly and then scold other countries for allowing large-scale deforestation, for example.'
Risky
Finally, it is economically risky to build new gas fields, with all the infrastructure involved, the letter writers argue. Such a new field must be able to supply natural gas for at least 20 years to be profitable, says Smeulders. 'There is a high probability that the European Union will ban gas extraction within that period. You can well imagine that gas companies will then lodge billions of claims with the government for lost income. It would be much better to put that money into the energy transition.'
'I miss the urgency there was during covid'
Therefore, the alternative lies in sustainability, according to the letter writers, so that more gas is not needed at all. Citizens and housing associations should insulate their homes, businesses should switch to electricity or hydrogen for their energy supply.
Improvised solutions
The question is whether these measures are enough to go completely 'off the gas'. The loss of gas from Russia already calls for quick and improvised solutions, such as the rapid construction of floating terminals to import liquefied gas from America. Pumping gas may remain necessary for a while, Smeulders also acknowledges, but it makes more economic sense to do so only at existing, small fields at sea.
Smeulders would rather see the government show much more ambition, so that gas drilling becomes completely unnecessary. 'That does require the government to take more action. I miss the urgency that comes with that, which we did see during covid.'
This requires hard choices. 'A company like Tata Steel might be better off in Scandinavia, where they have hydropower plants as an energy source. And how necessary is it for greenhouse horticulture (a major consumer of natural gas, ed.) to also grow flowers in winter?'
Citizens' councils
The government should put all these questions on the table, the microbiologist believes, in order to discuss them society-wide, for instance through citizens' councils. 'Within those councils, you can also discuss how the government can support companies that suffer losses due to the energy transition. That increases support for measures.'
As of now, there has been no response to the letter from The Hague. Should things remain quiet, action group Scientist Rebellion (loosely affiliated with Scientists4Future) will demonstrate in The Hague next week.
Translated by Jan Scholten