Four Days Marches blog (4): The day that was too good to be true
Vox-employee and student Isabelle Geoffroy is going to walk the Four Days Marches this year. For the first time. During the week, she will keep a diary in which she will reflect on the 160-kilometer journey. Today, her fourth entry: after the heat, comes the rain
Starting today's walking day was easy. My legs felt good when I approached the starting point, and the temperature was a lot lower than it had been yesterday. My second walk was off to a great start.
The first 20 kilometres were nice, comfortable, and fun. My friend and I were laughing through the first hours, and it felt like our fellow walkers were feeling the same. Around the midpoint, we decided to take a break, take our shoes off and eat some food. I am glad we did.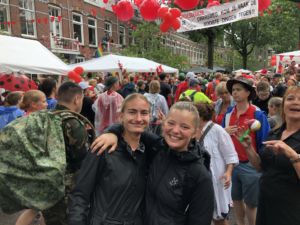 By the time we continued, the rain had started – and so did all the hills. I am not exaggerating when I am saying that I have never been so wet in my life. I was almost afraid to end up with permanently pruney fingers (don't worry, they're all good now!).
Despite the rain, my friend and I kept the good spirit with which we had started up. By the time we had 10 kilometres left, I started to feel the walk in my legs. But it didn't matter too much, because the end was getting closer and the rain was getting lighter.
'I was almost afraid to end up with permanently pruney fingers'
Right when my feet started to burn, a sign appeared telling me that we 'only' had 2,8 kilometres left to go, and before I even realized it, I was back in Nijmegen. My friend and I walked the last bit arm in arm, our smiles bigger than ever before. The second day was done. Once I arrived back home, I checked for blisters, but still none… Should I fear the final day?
To read Isabelle's blogs of day 1, day 2 and day 3 of her Four Day Marches journey, click the links.