Happy holidays (4): St. Patrick's Day
Every country has its own celebrations. But what is it like to celebrate a traditional holiday far away from home? International students and staff members often find the answer to this question during their time in Nijmegen. This time: St. Patrick's Day.
It's five p.m. on a Friday evening and Sophia Cassidy-Eulitz has gathered her mostly Dutch friend group to celebrate. The Irish student has called everyone together for a special occasion: St. Patrick's Day – just this year in Nijmegen instead of Ireland.
'It is a holiday to celebrate the Irish patron saint St. Patrick,' Cassidy-Eulitz explains to one of her friends after arriving at the busy Irish Pub in the city centre. 'He was the one who drove away all the snakes from Ireland.' For the 24-year-old Medical Biology student, it is the first time celebrating St. Patrick's Day while living in the Netherlands. 'Last year, I did spend time with my friend group as well, but it was more of a hang-out than an actual St. Pattie's celebration.'
Green and Guinness
At first, everyone is dissecting each other's outfits. Or, more precisely, the right colour thereof. Not many of the friends are wearing green. 'I struggled to find anything green to wear in my closet,' says Cassidy-Eulitz. Her friends had a similar problem. But according to the host, wearing the traditional colour is not necessarily a must: 'Whether you are dressing in green is actually really dependent on an individual person.'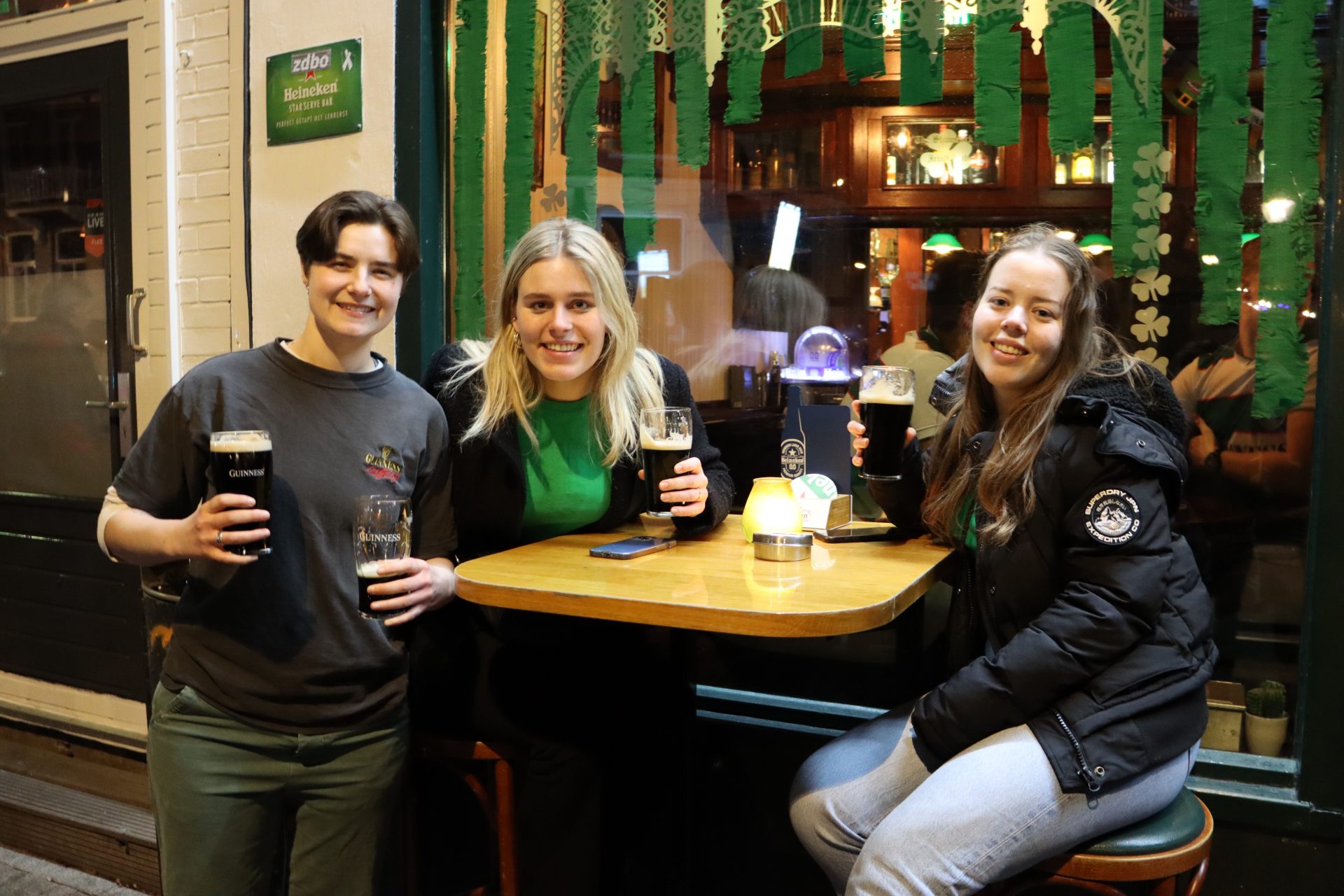 While green clothing might be something that is not seen on everyone during St. Patrick's Day, drinking copious amounts of Guinness beer definitely is a common occurrence. Around 13 million pints of the drink are consumed worldwide on St. Patrick's Day alone. Cassidy-Eulitz does not seem too surprised: 'I love Guinness.' When she receives her first glass of the drink, she introduces a little game called 'splitting the G': 'In Ireland, we usually drink the first sip until the G in the Guinness logo is split by the beer. That is a lot of beer all at once, even if it doesn't seem like it.'
'In a way, it's like King's Day in the Netherlands'
'In Ireland, we usually get the day off. Primary schools and organisations usually do some shows and performances during the day that everyone can go and watch.' Cassidy-Eulitz looks a bit mischievous when she says: 'We also start drinking early. Pubs are not allowed to sell alcohol to take away until a certain time to try and limit that.' She adds: 'In a way, it's like King's Day in the Netherlands; you wear orange and day drink, we wear green and day drink.'
Difference
According to Cassidy-Eulitz, there is quite a difference between celebrating St. Patrick's Day in Dublin versus in a small village somewhere. 'Dublin is, of course, much bigger and more touristy. In Cork, where I am from, it's not as busy and rowdy.' Local differences also affect the beer consumed: 'Guinness is more of a Dublin drink in Ireland. In my region, you should also try a local drink like Murphy's, otherwise; people might think you're a tourist.'
And how is it to celebrate St. Patrick's Day in the Netherlands? According to Cassidy-Eulitz: different from home but a lot of fun. She gets to share her traditional holiday with her good friends from Nijmegen. And the friends in question seem to enjoy the Irish holiday as well. While some were expecting more green clothing in the pub, everyone was happy sharing beers and learning more about the Irish version of St. Patrick's Day. And what better way to learn than to celebrate into the early hours of the night with an Irish by your side?