ICT specialists are in the eye of the storm
At the start of the coronavirus crisis especially, ICT specialists and other support staff were overwhelmed with requests. Now that students and staff have gotten used to working and studying remotely, a new work tsunami is appearing on the horizon of the ICT staff. How do they manage?
What do you do as ICT helpdesk assistant when the phone won't stop ringing and requests keep pouring in? 'Mostly, you try to remain calm,' says team leader Ferdinand Pol. In any case, that's what he advises 'his team'. One of the men in question is Willem Seton, who answers phone calls from Radboud University staff. At the onset of the coronavirus crisis, the number of requests doubled, reaching 850 phone calls a week. Seton: 'We had to increase our efforts.'
'We had to increase our efforts'
The same thing happened to the local support team, says team leader Nicolette Hollands. This team helps staff members with offices on campus when they cannot get remote help from the helpdesk. Since the start of the coronavirus crisis, the support team has also been responsible for making sure that staff members have access to the equipment they need to work from home. Hollands: 'Last year, we issued 1500 loan contracts, twice as many as in the previous year. These were contracts for laptops and telephones; I'm not even including other equipment, like headsets, webcams and monitors.'
Cloud
The coronavirus and working from home have upped the pressure on an already high workload, says Nico ten Brink, ICT application manager and member of the Works Council. 'We had a few projects going at the time, including the new Microsoft 365. This system allows us to move a lot of things to the cloud, and it makes online collaboration much easier. Because of the coronavirus, these projects have gained a lot of momentum.'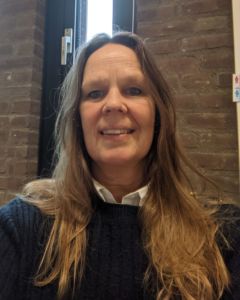 All the projects are urgent, explains Ten Brink. For units like the helpdesk and Hollands' local support team, the coronavirus crisis has only added to the sense of urgency.
Hollands concurs: 'Nearly every incoming email is tagged as urgent. We know people need help as soon as possible, but we have to set priorities. Who comes first? Someone who has to teach needs us more than someone who wants a new monitor for their home office.'
'Nearly every incoming email is tagged as urgent'
At the ICT helpdesk too, some tasks have had to make way for other projects or urgent requests, says Seton. 'Staff members mostly had problems with the VPN connection.' This connection makes it possible to work from your home computer as if you were on campus. 'Things go wrong if people forget to switch off the connection when turning their computer off.' In cases like these, the helpdesk staff have to reset the account. 'Last week we talked to the desktop engineering team (one of Hollands' teams, Eds.) to see whether we can write a programme to allow people to reset their accounts themselves,' says Seton. 'We'd like people to become more self-reliant.'
Automation
Ten Brink believes that automating processes might ultimately reduce the work pressure. 'Automation makes work much more efficient, leaving more time for other tasks.' He thinks that applications in the cloud and Microsoft 365 will in the long run also contribute to this shift. 'Ultimately, we'll be outsourcing part of our maintenance.'
In the short run, the introduction of a new system actually creates a lot of extra work. 'Organisationally, it's a huge job,' says Ten Brink. Identity Management staff are working hard to enter new email addresses into the system, so students and staff members can more easily log into various programmes and systems. Not that users are very enthusiastic about these developments at first, says helpdesk team leader Pol. 'People need to get a new account. Sometimes problems arise, and they need our help.' He's bracing himself for a new wave of phone calls.
'Working from home gives staff members more control and autonomy'
'We're in quite a stable period now,' Pol continues. 'In terms of work pressure, I'd say we're at 120% of the pre-coronavirus level.' It creates a bit of breathing space before the introduction of Microsoft 365.
Hollands' local support team is also navigating through calmer waters. 'We did have to put a temporary stop on order requests at the end of last year. This pause has given us the space to catch up on the backlog,' the team leader explains. But the local team also sees a new wave of work heading its way. 'Once the coronavirus crisis is over, everyone will come back to campus. They'll have to hand in their equipment; some of them might want to keep a home office alongside their office on campus.' Not to mention the new Maria Montessori building, which will suddenly fill with users.
High work pressure is part of the deal in ICT, says helpdesk assistant Seton. 'ICT is always dynamic and growing, so we know how to deal with work pressure.' The helpdesk team is a close-knit group, which relieves a lot of the stress. 'We work closely together,' says Seton. Even now, with everyone working from home, this bond remains strong.
Especially among support staff, this kind of solidarity is crucial, Ten Brink agrees. 'The fact that people can't work on campus right now is a challenge in this respect.' But he also sees lots of advantages in working from home, especially when it comes to work pressure. 'It gives staff members more control and a form of autonomy. They can organise their time to suit their needs better.'
Aware of the problem
Pol predicts that work pressure will have dropped a little by the end of the calendar year. Works Council member Ten Brink is less optimistic: 'I think the pressure will remain high for at least another two to three years. Concerns about security and privacy will only increase in future, and communication between various ICT departments will become increasingly important. Such things are difficult to organise during the coronavirus crisis.'
He thinks there are no concrete solutions to this. 'The Executive Board is aware of the problem. People tend to think that the support staff are under less work pressure than the academic staff. I hope this group is not forgotten.'
Work pressure dossier
'People are collapsing,' was a statement made by members of the participational bodies earlier this year at a Radboud University Joint Assembly. The personnel survey previously showed that the already high work pressure on university staff had increased further as a result of the coronavirus crisis. This week Vox is exploring what this means in practice through a series of interviews with among others schedulers, ICT specialists and researchers.