If sports are a basic necessity of life, home isolation is extra difficult
The coronavirus has brought the entire world of sports to a standstill. Students taking part in sports at the highest level are suddenly stuck at home all day. It's a huge contrast with the busy lives they normally lead. How are they coping? 'When volleyball stopped, my world honestly just fell apart for a moment.'
Gosse van der Meer (24) – cyclo-cross rider and student of Geography, Urban Planning and Environmental Sciences
'It's unclear when the competition will begin again, both nationally and internationally. I am personally going to assume we won't be cycling before September. That gives me clarity and peace. I'm still training now, but at a lower intensity. Cycling is my passion and I have to stay physically fit.
Not only that, but like every competition rider I'm looking sideways at my competitors. I'm thinking that everyone in France and Italy is obliged to stay indoors. No-one can train. So, if I keep training now, I'll have a head start.
Now that all the races have been cancelled for the upcoming months, I'm feeling the pinch financially. Most of my income comes from starting fees, prize money, things like that. I had races scheduled in the next few months in countries like France, Scotland and America. And I was supposed to be going to China at the end of August. I've built quite a good name for myself there now. Those are great trips. I can't say otherwise.
As a student competing in high-level sports, I lead a busy life. In that respect, the current corona outbreak creates peace. Plus, it's about time I completed my Bachelor's. This is an opportunity to do that. If I prioritise my studies in the upcoming period and put them before cycling for the first time ever, I'll be able to graduate before the summer holiday.'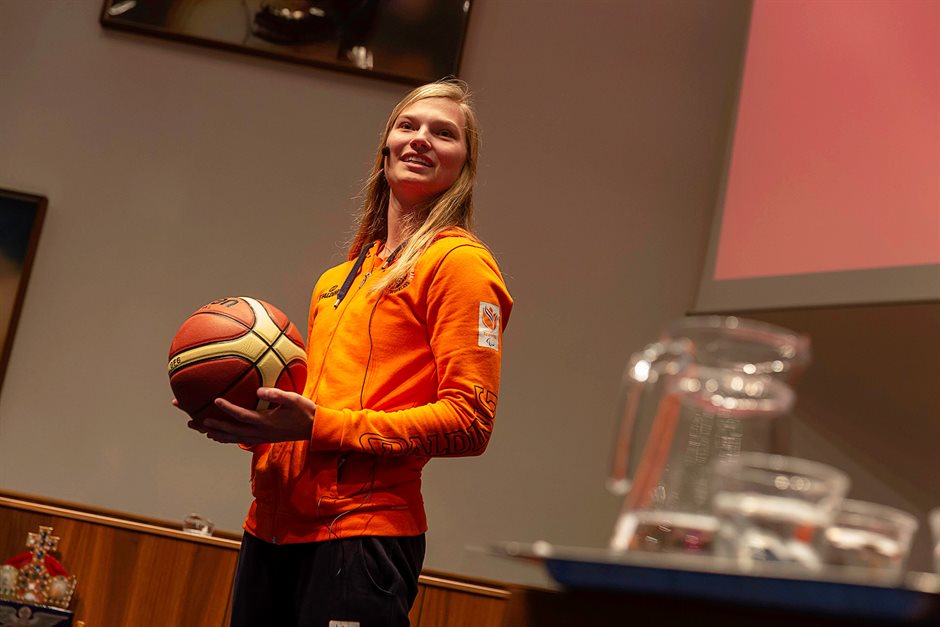 Julia van der Sprong (20) – wheelchair basketball player and student of Business Administration
'For me, last year was all about the Paralympic Games in Tokyo. And obviously I'm really disappointed that they've been postponed for a year. But I do understand the regulations. Health comes first.
However, it has changed my plans drastically. I had actually arranged for a break in my studies now in order to completely focus on the Games. Now I'm focusing more on my studies instead.
I've also moved back in with my parents, because the Papendal Olympic Training Centre is closed. That makes life a lot more boring. I watch a lot of Netflix these days. It also takes some getting used to suddenly not seeing my teammates anymore. I trained with them every day and even shared accommodation with some of them. Luckily we're all in the same boat and we're a close-knit team. We talk a lot on social media and motivate each other, for example by sharing workout photos.
I follow a workout plan at home to stay physically fit, although it's hard to stay motivated now that the season is almost over. You start to wonder why you're bothering. Still, I'm making the most of it and keep up my training, two hours every day. I do exercises with elastics and weights or I ride around in my wheelchair. Also, I've found a game on PlayStation which lets you copy dance routines: 'Just Dance'. I've noticed it's a great way to keep in shape, ha ha!'
Leon Luini (19) – Volleyball player and student of Economics and Business Economics
'The cancellation of the volleyball season also meant leaving my teammates and my accommodation at Papendal. I was already working on my final season there but now I had to leave earlier than expected. It all happened very fast. I had two days to move everything out of my room and I didn't get a chance to say goodbye to everyone. That really gets to me. Now I'm back living with my parents. After the crisis is over, I'm definitely coming back to say goodbye properly.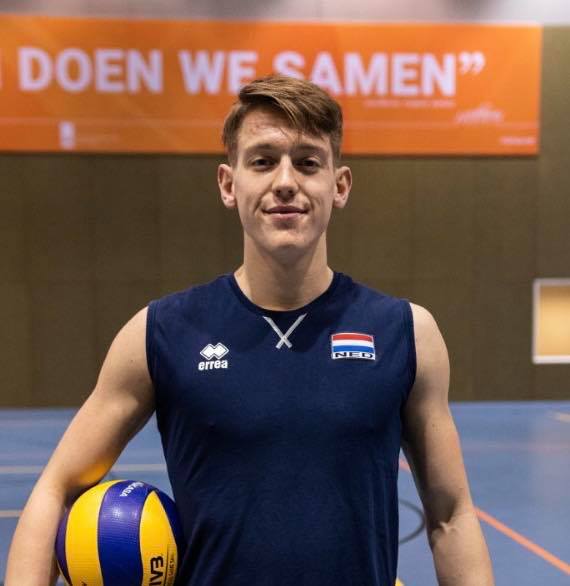 During normal times, my life revolves entirely around sports. My world honestly just fell apart for a moment. Sports are a basic necessity of life for me. I usually train for five hours a day.
Luckily, I can still do a lot at home. I do strength training in the garden and work on other aspects of the game, such as technique. There's less time for that at group training sessions, where it's more about achieving and scoring points.
I expect to be able to play for a major league club next season. I don't know exactly where yet. The financial situation and the future for the clubs are uncertain too. So first I'm focusing on the European Championship U22 beach volleyball in Vlissingen, which was scheduled for this summer but has now been postponed until September. We'll see what happens next after that.'