Marketing man Pim van Zanen and his doom metal career
Pim van Zanen, Director of Marketing & Communications, dusted down his guitar and started playing again this year. After 25 years, he and his old band Celestial Season threw themselves once again into doom metal. The result was a new album.
'A fantastic highlight in these crazy times,' is how metal magazine Aardschok described the new album The Secret Teachings by the Dutch band Celestial Season (November 2020). The reviewer continues: 'Even before hearing the new album, I felt slightly euphoric looking at the line-up of familiar faces from those early years, including Pim van Zanen on the guitar (yes!)…'
This is who this story is about: Pim van Zanen. Radboud University staff members may know him as the marketing man behind the 'You have a part to play!' campaign. You may have seen him rushing through the Berchmanianum in his immaculate white shirt on his way to his 34th meeting of the day. But Van Zanen is leading a double life: in the evening he goes wild on his guitar and fills his living-room with dark doom metal.
Lowlands
His love for hard rock predates his love for marketing. While still a Communication Sciences student, Van Zanen joined the band Celestial Season. The band was quite popular: as the Dutch variant on iconic doom metal bands like My Dying Bride and Paradise Lost, the musicians played at various festivals in the 1990s, including Lowlands. Their album Solar Lovers sold 30,000 copies worldwide. Fans sporting a Celestial Season T-shirt could pop up anywhere in the world, from a metro station in Russia to a deserted village in the Peruvian countryside.
'Apparently, you can simply pick up where you left off, even after such a long time'
Following two doom albums, the Nijmegen band switched to stoner rock. The screaming singer was replaced by a pretty boy with a slightly more accessible sound and the gothic violin and cello slowly faded out of the new sound. This shift was not to everyone's liking. Some fans lost interest in the mainstream rock and cherished the two original albums like their own children. In 2002, the band ceased to exist. The chemistry was gone and the band members were busy with jobs, relationships and having children.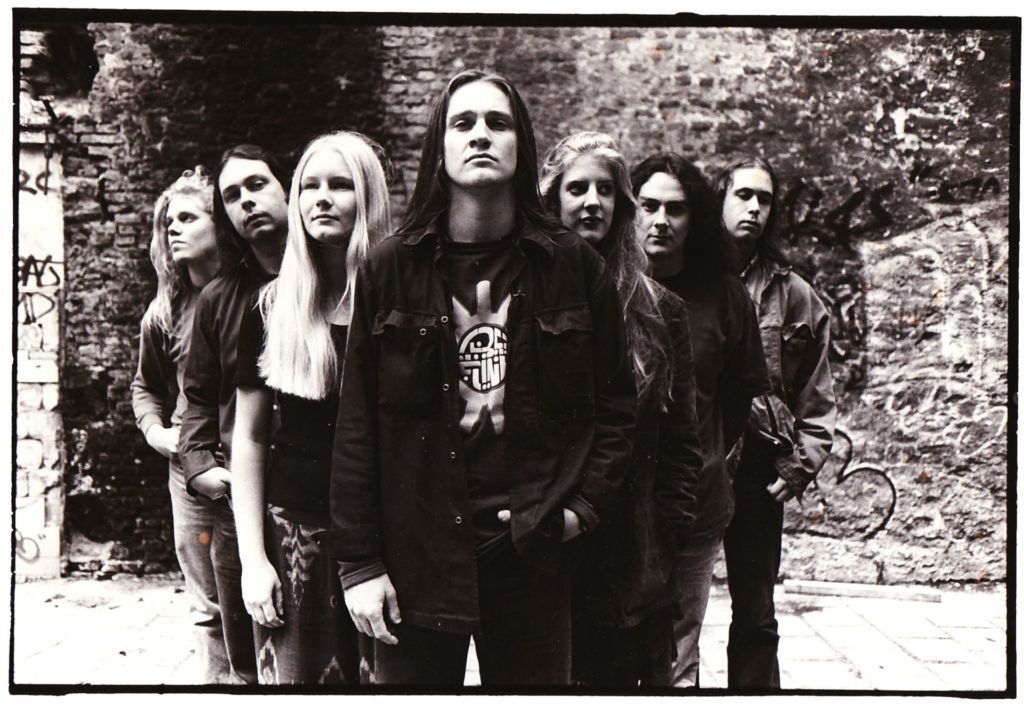 Old vibe
Until late October of the turbulent year 2020, when a new album by the 'old' Celestial Season made its appearance. Complete with grunting singer and melancholy string instruments. To what do we owe this resurrection?
'It was the drummer's idea', says Director of Marketing Pim van Zanen at the end of a long working day at the University. 'He thought it would be fun to get the band back together after 25 years.'
What is remarkable, says Van Zanen, is that everyone immediately said 'yes', including the singer who had left at the time in a bit of a huff. And equally remarkably, the old vibe was there straight away. 'Apparently, you can simply pick up where you left off, even after such a long time,' says Van Zanen. 'I always clicked really well musically with the violinist, and I felt this again straight away. It really felt like old times to play together again.'
Because of the 1.5 metre rules – who'd ever heard of such a thing 25 years ago – the band members couldn't meet at the studio to record their new album. As a result, Van Zanen had to play some of his guitar riffs at home. Not that you can tell from listening to the album. At the time of writing this, Spotify counts 40,000 streams.
Fans
Van Zanen finds the fans' reactions heart-warming. People from all over the world write to let the band know how they've missed Dutch metal. 'Some say they had tears in their eyes while listening. We also released the new album as a boxset, together with our two earlier doom albums, under the name The Doom Era. It sold out in no time.'
Will the album be followed by a tour? It's not clear yet, says the 45-year old guitarist. If you want to perform on stage these days, you have to put together a really slick show. And this requires at least six months of intense rehearsals. It's unclear whether the musicians have time for it and whether the pandemic will allow it. He laughs: 'Also, we're all 25 years older. We'd have to think carefully about maybe creating a light show, so the audience doesn't have to stare at a bunch of mostly old men.'
For Van Zanen the new album represents in any case a rediscovery of his first love. He had almost forgotten how freeing it was to play guitar. 'Music is such a great way to work through your emotions. When you play all your worries disappear. Music adds an extra dimension to life.'
After all these years, he once again dares to call himself not only a marketing director but also a musician. 'I find it enriching.'