Microbiologist, who was previously arrested at a climate protest: 'The worst part is that it must be done'
Yesterday, microbiologist Marjan Smeulders offered a letter on behalf of concerned scientists to members of parliament about new gas drilling in the North Sea. She believes that scientists have a duty to make themselves heard in the climate debate. On Sunday, she will participate in the Climate March. 'When I saw the queues at Schiphol Airport, my heart bled.'
For the first time in her life, microbiologist Marjan Smeulders (49) was arrested last month. 'The worst part is that it must be done', she says. 'If you don't do it, it won't be in the news.' As a scientist from Nijmegen, Smeulders leads climate actions with the collectives Scientist Rebellion and Scientists4Future NL. Yesterday, the groups presented a letter to State Secretary for Mining Hans Vijlbrief, signed by hundreds of scientists in order to stop new gas drilling in the North Sea. This Sunday, the group will participate in the Climate March in Rotterdam.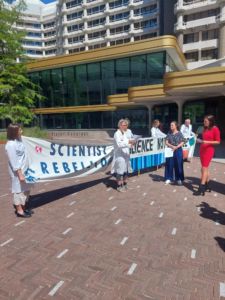 Why are you against new gas drilling? Isn't there an energy crisis going on?
'This only takes us further away from the climate targets. If you allow new gas drilling, you won't have any gas until 2024. Drilling platforms and pipelines have a life expectancy of 25 years. If you want to become gas-free, you have to stop earlier, and companies may then make financial claims that they were promised that they could have drilled longer. You can easily see that this is not going to work and is going to be very expensive. Rather invest money in sustainability, insulation of rental housing and other measures. All the major bodies, from the Intergovernmental Panel on Climate Change (IPCC) to the International Energy Agency (IEA), are calling for no new fossil fuel infrastructure to be built and the Netherlands is doing it anyway.'
This Sunday, the Climate March will take place in Rotterdam. What is at the top of the agenda as far as you are concerned?
'Stop subsidising the fossil fuel industry. The Netherlands, directly and indirectly, gives 17 billion euros per year in subsidies to this industry (the government itself says it's 4.5 billion, but doesn't take many items into account, ed.). Compare that to the 35 billion euros from the climate and transit fund that the government is spending in eight years. You will achieve more by putting an end to those billions in subsidies.'
You are marching in lab coats during the Climate March. Why is it necessary to make yourself known as a scientist at such an event?
'As a scientist, you have a responsibility to do something for society. We hope that this will convince people to do more for the climate. A lot is happening, but the urgency seems to be lacking. We need a social tipping point. Everything was supposed to change after covid, but when I saw the queues at Schiphol, my heart bled. Our collective memory is short, and we do not look far ahead. As scientists, on the other hand, we do look back long and into the distant future. In this case, I can tell you, it is an attack on your peace of mind. As a scientist, you are given the task of serving society. Then you must also call for action to combat pollution.'
'Action must be taken very quickly and that is why I am doing more and more'
Radboud University presents itself as very sustainable. What are your thoughts on that?
'I am proud when I hear that we have been able to save 50 percent on natural gas consumption in a short period of time. A lot of good things are happening. On the other hand, the Executive Board could more actively call on people to join a climate march or sign a letter like today. Together with the Universities of the Netherlands, they have also asked pension fund ABP to invest more responsibly.'
Were you always so concerned about the climate?
'When I started studying biology in 1991, the first IPCC report had just been published, which concluded that the earth was warming up as a result of human activity. In the years that followed, I started to live more consciously. I don't fly anymore, I am vegan, we have made our house climate-neutral, but that is not enough. I think the IPCC reports are very intense. Action must be taken very quickly and that is why I am doing more and more.'
That led to an arrest on May 24. How was that?
'I was well prepared. We knew what we had to do, there was a group of us, and the police acted correctly. We had occupied Hofplein in Rotterdam, near the Shell office. I don't like the fact that I cause an inconvenience to motorists, but the inconvenience of climate change will become much greater if we don't do something.'
'I'm always afraid they'll think: it's her again'
Does campaigning cost you a lot of time?
'Tremendously. I work three days a week at the university. If I had worked higher up, I wouldn't have been able to do this. When I appear in the news as a spokesperson for campaigns, I get a lot of positive reactions from my colleagues. There will probably be others who don't like it. I'm always afraid that they'll think: it's her again. But I just have to do something, and I hope many researchers will join us.'
The Climate March starts Sunday 19 June at 1 pm on the Binnenrotte in Rotterdam. Scientists are invited to join Scientists4Future. Anyone who wants more information or wants to know if Scientist Rebellion or Scientist4Future is a fit for them, can contact Marjan Smeulders.