Record proceeds for RAGweek: 'At a moment like that, you know what you're doing it all for'
Over 55,000 euros. Never before has the RAGweek raised as much money for charity as this year. 'The feeling is indescribable. I was at a loss for words', says chair Jerom den Rooijen.
The amount was revealed on Tuesday evening in Café Van Buren. 'We were stunned', says chair Jerom den Rooijen. 'Not only by the amount, but also because of the awareness and social impact you make with this.'
Inclusivity
The RAGweek is the annual charity campaign organised by Nijmegen students. The overarching theme this year was inclusivity. The record proceeds will be divided between a national and an international charity: the Esther Vergeer Foundation and the Jalihal Foundation.
Esther Vergeer personally addressed the Nijmegen students on a video call on Tuesday evening. Through her foundation, the wheelchair tennis star is committed to ensuring that children with physical disabilities can play sports at a normal club. The money her foundation receives ultimately ends up at the Radboudumc sports clinic. Den Rooijen: 'That way it becomes a bit more local and tangible.'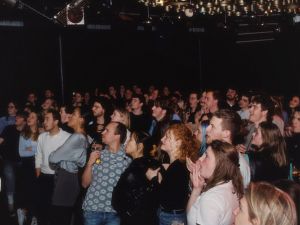 The Jalihal Foundation is planting trees in India with the aim of nourishing the soil. The RAGweek organisers felt it was important to maintain good contact with the selected charities. 'We made a call at three o'clock in the morning to a school in India that benefits from the Jalihal Foundation', says Den Rooijen. Many children from the school could be seen during the video call. 'That gives you energy. At a moment like that, you know what you're doing it all for.'
Not definitive
The proceedings may still increase. For instance, money will still come in from deposit campaigns and a number of associations. Despite these 'extras', the amount is already some 7,000 euros more than last year, 12,500 euros more than the year before and 27,500 euros more than in 2020. Why is it that the amount increases every year? 'The awareness of RAGweek increases every year', says Den Rooijen.
The initiative that raised the most money was the Sexy with Style Board Calendar, for which 36 Nijmegen student boards posed in their underwear. Den Rooijen: 'This is a tradition that always does well. We also do something new every year. For instance, in cooperation with other associations, we now held a big party in Molenstraat for the first time, DansgedRAG. You work so hard to accomplish this and it's great to see how it pays off.'
Translated by Jan Scholten