Student life without parties – and that a year long
Last spring Vox spoke with five students about their lives in a lockdown. At the time they could never have known that now, nearly a year later, they'd again find themselves in a lockdown. 'We said to one another: This will be over in two weeks. We were so naive.'
Marijn Kuipers
Frustrated. That's how Marijn Kuipers (24) can best describe her feelings. Frustrated by the hopelessness, the lack of support, her programme of study. 'They say that everyone can come to the uni once a week, but that just doesn't happen. During my entire Master's year, I haven't had a single lecture at the university. A real shame because I had hoped to meet new people. Now discussions via Zoom are a bit uncomfortable because you don't really know one another.'
For Marijn, the awkwardness is one thing, but what she really dislikes is her resit for statistics. 'I'd put a lot of effort into that subject. And it doesn't help that the lectures are now online even though the teachers really do their best.' If she doesn't pass all of her subjects this year, she won't be able to borrow money anymore from DUO. 'That really causes a lot of stress. I'm very concerned about whether I'll be able to make ends meet.'
'I try not to think about it too much because, if I do, my head spins. The government isn't doing enough to help students even though companies are being financially supported. Consequently, the university can't do much either. Only now that the elections are approaching are politicians suddenly talking about students.'
'Fortunately, I also have a lot to be thankful for,' Marijn said. I can rely on my housemates. We form a sort of big bubble together with our partners.' This includes Marijn's new French boyfriend, whom she met during the first lockdown. But love in a lockdown isn't always easy. 'I'm very happy with him, but I don't want to vent all my frustrations on him.' They travelled together beyond Nijmegen for the first time at Christmas when they visited Marijn's parents on Texel. 'Bizarre, isn't it? That this was the first time. Unfortunately it's going to be a while before I can meet his parents in France.'
Hieke Zoon
During the first lockdown Hieke Zoon (25) temporarily lived with her parents in Culemborg. Now she's back in Nijmegen again. 'My friends came back too, and I was going to do an apprenticeship at the Stedelijk Gymnasium, which is around the corner from my student flat,' Hieke said. 'My housemates also came back, and they're a sort of second family. We play a lot of games and we eat together. I'm especially glad that I have them now that there's an evening curfew.'
When Vox interviewed Hieke last year, she had just decided to do a Master's in Education after her Master's in Environment and Society. She hadn't wanted to give up her student life yet. 'It was a bit of a rash decision,' she said. 'I just didn't want to start working yet.' But the Master's programme proved to be a perfect fit. 'I really enjoy teaching so I'm going to look for work as a geography teacher at a secondary school.'
And student life? 'I don't have that anymore,' Hieke replied. I have a good life, but it's become a bit more serious.' Prior to corona she went for a drink in a café almost daily. 'We recently celebrated the graduation of one of my housemates. And the next morning I thought: Ah yes, that's what a hangover feels like.' She's no longer used to drinking that much and, once life is back to normal again, she doesn't expect to be able to go out every evening. 'By then, I will have graduated and I might even have a teaching job. Pupils know right away when you're tired, and then your lesson is ruined.'
But Hieke has decided to postpone a serious job for the moment. After this current busy academic year in which she's completing two Master's degrees, she wants to sit back and rest for a couple of months. 'If corona regulations permit it, I might move to Vienna for a while. I've wanted to do that for a long time. Work in a coffeeshop and get to know the city.' ​
Floris Boone
Whereas a lot of young people are finding things difficult in this corona epidemic, life for Floris Boone is great. Last spring, he moved to a new room and was thus able to avoid the summer heat in his SSH& studio. 'I enjoy living in this room,' he replied when asked about his studio in Oost.
The biggest change is his new job. Last October Floris (30) finally completed his medical studies and, a month ago, he started working as a primary care physician at the pulmonary section of Radboud university medical center. 'I'm very happy with the job,' he said. 'And getting a difficult case now and again doesn't dampen my enthusiasm.'
'It's made me a lot happier,' he continued. 'Not that I was unhappy when you spoke with me the last time, but now I feel as if I can really do something for people. And my work puts me into contact with other people. Working with colleagues and being able to laugh together also makes a huge difference.'
Floris is all too aware of the fact that he's in a fortunate position. Before starting his job, he was just always at home. 'I really missed having a rhythm; sometimes I stayed awake until 2 am without doing anything at all. What really helped me was to create a fixed routine in my life. That can be as simple as making up your bed in the morning. Things like that help you create a rhythm.'
A nice room, a good job. Is there anything else that would make life for Floris even better? He mentions one thing. 'I'd like to date again, but I don't dare to yet. Meeting women.' It would be the cherry on the icing. 'For now, I'm quite satisfied.'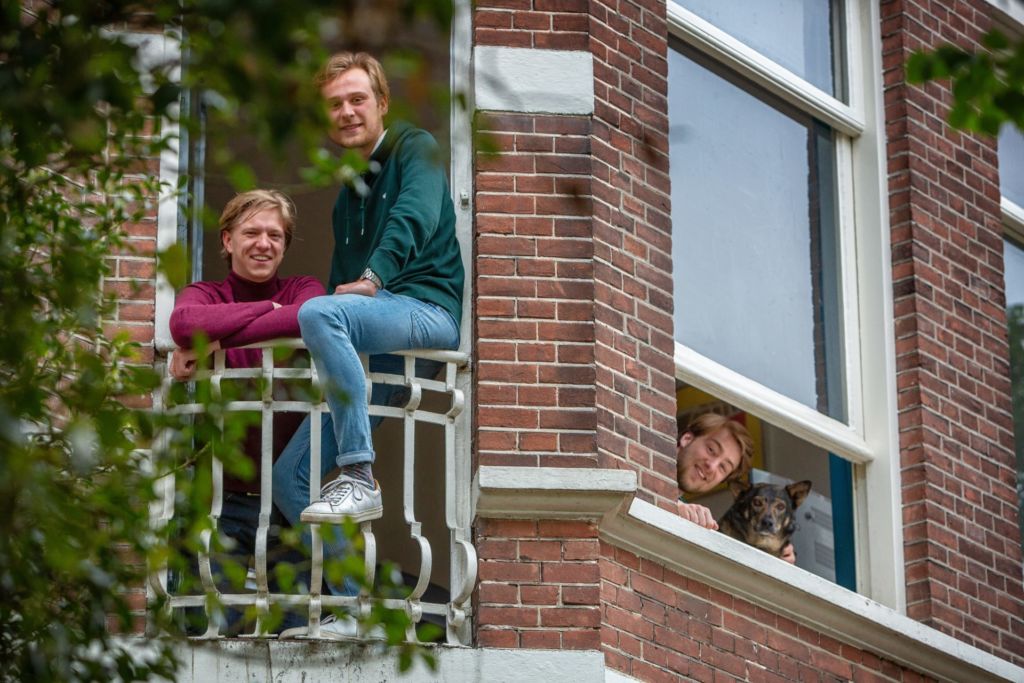 Fraternity villa Olifant
Abel Buijnsters (20) still clearly remembers sitting on the sofa with his housemates in the first week of last year's lockdown. 'We said to one another: This will be over in two weeks. I can still see it so vividly. We were so naïve.' The Political Science student is beginning to be bothered by what he calls the 'corona rut'; he's tired of sitting at home.
Abel is happy with his nine housemates, but sometimes the non-stop drinking sessions in Villa Olifant drive him crazy. 'Every day there are people having a drink.' That's part of living in a fraternity house, but now every day is a 'party' because all the cafes are closed. 'Prior to corona, we used to go into the city for a drink, and then go home to sleep or study.' Some housemates have had enough, Abel remarked. 'They can't stand the social activity anymore. Sometimes they go home to their parents to escape for a while.'
Even though it's busy in the house, Abel still counts his blessings. 'I have friends who don't have housemates. At first I thought they shouldn't complain so much about the regulations, but now I understand how difficult it must be for them.'
The last time that Abel spoke with Vox, he was one of the newest residents in the house. He had to do the worst chores, like clean up the house. Thanks to newcomers, those chores are behind him. He feels sorry for the new fraternity members. 'The parties and the contacts are what makes a fraternity house so much fun, but they only have the miserable things like hazing for new members. All of the fun things have been cancelled. It's really hard for them.' Of the seven potential members who applied to join this year, three have already withdrawn.
As a group, the housemates are trying to keep their spirits up. 'We eat together and we recently had a Carnival party, which was a lot of fun.' Once everything has returned to normal, things will be chaotic for Abel. Many fraternities including Villa Olifant were unable to celebrate their anniversaries. 'Eventually there'll be an anniversary party somewhere every other week for the next half year. Impossible. I have to start saving now.'
Lana van Oostwaard
Lana van Oostwaard (29) is in the flow. 'I did a lot of soul searching this past year,' she explained. The Master's student in Philosophy wanted to do something useful with all of the hours that she had to stay at home because of corona regulations. 'I discovered the power of YouTube,' she said. 'You can listen to interesting podcasts there, take yoga lessons and find inspiration.'
For example, via the video platform she learned the Wim Hof method by which you start the morning with breathing exercises and a cold shower. By trying the method, she stepped out of her comfort zone and that felt good; the cold shower is now part of her morning ritual. 'My boyfriend could hardly believe it because he knows how sensitive I am to cold.'
Lana is devoting the extra energy gained from this new lifestyle to her thesis. The last time that she spoke with Vox, she'd just changed her subject because of the corona crisis. 'I saw the pandemic as an opportunity that offered a lot of research material.' She is now researching the immunity paradox. 'This describes how our obsession with safety causes us to take protective measures that themselves then form a threat to the economy, welfare and society.' Her thesis has to be finished on King's Day. If all goes according to plan, she'll take one subject after the summer and then graduate in October.
After years of struggling with her health because of a burn-out and depleted adrenal glands, Lana is much better now. 'I don't consider myself as ill, but I'm also not completely cured.' It's a long journey, one that she continues to work on. Her 'search for her soul' has at any rate proven fruitful, considering her determination about her future. 'I don't want to go back to what the world was like before corona. I'm hoping for a better world. And I want to contribute to that.' After a two-month break, she's going to look for a job in line with that wish.
And next summer. 'Then I'm going to get married,' Lana beamed. On New Year's her friend recited a poem on bended knee. When they take their wedding vows, it will hopefully be in completely different circumstances than this past summer.