Summer interview (1): Iron woman Olivia Rasigraf
Three years ago, she still smoked. Now microbiologist Olivia Rasigraf (31) is European champion and record holder in an obscure sport called kettlebell snatch. About a Ukrainian immigrant ('Putin is a psychopath') who worked her ass off to succeed.
Five times a week Olivia Rasigraf can be found at the Radboud Sports Centre, waving heavy cast-iron balls around. And every week again, she has to explain to curious onlookers what she is doing. You have to admit that kettlebell snatch, which involves the athlete waving a kettlebell by its handle in one fluid movement above her head, is not the most conventional of sports. In fact, until three years ago, the European champion herself had little idea of what to do with that cast-iron ball. Until then, she had only ever thought of it as a weight for weighing fruit and vegetables, and it wasn't called a kettlebell, but a girya. A memory from her youth, spent on the Ukrainian Crimea.
Nowadays, Rasigraf is a microbiologist. As a postdoc she investigates the impact of climate change on the circulation of specific gases. She also studies microbes that breathe iron the way humans breathe oxygen. While the reaction vessels continue to double undisturbed, she explains to us a number of complicated processes. With great enthusiasm. That's a change from a few years ago. She was spending so much time on her research that her enthusiasm began to wane. 'I was only busy with my PhD and I led an unhealthy life. I smoked too much. That's when I began to exercise.'
'We were only concerned with surviving'
Now when she hangs up her white lab coat and closes the door of the Huygens building behind her, she turns from a microbiologist into a European champion. Or maybe a bit of both, since she is excessively competitive. Has always been. She wants to be the best in everything she does. Although she began training with a kettlebell as a bit of a distraction – she didn't want to get caught in the web of striving for excellence in academic research – here too she now has trouble suppressing her fanaticism.
That inexhaustible drive. It's all to do with her roots, she thinks. Rasigraf is an immigrant and had to overcome quite a few obstacles to succeed. She was determined to succeed. She grabbed all opportunities and was out to show the world. Not for nothing did she work her ass off night after night. She learned German to be able to go to university in Germany – her dream.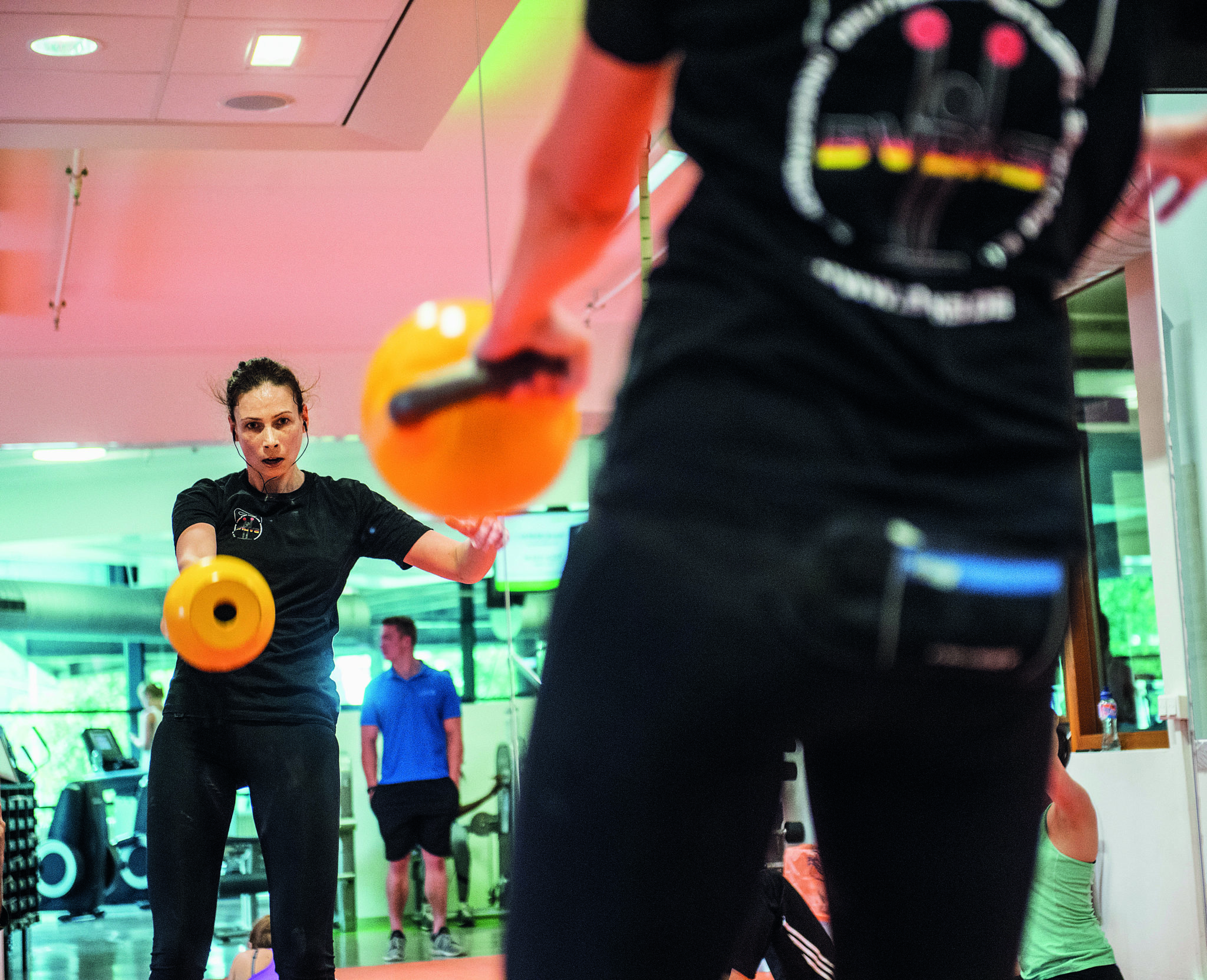 Escape
Rasigraf did not have an easy youth in Crimea. As a young girl she would help her mother on the market while her father worked hard in a milk factory. Most of the money they earned was spent on food and clothing. And that while both her parents were highly educated. In 1979 they had moved from Chelyabinsk in the Ural to Crimea. As a Russian family with German roots, they were not particularly welcome. And neither was Olivia, born in 1985. The fall of the Soviet Union in 1991 did not improve their situation. The resulting economic and political chaos threw the family into poverty. 'In those days, we were only concerned with surviving,' remembers Rasigraf.
Germans in Russia
In the eighteenth century, Catherine the Great, the German-born Russian Tsarina, brought German colonists to Russia. They were given their own villages, and allowed them to retain their own language. During and after World War II, Dictator Joseph Stalin saw the German communities as a threat and dispersed them. Rasigraf's ancestors on her mother's side were deported to Siberia. In the city of Chelyabinsk, where kettlebells are also made, Rasigraf's mother met her father.
Halfway through the 1990s, the family saw an opportunity to escape. A new law was introduced in Germany which made it possible to emigrate if you could demonstrate that you had German nationality. The old Soviet passports of the Rasigraf family were suddenly a godsend. They clearly stated the family's German nationality.
Rasigraf had one problem: she didn't speak any German. And in order to be admitted to university, she had to complete a language test. Her parents sent her to a secondary school where German was taught as a second language. Everything with a view to the future. 'There were so many people with a German nationality. They also wanted to go to Germany, but many of them did not make it. Luckily we did.' In 2002 the family emigrated to the Thüringen district, where they didn't know a soul.
'The first month we lived in a kind of refugee camp. We were given a bit of pocket money by the Red Cross. It was more than we used to earn in Ukraine,' says Rasigraf. Her father, originally an engineer, worked as a garbage collector. In Germany, the family was offered opportunities they had never dreamed of. 'We came to Germany as nobodies, and look at us now: my brother is an engineer, my sister a doctor, and I am a researcher.'
That was no easy task. Even though she had learned German in Ukraine, language still formed a stumbling block at the German secondary school. 'The science subjects were not such a problem, but then… I would suddenly have to read Immanuel Kant; even Germans find that difficult!' Night after night, she sat studying at the kitchen table with her mother, whose German had always been good, and who tirelessly helped her daughter. After secondary school, Rasigraf was accepted at the Friedrich Schiller University in Jena, where she studied bio geosciences. Her objective: a 1.0 (the German equivalent of a 10) for her Master's and an Erasmus grant to study in Nijmegen, because they had one of the best microbiology centres in the world. 1.0: check. Nijmegen: check.
Record
In May of this year, she came in first at the European Kettlebell Championship. She was not at the top of her form at the world championship in 2015 because she was completing her PhD dissertation at the time. She 'screwed up' last year's European Championship by using the wrong tactic. 'I started with my weak hand (the left, eds.), as a result of which I couldn't find my rhythm.' This year, it had to happen. And it did. Winner with 225 snatches, the highest number on record. European champion: check. Record: check.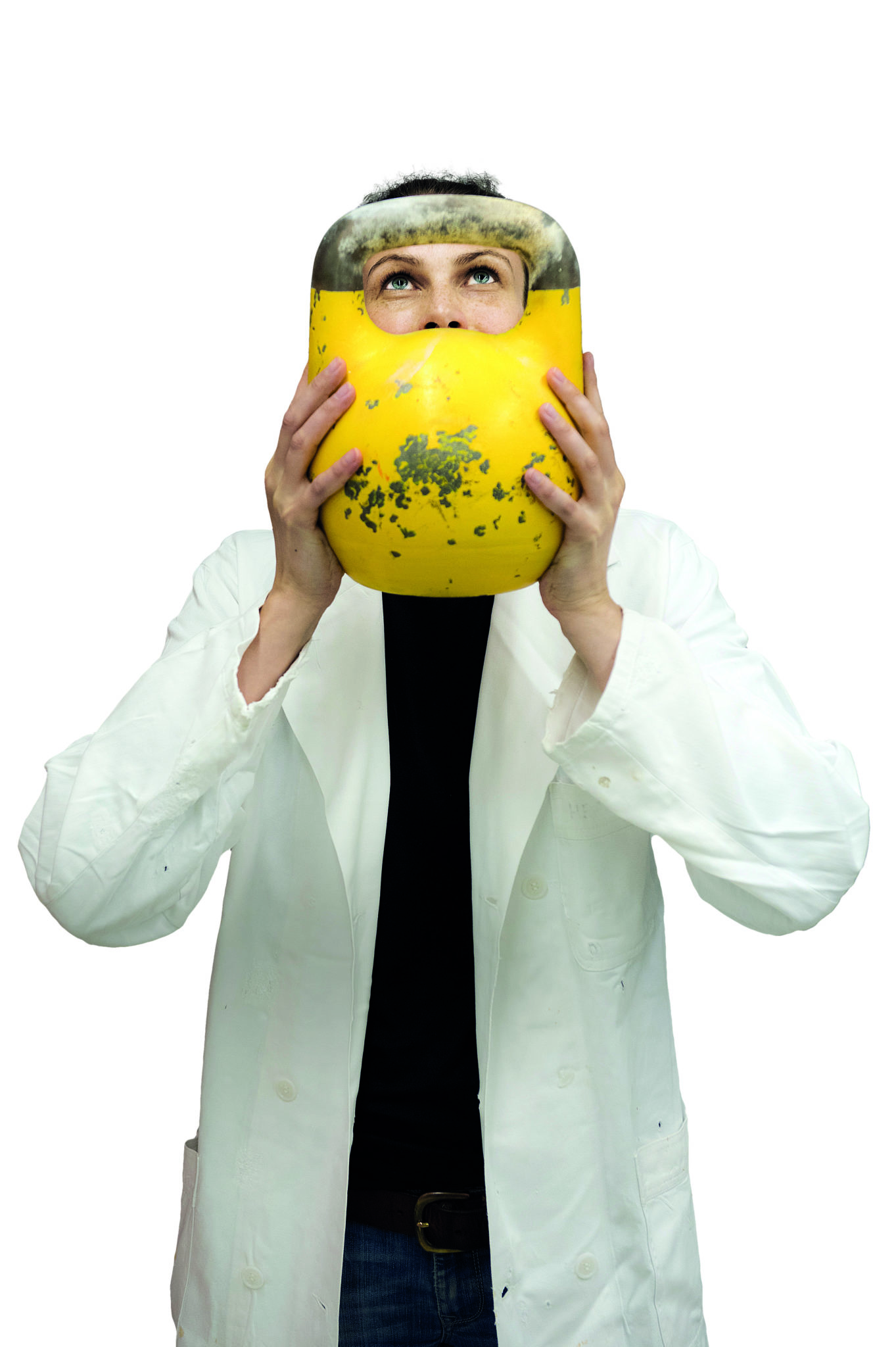 And that while she had never even heard of kettlebell snatch until three years ago. In fact, with the exception of two years of volleyball back in Ukraine, she had never done any sports. Her studies always came first. And yet, sport runs in the family. In her student days her mother was a fanatical athlete, despite her heart problems. 'Sometimes she would cross the line more dead than alive, but there was no question of quitting!'
In the gym of the sports centre Rasigraf saw giryas. She followed a course, and things took off from there. More courses, some international competitions ('I love travelling') and a strict training schedule later she is a European champion.
'I don't believe in double nationalities'
German
In championships the Radboud researcher competes for the German national kettlebell team. Partially because Ukraine does not recognise dual nationalities. But even if it did, Rasigraf has never seriously considered choosing Ukraine. 'I feel German from head to toe, and I don't believe in double nationalities. If you want to really integrate, you have to choose. As far as I'm concerned, the same is true of Turkish people in the Netherlands. You see how complicated it is to have two passports: they remain attached to Erdogan.'
At home, at her parents' place in Germany, the family still speaks Russian. This is due to her father, whose political proclivities go towards Vladimir Putin. He doesn't speak German and only reads Russian media. In this he differs from the rest of his family, explains Rasigraf. Even her mother does not support him. And neither does Rasigraf: she considers Putin to be a psychopath. 'The political system in Russia is corrupt and diseased. But I try to avoid discussions at home.' Despite her competing for Germany, her father is incredibly proud of her. 'Maybe because this is originally a Russian sport,' she says cheerfully.
European champion
Personally Rasigraf doesn't feel much affinity with Russia. 'Aside from being a German, I mostly consider myself to be a European citizen. It's a bad thing that the European Union is crumbling. Many people are not aware of how good we have it. All that freedom. My background has given me a different perspective.' The Russian annexation of Crimea was painful for her to watch. 'I still know people there. Some of them support Russia; they have become indoctrinated by Russian politics, as has my father.' With a climate sceptic in the White House and a psychopath as Russian President, she fears for the future.
Her contract with Radboud University ends at the end of next year, and Rasigraf doesn't know whether she wants to remain in academia. As far as her sports career is concerned, she has a clear goal: to become world champion in weight category 24 kilogram, one category higher than where she is active now. 'Then we'll see. There are also veteran competitions for kettlebell. Who knows, I might end up there by the time I'm eighty!' Drive: check.
[kader-xl]
What is kettlebell snatch?
In kettlebell snatch the athlete has to swing a cast-iron ball by its handle in one flowing motion in front of her body from way down to up above her head, such that the arm ends up in a vertical line with the body. In competitions athletes have to make as many snatches as possible in ten minutes' time. A judge assesses athletes on technique and speed. According to Rasigraf it's mostly about technique and endurance, not so much about strength. She is active in weight category 68+, with a kettlebell of 16 kilogrammes.
[/kader-xl]