Summer interview (2): Julia van der Sprong is still waiting to go to Tokyo
Julia van der Sprong (20) is a wheelchair basketball player and a business administration student, in that order. This year she was bound for the Paralympics. In January, she put her studies on hold to focus on Tokyo, but then the coronavirus arrived. Her disappointment was short-lived. 'I've always been a matter-of-fact person.'
On 6 January this year Julia van der Sprong gave an address at the University's New Year reception. The second-year business administration student told several hundred listeners how much she was looking forward to 2020. She would be competing in the Paralympics in Tokyo as a wheelchair basketball player, and that would mean giving her all.
'It all looked very rosy at the time,' she says on a sunny June afternoon at the Papendal elite sports training centre, nestled in the Veluwe forest on the outskirts of Arnhem. She has come outside with her sports wheelchair and a ball and points to an old basket behind the main hall where she has recently resumed her training. Outsiders, like the photographer and interviewer, are not allowed inside yet. Still able to show off her skills, however, she tosses the ball into the lopsided basket.
Olympic village
Van der Sprong is no stranger to Tokyo. She has gone to Japan with the national team three times in recent years to play in tournaments. Last year she spent several days training close to the capital. 'We went into the city, looked around the Olympic village and the hall where it would all be happening for us. That left quite an impression.'

'During my first two weeks in hospital, the term paraplegia wasn't mentioned'
For Van der Sprong, the Games would be the absolute highlight of her ultra-short elite sporting career. There is a lot at stake. She and the Dutch team won the world championship in 2018 and the European title in 2019. This makes the Netherlands the favourite for gold, a prize that the wheelchair basketball players have never won before. 'I unenrolled from uni in January so that I could focus entirely on preparing. The idea was to resume my studies in September, after the Games. In February I was at a training camp in Lanzarote. The plan was for us to go to Austria and America as well, but then the coronavirus arrived.'
The coronavirus has turned everything upside down, making 2020 a completely different year. But first, back to how it all started for Van der Sprong. She takes a seat at a table in front of the training hall and starts talking.
Paraplegia
More than four years ago, the sixteen-year-old from Gouda became paralysed overnight. After hockey practice one day, she had no feeling in her foot and lower left leg. The next day, she couldn't get out of bed by herself. It turns out she had an acute inflammation in her back. Below a certain level in her spinal cord, her nervous system no longer works properly. The result is reduced strength and feeling in her lower left leg, buttocks and left side. She has myelitis transversa, a disorder of the spinal cord, a condition that is estimated to affect only one in 250,000 to one million people.
'During my first two weeks in hospital, the term paraplegia wasn't mentioned, or I didn't take it in. I sent my trainer a message to say I'd be back at training as soon as possible.'
In the rehabilitation centre, where she spent eighteen weeks, it became clear that her disability would be with her forever. 'I think I cried once, but it didn't actually bother me too much. That's also because they told me I'd be able to walk again. It was just sport that was out of the question. And I made rapid progress. At the start of rehabilitation, I couldn't take a single step. In the end, I walked out on my own.'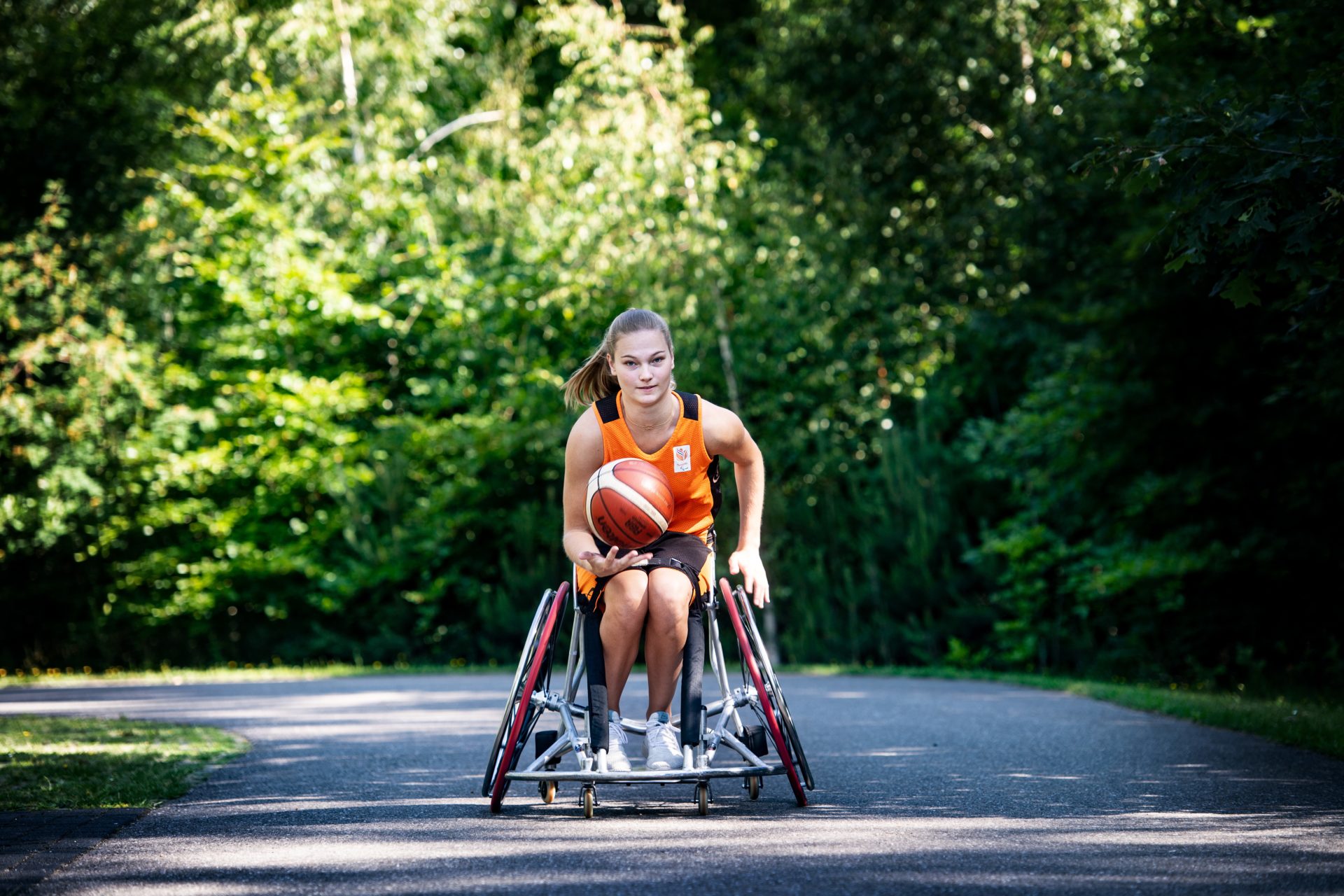 Van der Sprong is someone who sees opportunities rather than obstacles. She quickly looked around for a suitable sport and came upon wheelchair basketball. 'I just kept going. Life doesn't end if you end up in a wheelchair. I realised that immediately.'
The choice of basketball turned out to be perfect. She had always loved sport and took part in hockey and ice skating at a high level. Things now went a step further. She joined Kameleon in The Hague and was soon selected for the national team, the Orange Lions. Since that time, Van der Sprong has been able to call herself a professional athlete. She moved to Klein Warnsborn, an accommodation facility for elite athletes near Papendal. She trains 20 hours a week and earns an income because of the national team's good performance.
'I never go into town with others for a drink'

Van der Sprong, now active at DeVeDo in Ermelo, plays centre and is a high-pointer. The first means that she can often go 'inside' and therefore score, the second that she has a relatively slight disability in her sport. Every wheelchair basketball player is given a score that relates to what you can do with your disability on the court. Her score is 3.5 (the range is from 1 to 4.5). A team of five players is allowed a maximum of 14 points, to ensure that the game is fair. 'The fact that I'm a centre and a high-pointer are interrelated. A low-pointer is often someone who screens a lot and makes sure that a centre can go inside. You always work together. I can't do anything without a low-pointer, she passes the ball to me.'
Double life
Her studies fit around her sport completely. She chose business administration for its breadth because she wants to something in business but doesn't know exactly what. Because of basketball, she won't finish her Bachelor's degree in three years. 'I don't mind. I knew that when I started.'
As a top athlete and student, she leads a double life. An illustration of this is that no one at the University has ever seen her in a wheelchair. She can walk short distances and a wheelchair would be too much hassle on public transport, so she chooses to leave it at home in Klein Warnsborn. 'I notice when I've made a trip like that, it's a bit too much. Then I need to sit in a lecture to let my body rest. When I'm in a tutorial, I do talk about my disability and sport. They're surprised – they listen with admiration.'
She doesn't see herself as a student. When she talks about 'the students', you clearly notice a sense of detachment. 'It's a completely different world. I never go into town with others for a drink. I also have few very close contacts at uni. Most of my life happens at Papendal. That's fine, I don't have a problem with it. I'm a top athlete and that's no different from being an able-bodied top athlete.'
Matter-of-fact
That was the situation before she stopped her studies in January and before the coronavirus broke out in March. The lockdown came at a significant time for Van der Sprong. In that very first week she stopped training because of a back injury. The plan was to do nothing for three weeks and to simply keep working with a therapist. Those three weeks of not being able to do anything may have been fine during lockdown, but it meant no therapist. That was a disappointment. And then came the news that the Paralympics wouldn't be going ahead, that they'd be postponed until next year. Despite the impact this has on her, Van der Sprong is coping well. She smiles when she thinks back.
'Of course, for a while I hated it. As an athlete, you just want the Games to go ahead. But of course, I understood why. Health is paramount. And it didn't come as a surprise either. I'm a matter-of-fact person and I quickly flicked the switch. Ultimately, I also think that postponing the Games was the best decision. With all those measures, you can't prepare properly anyway and without spectators there's no real atmosphere.'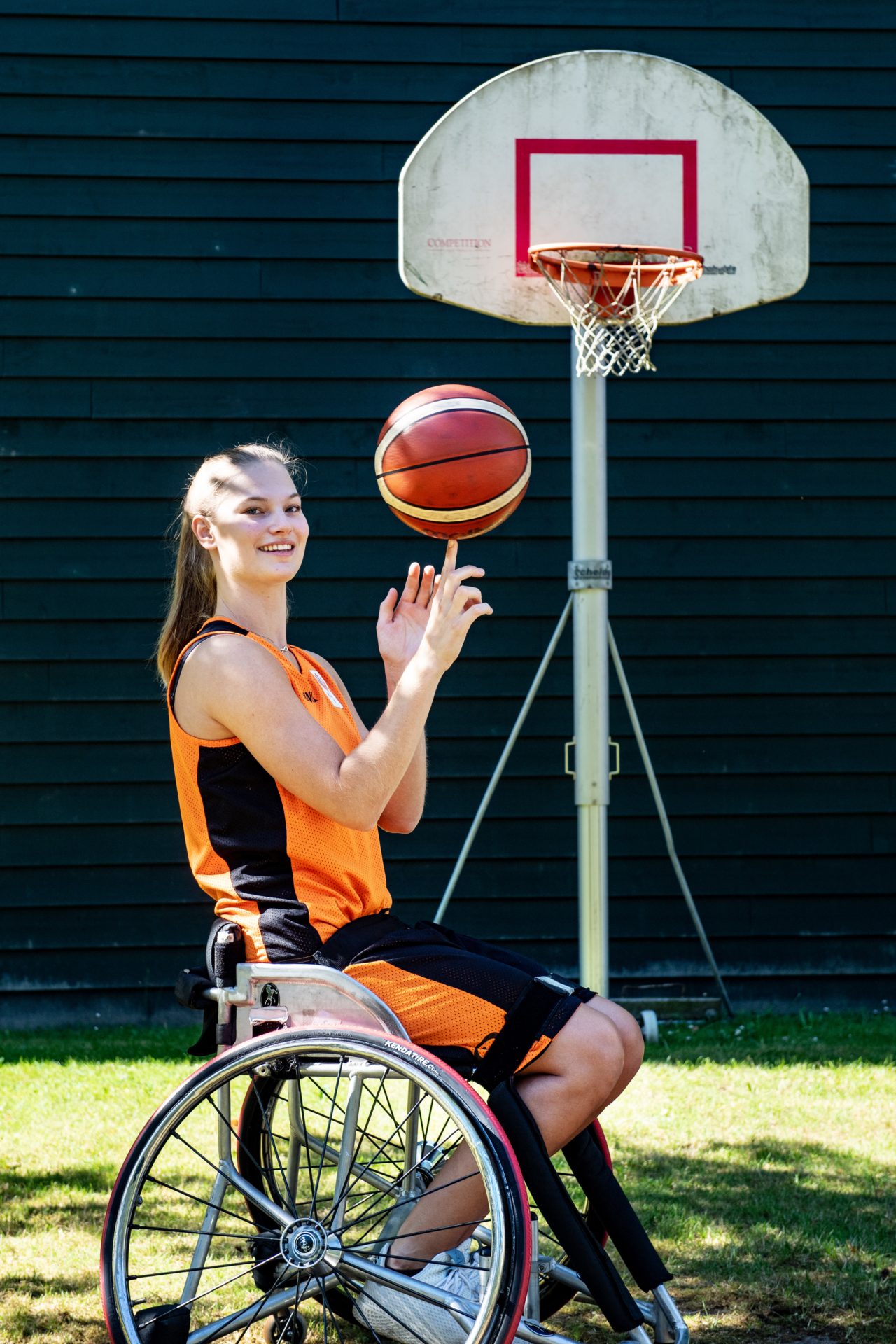 Is her matter-of-factness the result of what she's been through with her paraplegia? The fact that her life changed completely overnight, that things were no longer doable? 'I understand what you mean, but no, I've always been a matter-of-fact person.'
During lockdown, everything at Papendal was closed and Klein Warnsborn quickly emptied out. Van der Sprong went back to live with her parents for six weeks. She decided to pick up her studies again and take two courses. She had mixed feelings about the shift to online education. 'Before the corona crisis, I usually took the lectures online anyway, because they often didn't fit in with my training sessions. But I do notice that you're more productive if you go to lectures. At my parents' place too, I was easily distracted. You feel that you're kind of on holiday and you're back together as a family. On the other hand, I'm disciplined enough to work on things properly.'
As an athlete, she was less motivated during lockdown. After a few weeks, she was training again for one or two hours a day. She and her teammates sometimes made video calls and they had occasional power training sessions via an online link. 'But at home you don't have all the facilities that you have here at Papendal. You can't do everything and you find yourself losing fitness. My injury still isn't completely gone. But that is also because of my disability. My back is still a vulnerable point.'
Sushi
Now, at the end of June, she is back in training, but still only for two days out of five and under strict conditions – distanced from one another, and with no physical contact. The team is divided into two groups of seven and they are working on slaloming and passing. Every player has their own basket. 'But compared to training at home, this feels like proper training. And it won't be long before we can do more.'
What she finds strange is that she misses going out during this time of corona. 'I was just talking about this with my housemates who've come back. They feel the same way. It's weird, because normally we don't go out much, just a few times a year. But now, that's what we feel like. And if we're missing it, it must be so much worse for ordinary students.'
A tournament is scheduled for September at Papendal. She has been training for it all summer, with a two-week holiday as a break. The plan next year is to adhere to the same preparation as this year, with trips to Lanzarote, Austria and America. 'It remains to be seen, of course, what will happen with the coronavirus, but I'm not going to worry about that now.'
In the meantime, she continues to look forward to her fourth and most important visit to Japan. 'I love sushi. The people there are very helpful, very neat, very sweet – that's my experience. We got off the bus one time when it was raining. Everyone lined up with umbrellas.'
Tokyo. It will happen sometime.