Summer interview (end): DJ Timon van Merriënboer
DJ Rebourne, also known as Timon van Merriënboer (23), flies to festivals in the US, Australia and Chile, where he mixes hardstyle for thousands of fans. In between he also studies. Not to mention making music with Arjen Lubach.
He doesn't own a car, lives with three friends in a student house and can go to the supermarket without being recognised. But when he spins at a Chilean hardstyle festival DJ Timon van Merriënboer, alias Rebourne, is stalked at his hotel by fans waiting for a signature and a selfie with him.
Because of his collaborations with D-Block & S-te-Fan and Arjen Lubach, the 23 year-old student of Social Geography, Planning and Environment is the greatest student DJ of Radboud University and perhaps of the Netherlands. We spoke to the quiet Molenhoeker on the small roof terrace of his student room turned home studio.
Normal students work on weekends at the Albert Heijn. You fly to festivals in Los Angeles, Australia and Chile. Can you describe one of these trips?
'In April I was in Chile; that was a real highlight. I flew from Buenos Aires to Santiago, arrived at the hotel, and an hour later I was already being picked up for a mixing session. I hadn't slept in twenty hours and hadn't even seen a bed because my room wasn't ready yet. When I arrived at the festival, I heard an arena of fifteen thousand people cheer as I began to play my intro. All of a sudden all I could feel was energy. Everyone went totally berserk, that was truly the best audience I ever had.'
You study Social Geography, Planning and Environment. Did you get a chance to explore Chile during your trip?
'I always try to see as much as possible, but it's difficult. This festival took place during the day, so I didn't see anything on Saturday. On Sunday I took a taxi with three other Dutch guys to visit the hotspots. But the real Chile, like the poorer areas, I only saw on the way between the airport and my hotel.'
So you got full VIP treatment?
'In Chile yes. That was rather extreme. We stayed at the best hotel in Santiago. My room was amazing, although they had probably reserved the penthouse for DJ Hardwell. Backstage at the festival there were all these bottles of alcohol and an enormous table filled with food. And then every artist also has his own rider (a list of artist's requirements for a performance, Eds.). Mine consists mostly of technical stuff, together with some cans of Red Bull and a six-pack of Heineken.'
Chile had the best audience you ever saw, you said. How was it different from the Netherlands?
'I had the feeling that these were mostly very young people. What I also noticed was the audience was the same for all genres. The festival had programmed trance on Friday afternoon, and techno on Friday night. On Saturday there was hardstyle, and on Sunday, house. In the Netherlands, with all our sub-cultures, it would be unthinkable for all these genres to attract the same crowd. In Chile they all totally went for it all. Even with techno – here everybody only knows the one step – all the Chileans were jumping up and down.'
Why do you think that is?
'In the Netherlands we are used to having a festival every weekend. People don't really blow their top anymore. I, too, sometimes enjoy just relaxing on the grass with a beer. In Chile, they have one big party every six months. Everyone looks forward to it, I imagine, so they really totally blow their top.'
What if you have a Monday morning exam after one of these trips? Do you study on the plane?
'I try to avoid that. But I did sometimes fail an exam because I was in Australia for two weeks, and missed a lot of compulsory presentations. I tried to organise something beforehand with the lecturer, but no luck. Another time I had a resit after a show in Canada. I went straight from the airport to campus. During the exam I was falling asleep. Luckily I had three hours to complete it.'
The University has special exam regulations for top athletes. Is there no such thing for top DJs?
'Unfortunately not. I've talked about it with my study supervisor and the Dean. He said they might arrange something with music, but that was more for students who attend the Conservatoire. I didn't really get the impression that they consider making dance music a top sport.'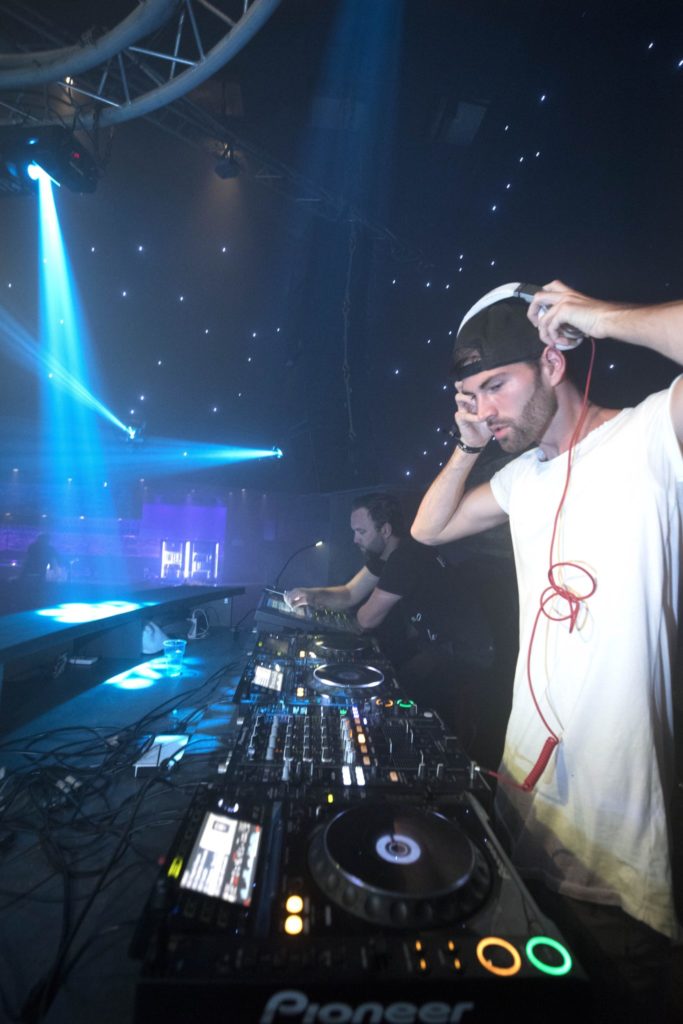 Did you ever think of quitting your studies to become a full-time DJ?
'I once had a moment of serious doubt. That was at the start of my second year, when I failed one subject and had to do one resit. I thought: 'I'll just take the risk, and see how it turns out!' But my parents advised me to first complete my Bachelor's degree. Three weeks ago I passed the last exam, with only one year delay. What a relief!'
Do you see yourself also doing a Master's programme? Or do you plan to mix until you turn fifty?
'I'm certainly not planning to start a Master's programme in the coming year. As for later on, we'll see. I don't think I'll be hanging around clubs until I turn fifty. But I would like to keep working in the music industry. Just as footballers turn into trainers at some point many DJs end up launching their own label or concept.'
At seventeen you were record label Fusion's youngest artist ever. How did that feel?
'Great. Till then I'd just been messing around in my room, and suddenly it looked as if I could really do something with music. The funny thing was that I then also got bookings as a DJ, while I'd never mixed before. At home I always used Virtual DJ (user-friendly DJ software, eds.), so I did understand the general principle. But I touched DJ equipment for the first time in a show with a live audience.'
A year later you began your study programme. Did you feel different from other students?
'Not really. I just took part in the introduction week, and attended get-togethers at my student association. The only difference was that my fellow students were often hung-over in class. That didn't happen to me. I was busy making music and I had the idea that the more time I devoted to that, the more it would pay off.'
And you were right. Your track Louder with D-Block & S-te-Fan was streamed more than 2.7 million times on Spotify.
'That collaboration was so much fun! I'd sent them the beginning of a track, just to ask them what they thought of it. They gave me some advice, and then I offered to finish it together. They made that track ten times better. I realised I would never have dreamed of making a track like that five years ago. And then suddenly, there it was.'
Hardstyle makes me think of hard head-banging music. Does your music differ from that of other artists?
'My tracks are a bit more melodic than regular hardstyle. It sounds cliché, but I like there to be a story in the music. I'm not really interested in making head-banging music. At festivals, my friends sometimes joke about it. We'd be standing there listening to one of those raw hardstyle artists, and they tell me I make sissies' music.'
You will soon for the second time dive into the studio with The Galaxy – the DJ act of Arjen Lubach. Do you still find it scary?
'Scary is not the right word. I mostly think it's funny, because I love Arjen Lubach as a person, because of his TV programme, Sundays with Lubach. And I loved his music (trap, a mix of hip-hop and dubstep eds.) long before I knew who was behind it. But in the studio we're just two boys passing a MacBook back and forth. Compared to the music that comes out of it, this kind of collaboration is very calm.'
Are you rich now?
'My hourly rate for a performance is of course much higher than that of students working a supermarket job. But you shouldn't forget that I spend most of my time making music. I don't get paid for that directly. And I have a study debt, like everyone else. So I'm not really rich.'
Do you have a last edifying message for 'normal' students?
'Maybe that you should take risks and follow your dreams – that sort of thing – but I personally chose to play it safe by first completing my degree. DJ Martin Garrix quit secondary school to mix and it worked out for him. But I also know plenty of guys who stopped studying, made music for two years, and then went back to studying. It's important to think about what you do and how. No matter what you do.'
This interview appeared in our student issue, which you can read here.