Pizza, prosciutto and passata in Donders canteen
When you think about university food, you don't think about an Italian restaurant. At the Donders Institute, they won't agree with that. There, they have a real Italian chef in the kitchen, and his name is Andrea Mora.
Nijmegen is the city that welcomes every visitor with the giant 'Pinoccio' sign in the center, emblem of how much economic speculation there is on Italian food. Luckily for people who love real Italian food, there are some compatriots that are keeping high the good reputation of it here in Nijmegen, namely Andrea and his partner Betty, owners of the canteen at the Donders institute. Their food is the real Italian deal.
'No product we use is ever frozen'
Andrea Mora and Betty came to Nijmegen in February of 2016. A very good friend of Andrea introduced them to the project of opening a new canteen at Donders. They embraced the idea and even though Andrea could not make pizza at the time, he took a course and put all the efforts possible to learn how to make the product we can now all taste. Three months of intensive internship in order to grasp all the 'art secrets' in what regards pizza.
'We opened the canteen in April 2016 after presenting a captivating business plan. The institute really helped us by giving us trust, that is what we needed at the time. They included an oven in the building plan of the canteen, even though it was not there in the original project. They also smoothed our settling down here in the Netherlands by guiding us throughout the city and by helping us with all the Dutch bureaucracy, since we did not know any Dutch', says Andrea. 'This is why I did not actually feel the shock that typically accompanies every Italian when moving to a Northern European country'.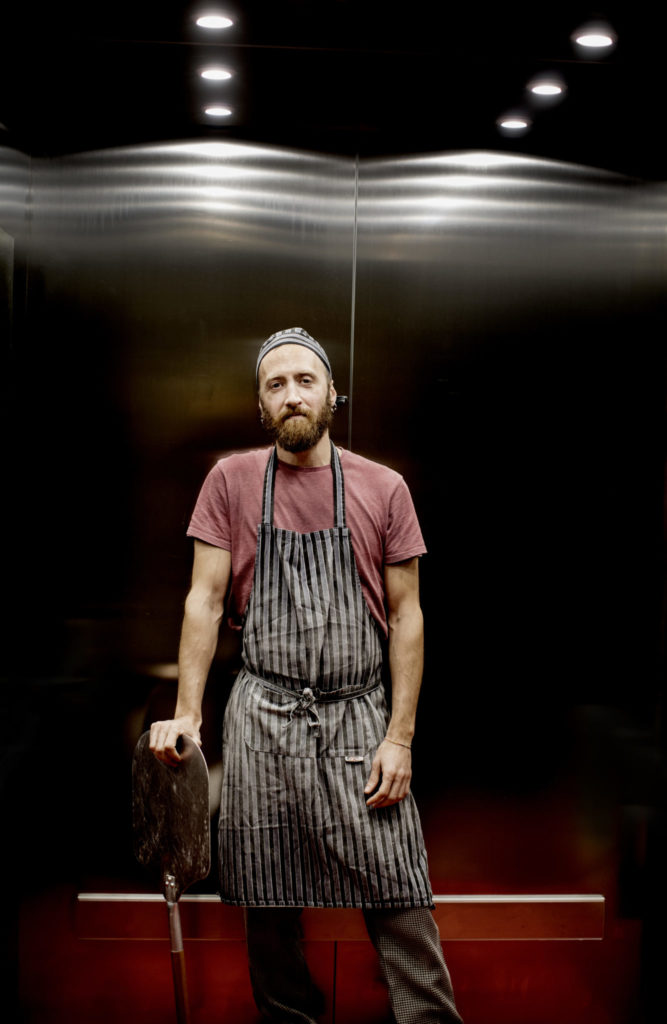 Prosciutto cotto
The trust of Donders was largely paid off by the quality of the product; you can rarely see something like that in a university canteen. 'No product we use is ever frozen, everything is fresh and qualitatively high. The passata (tomato sauce) and the prosciutto crudo we use, together with mozzarella and the marinated ingredients are all Italian products. We come by it through the very same circuits that high-ranked Italian restaurants use', explains Andrea. 'Vegetables and fruit are local, together with the very good Dutch cheese and their prosciutto cotto (ham)'.
Andrea's enthusiasm really shows when he starts speaking about all the sides of working at the institute. 'I am working in a young and international environment and, together with Betty, we are bringing actual Italian food to students. I settled down now and I am willing to stay as long as possible, since I really found an interesting possibility for me', he says. 'I also really like the fact that the canteen is full of Italians that work at the Donders institute, and that they are very enthusiastic about the food that I make'. Then about the quality of life: 'Compared to Italy it is definitely higher here, coming from Rome and not finding any traffic is quite a shock. Overall, people here are not stressed out by work as often happens in Italy, because simply every regimentation here is accurately followed: everything works perfectly'.
Bureaucracy
There are some downsides to living in the Netherlands though. There's no such thing as fixing something immediately or doing something quickly. 'Once I had a lamp broken in the oven, they let six months pass, because they had to plan every intervention really carefully, and they had to call a technician with whom we had an appointment and so on'. The struggle is real, Andrea says. 'But then at the end of the day bureaucracy is present in whatever country, I mean, everyone hates it.'
Surely Andrea and Betty's way of making food is definitely atypical and ambitious for a university canteen: bringing a quality product at a student price within one of the most prestigious research institutes in the world. 'At the end of the day, cooking is all about chemistry and fixed quantities, nothing is overlooked'.