Where most students move out during their studies, Anja and Hans' son moved back home
Students are taking longer and longer to move out, and starter homes are nearly impossible to find. This means it takes longer for parents to get the house back to themselves. A chat with Anja Leerink and Hans Stapel, who share their house in Nijmegen-Oost with their two adult sons. 'I use the family WhatsApp group to ask who plans to be at home that evening.'
Situation sketch: Anja Leerink and Hans Stapel, both in their 50s, live in a modest terraced house in Nijmegen-Oost. They have no pets (the cat died years ago, ed.), but they do have two adult sons. The eldest, Job, aged 22, lived on his own for three years, but suddenly came back home last summer following a conflict with his landlord. The youngest, Abe, aged 20, still studies at Radboud University. From home to lecture hall is a mere 7-minute bicycle ride. He wants to move out, but only if this means an upgrade. And so far, Hotel of Mum and Dad is very comfortable indeed.
Does everyone have a room of their own?
Anja: 'Kind of … Job's room was still his, even though he'd been living for the past three years in Bottendaal. But then the pandemic hit. I could still go to work every day at my speech-therapy practice, but Hans, who normally works at the COOP headquarters, turned Job's room into his home office. Which was a bit of a problem when Job suddenly came back home to live this summer.'
How did you solve it?
Hans: 'Our son is a night owl. He works in a café, comes home late, and sleeps in. I start my working day at the kitchen table. Once Job wakes up, he comes down, and we switch places. It works out all right.'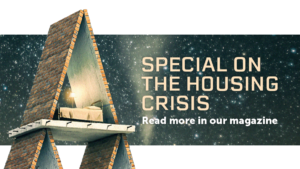 Did you make any agreements about how you wanted to reorganise your renewed cohabitation as a family?
Anja: 'No.'
Hans: 'Job needed a place to stay, and of course he was welcome.'
Anja: 'Plus it was the summer holidays, so we went away pretty soon afterwards, and the boys had the house to themselves. It was quite a smooth transition.'
Hans: 'After that holiday, we did have a moment when we said: "We need to make some agreements." For example about the laundry.'
'Usually it's just the two of us, the boys are often gone'
What about the laundry?
Anja: 'We came back from our holiday to find four enormous piles of laundry in front of the washing machine. I don't want the boys to just throw their laundry there, and then suddenly go: 'Hey, look at that, it's back nice and clean in the cupboard!'. So now we communicate about it on the family WhatsApp group: "There's a load of laundry in the washing machine." Or: "Who can hang up the washing?" It works fine; they do help out.'
Do the four of you sit down and eat together every night?
Hans: 'Hardly ever. I'm the one who does all the cooking and shopping. The boys are lucky in that respect; I enjoy anything to do with food. On the family WhatsApp group I ask who plans to eat at home that evening, and who needs a plate of food for later. Usually, Anja and I end up eating together; the boys are away a lot.'
As parents, did you have to adjust to having two adult children in the house?
Anja: 'I find it surprisingly easy. But it's true that I'm away from home for entire days.'
Hans: 'It's not too bad. Anja and I eat together, and we often spend the evening alone because Job and Abe are at work or out. But when the boys are home, they certainly make their presence felt. They spend a lot of time on social media, so there's always some video or other playing on their phones. Sometimes you can hear different music playing at the same time in the house. I do sometimes say something about it. "Boys, earphones!" I sometimes have to remind them about it.'
Anja: 'When Job came back home, we had just got rid of our big corner sofa and replaced it with a two-person sofa.'
Hans: 'We thought we wouldn't need the corner sofa anymore. You could comfortably lie on it with two people. Now I sometimes feel like crashing on the sofa, but it's already occupied. Oh, well…'
Is there anything that irritates you?
Anja and Hans exchange a questioning look.
Hans: 'Not really. All four of us are pretty tolerant people. And as parents, we're quite easy on them.'
Anja: 'They're also quite easy on us.'
Do you help the boys look for a place?
Hans: 'I knew someone who used to own a few houses in the city, so I called him, but it turned out that he'd sold those properties a few years ago. Whenever I can, I do let people know that our children are looking for a house.'
Anja: 'Job was sharing a house with two friends. Ideally, they'd like to live together again, but it's really difficult. There is simply nothing available. Because Job has had a job for a few years now, he'd rather not rent a room in a student house. He'd prefer a studio with a private bathroom. Abe doesn't mind living in a student house, but he's quite picky.'
Hans (laughs): 'He's too comfortable here.'
Anja: 'Abe did go to a few viewings. If he'd been chosen, he'd have moved out.'
Is it a problem that they still live at home?
Anja: 'Yes. They're missing out on something very valuable by living with their parents. It's something Hans and I often say to each other.'
Hans: 'We'd like our boys to have what we used to have: the pleasure of living with other students, the freedom!'
Anja: 'The fun! Oh, I laughed so much with my housemates. I was studying speech-therapy at the HAN University of Applied Sciences. There were eight of us sharing a house on the Pater Brugmanstraat and …'
Hans: '… I get really wistful when I think about my student house. It was on the Weurtseweg. In 1986, I was studying Communication Sciences at Radboud University. The house was demolished some time ago; they're planning to build apartment blocks on the site.'
'I hope this is a temporary situation'
Anja: 'You learn so much by living on your own. Cooking, planning the washing. But also how to be financially independent and tolerant towards housemates that you didn't choose.'
Hans: 'It's an opportunity for growth.'
How do you see the future?
Hans: 'I'm hoping this is a temporary situation. That the boys won't still be living with us in three years' time. The city of Nijmegen needs to build more houses.'
Anja: 'I think the housing problem is far greater than people realise. Abe is registered at SSH&, but Job isn't registered anywhere. He's an invisible house hunter.'