Council agrees with criticised budget plan
While a big group of people was watching from the public seats, the university's general meeting agreed with next year's budget plans yesterday. Some of the student members were critical about the plans, but they were overruled.

The most thorny issue was the fact that students have been consulted insufficiently when the money from the abolished basisbeurs was spent. Before 2014, students received a study grant from the government to pay for their education. If they finished in time, they did not have to pay it back. This has been replaced by a loan, and the law states that the money that was saved by that should go to the improvement of education, and students have to be consulted in that process. Yesterday, Wilma de Koning said, on behalf of the university council, that she regrets the course of events. The board promised more influence for students in the future.
The most important commitment was the promise that the student council gets consent over the renewal of the Hounours Academy programme. The students were bothered by the fact that 2,5 million euros go to excellence education: that is contradicts the thought that the money that all students should benefit from the money that was saved from the basisbeurs.
New talent education
Before, students were already promised that they would be allowed to contribute to budget plans in the future, and that the 2,5 million for excellence education would be reconsidered. If it turns out that the plan for talent education needs changes and could do with less funding, the money will become available for all students. 'The 2,5 million euros is a maximum. It could be that we need less, and if so, we will make a new budget plan, and the students will be asked to vote about that plan', Bernadette Smelik of the Works council explained yesterday.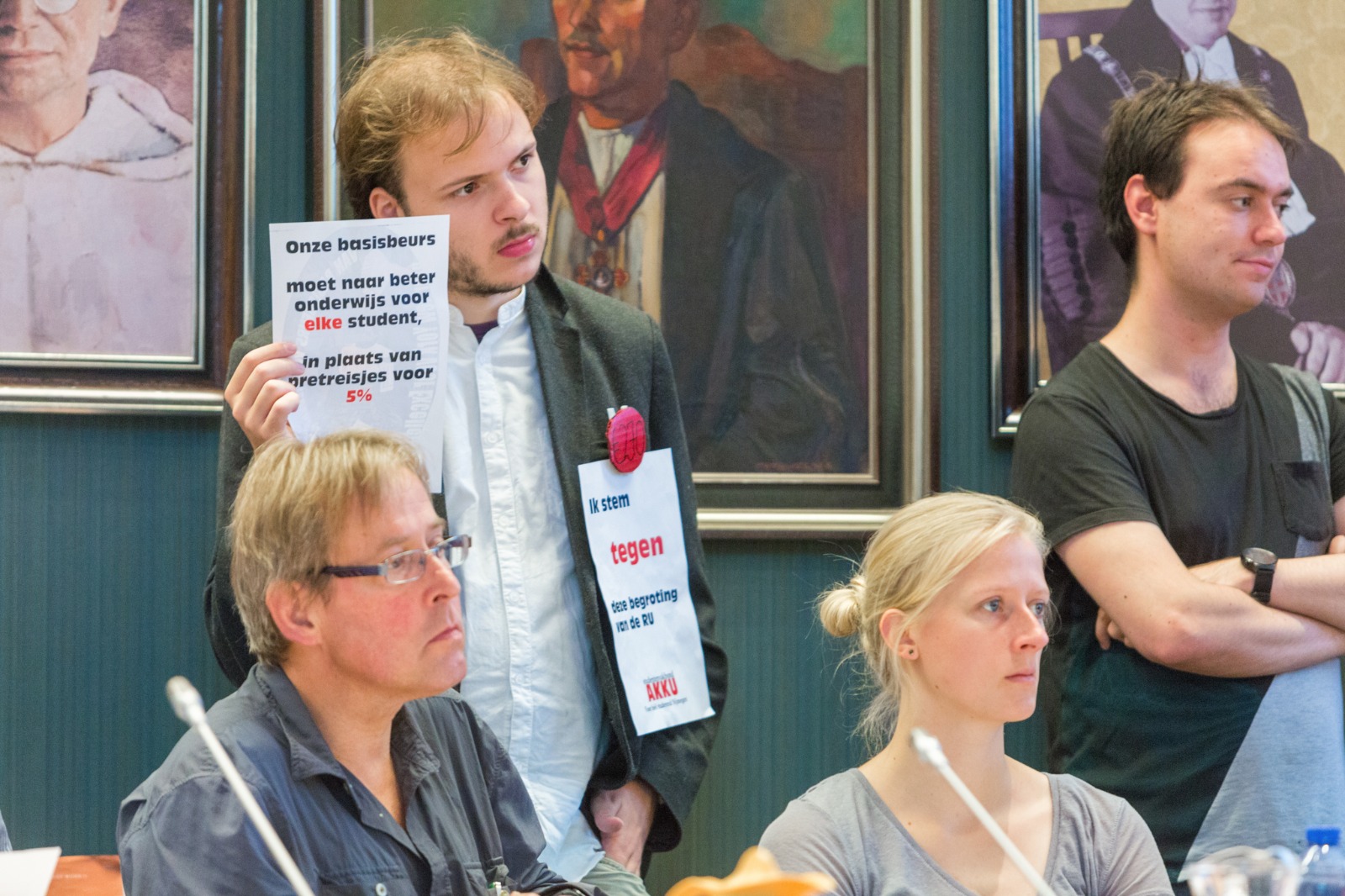 A protest was voiced by four counter votes by students and two abstentions by members of the Works council. Student Pim ten Broeke (no right to vote) was a part of the sceptical part of the council, but is satisfied about the way the debate went yesterday. 'We have showed that you can not just ignore students when you spend this money.'Nijmegen is one of the first Dutch universities that has made a plan for the basisbeurs money. 'The country is watching, other universities will also realise that they cannot leave students out of this.'