Addicted to adrenaline Wilco Versteeg follows the yellow vests
Wilco Versteeg (33) is fascinated by violence. Almost every Saturday the photo journalist and literature teacher joins the yellow vests in Paris. 'If I see less than ten cars burning, I think to myself: boring!'
'Just fell hard (…). May have broken something.' A WhatsApp message from Wilco Versteeg. A moment later he emerges from the crowd on a small parallel street along the Boulevard Jules Ferry, his face contorted in pain, supporting his right arm with the left. His wounded elbow sports an odd protrusion.
Versteeg shoots his photographs of the yellow vests' riots in Paris with a 35 millimetre lens. Some photographers use a tele lens so as to keep a safe distance. But not Versteeg. If he wants to get a shot of what goes on in the front line of the demonstration, then that's where he has to be. With all the risks involved.
Bold popular protest
Today is 20 April, and the yellow vests are planning their 23rd demonstration. A few hours before the start, activists start gathering on the square in front of the colossal Finance Ministry, near the Gare de Lyon. They've been meeting every Saturday for the last 23 weeks. What began as a protest against rising fuel prices has since morphed into a bold popular protest by anti-capitalists, hard-core and soft-core neo-Nazis, farmers, radical feminists, and other angry citizens, against the economic policies of President Emmanuel Macron. Some Saturdays, the demonstration proceeds without major incidents, other times shops are looted, cars put on fire, and police officers attacked and beaten.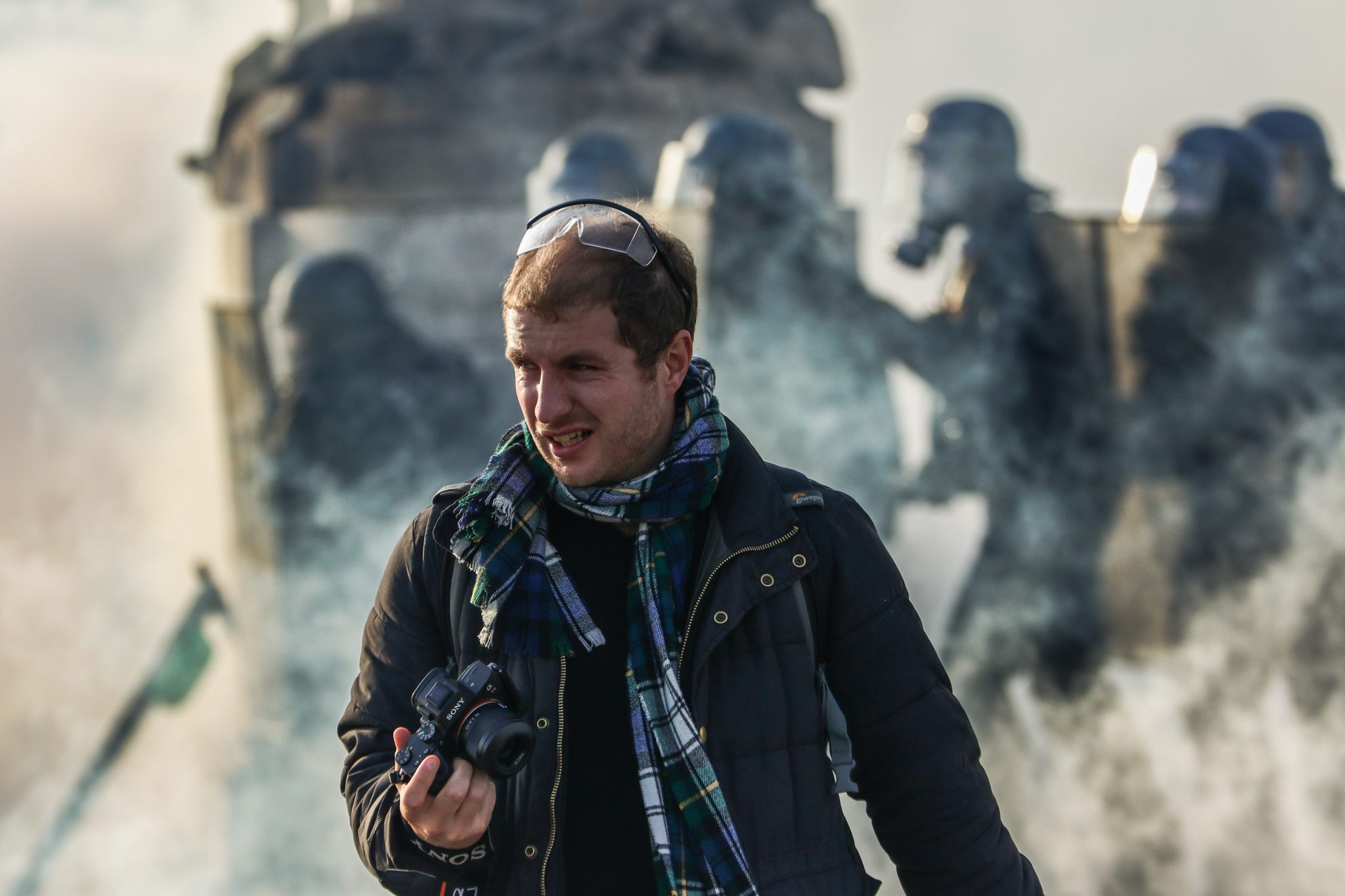 Versteeg has been witness to many of these demonstrations. During the week, he teaches at Radboud University, but once his lectures are done he travels back to Paris, where he lives together with his Spanish girlfriend. 'If at all possible, I make sure I attend the demonstrations. I think I may have missed six so far.' He sells the resulting photographs and stories to HP/De Tijd and other sources, and posts a lot of his work on social media. In 2018, he was nominated for the Public Award of the Silver Camera, the Dutch photojournalism award.
Less than a week ago, the French capital once again drew much attention when the Notre Dame Cathedral caught fire. But this did nothing to slow the yellow vests down. On the contrary, the protesters were ignited by the astronomical gifts the French riches put towards the cathedral's restauration. 'It promises to be another interesting day,' predicts Versteeg.
Confrontation
Even before the yellow vests start on their protest march through the city, some already have their first encounter with the police. The gendarmerie is blocking access to the Ministry. Beer bottles and firework bombs fly through the air, landing on and between the police vans. The armed and harnessed officers stare stoically ahead, ignoring the demonstrator's first provocations.
Not much later – the crowd is now on the move – the ice breaks, and the first tear gas grenade shoots through the air when a small group of yellow vests attack some police officers, who take flight in an attempt to escape the rioters.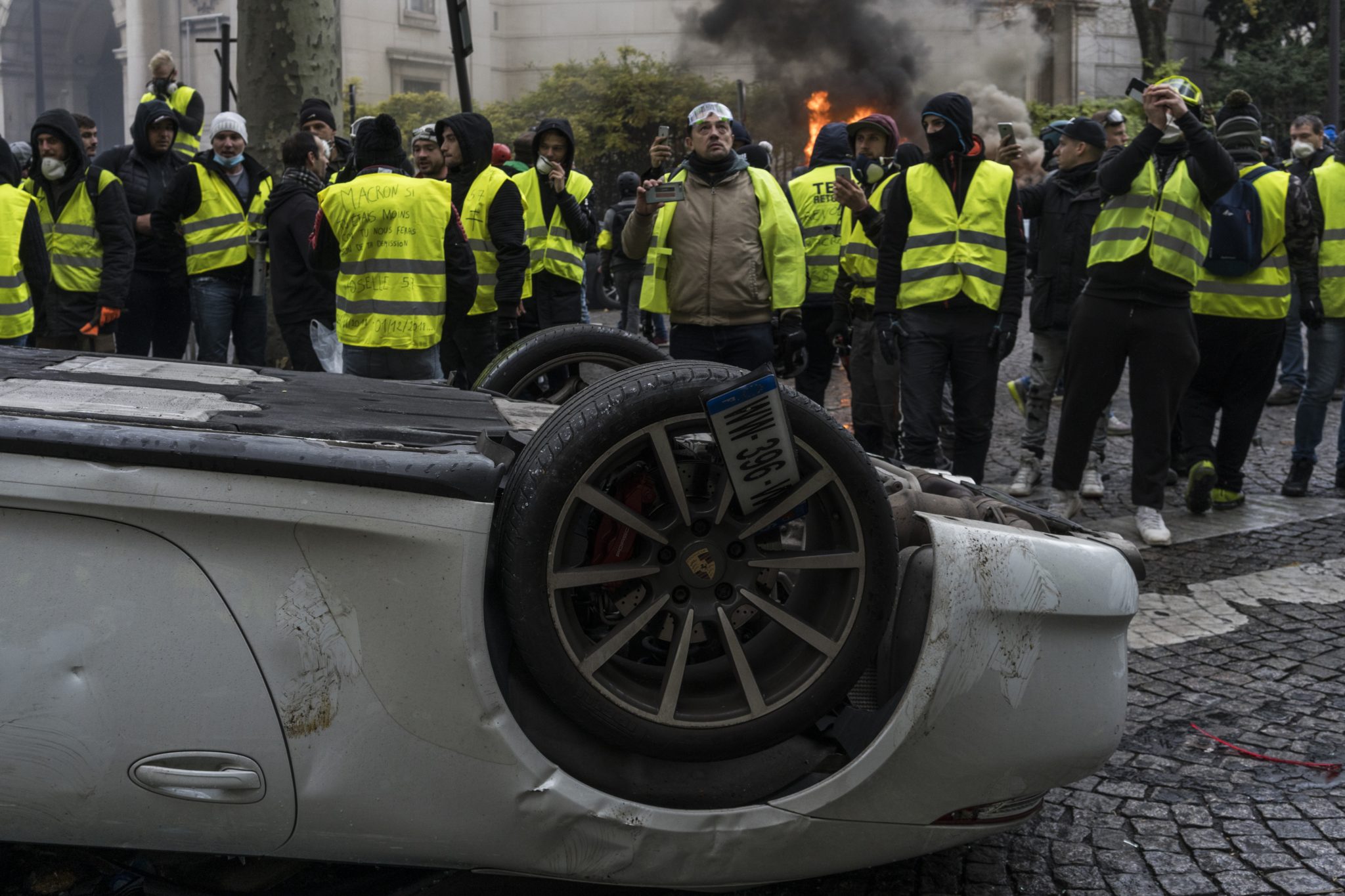 Attacks and counter-attacks make up the rest of the day. On the Quai de Jemmapes, in front of McDonald's, a group of yellow vests is trying to provoke a line of seriously outnumbered police officers. At some point, probably in response to a charge by the officers, the mob starts to run. Versteeg is forced to follow, but he falls hard on his arm. One of the activists helps him to his feet.
As the yellow vests proceed to break through a police barrier and advance towards the Place de la République, the photographer follows, despite the pain. 'I'm OK,' he says as he tries to shoot a photograph here and there with his non-dominant left hand.
'Adrenalin makes me sharp and super-focused. When I see or hear something, I immediately want to move towards it'
'République', we were told beforehand, is the endpoint of today's march. But having reached the square doesn't mean the demonstration is over. To prevent yellow vests from spreading through the city, the police has blocked off all access roads leading to the square. A water cannon keeps the crowd at bay, as clouds of tear gas fill the square. The terrifying plopping sound of fired rubber bullets is heard at regular intervals. A wounded activist is carried off, cheered on by bystanders.
Versteeg asks for help from a paramedic, who brings us across one of the police barriers. There we shake hands – in Versteeg's case, his non-wounded left hand – and part ways. He goes off to a hospital, while I retreat to calmer quarters in the sunny French capital.
Three hours later, I get another WhatsApp message. 'Two simple fractures. I'll have to be operated.'
Focus
Three days after the demonstration, Versteeg joins me at the Refter, on the Nijmegen Campus, his arm in a sling, his face betraying signs of fatigue. He's just finished teaching a literature lecture to American Studies students. The days preceding Saturday are always more fun than those that follow, as the adrenalin rush is then replaced by a hollow sense of fatigue. 'I usually need a day or two to recover. I'm really in a bad mood on those days.' Pointing to his arm: 'Now there's this too. It doesn't make me any more cheerful, but I guess I'll just have to live with it.'
In preparation for a demonstration, Versteeg's body slowly builds up a healthy tension, right up until the demonstration itself, when adrenalin takes over. 'Adrenalin makes me sharp and super-focused. When I see or hear something, I immediately want to move towards it. What's the quickest route? Is it safe? Thanks to my experience with demonstrations, I can now assess these things very quickly.'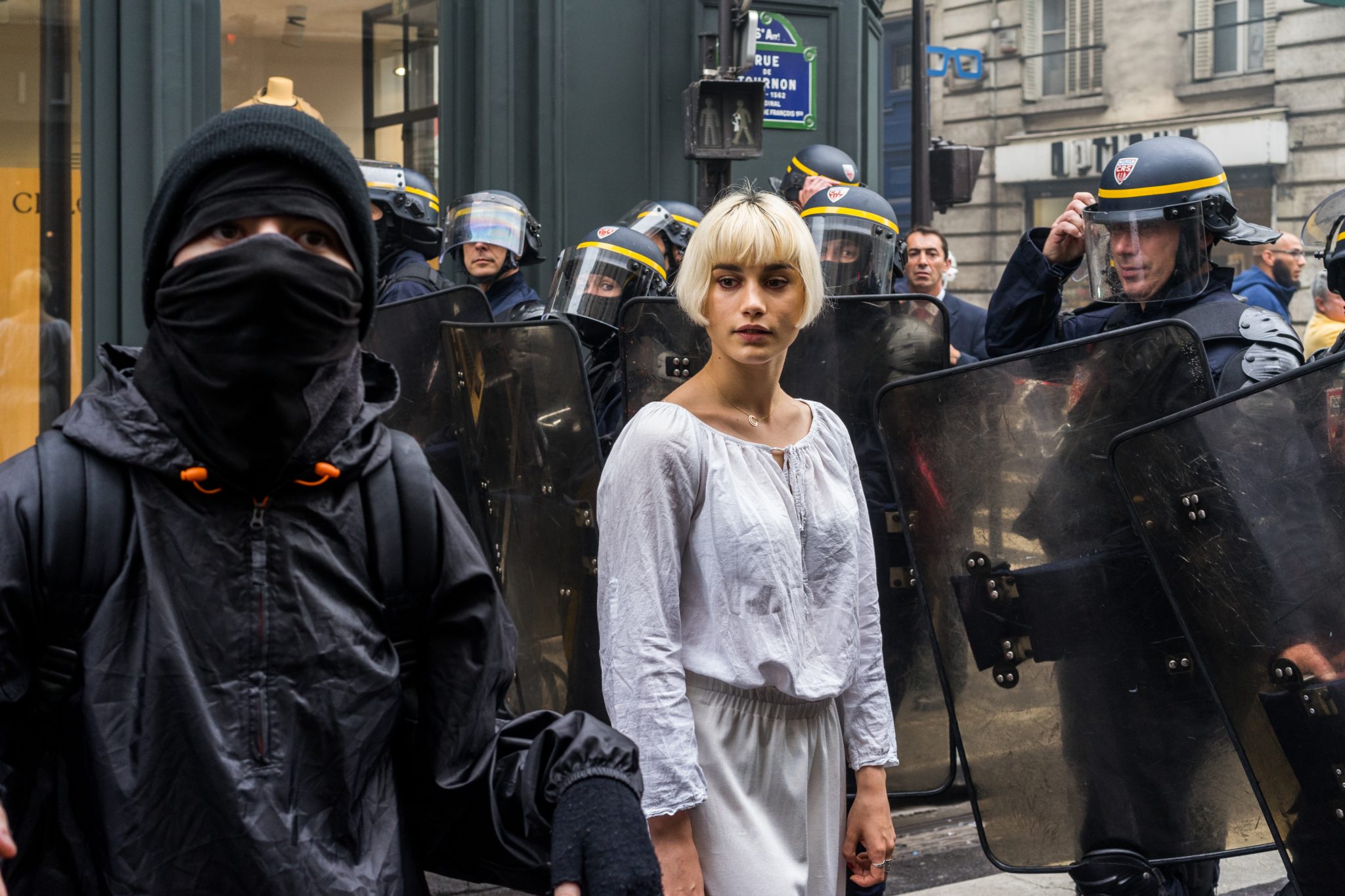 The yellow vests' riots usually start in the morning and last all day. 'When you have to remain focused for so long, at some point you kind of transcend yourself. Your attention is fully on the now, and you feel like you're part of what's happening. It's an interesting experience.'
Last Saturday was pretty rough, says Versteeg, although with fewer than ten thousand demonstrators, it wasn't a particularly large demonstration. 'It was chaotic though. I kept getting to places too late and I missed a lot. There wasn't a single moment when things went smoothly. Maybe that's why I fell: I wasn't quick enough to respond.' The police was also particularly repressive, he says. 'They shot a lot of rubber bullets.'
It was the first time Versteeg got injured in a demonstration. 'I always keep in mind that I could get hurt. But I guess I always thought more of getting something in my eye, or maybe a head injury.' So far, he's been very lucky – especially the time when a Molotov cocktail caused a flame jet to erupt less than a metre away. He shows me a photograph by a fellow photographer of himself dodging the flames. 'I've been shot in the back with a rubber bullet a few times. They leave pretty bad bruises that hurt for a few weeks, but it's not such a big deal.'
'The anti-Semitism, racism, and belief in complot theories among the demonstrators continue to amaze me'
The first time Versteeg visited the yellow vests, he was amazed by the diversity among the activists, and by the violent and uncontrolled character of their demonstrations. 'Far-left and far-right are all mixed together. I was really amazed!'
After seventeen Saturdays following in the yellow vests' footsteps, Versteeg is starting to get a better sense of the movement. 'There's also been quite a lot of research on them. The yellow vests partially arose out of existing action groups that used to protest against former President François Hollande.' According to Versteeg, many of the French yellow vests are right to far-right. 'The anti-Semitism, racism, and belief in complot theories among the demonstrators continue to amaze me.'
Quiet childhood
The big question – for Versteeg too – is why he constantly seeks danger. 'I think about it a lot. Nobody tells me to attend these demonstrations. It's something I do on my own initiative. I can come up with all kinds of clues as to my motives, but ultimately, I just do what I do. I don't know why either.'
His childhood may be one of these clues. Versteeg's father was an amateur broadcaster, and when his radio accidentally intercepted an emergency announcement, the entire family would jump in the car to get a look at the fire or accident. At home, young Wilco spent hours watching CNN, which at the time mostly covered the Iraq and Balkan wars. And no newspaper was safe, as he filled folder after folder with clippings of collapsed houses and burnt cars.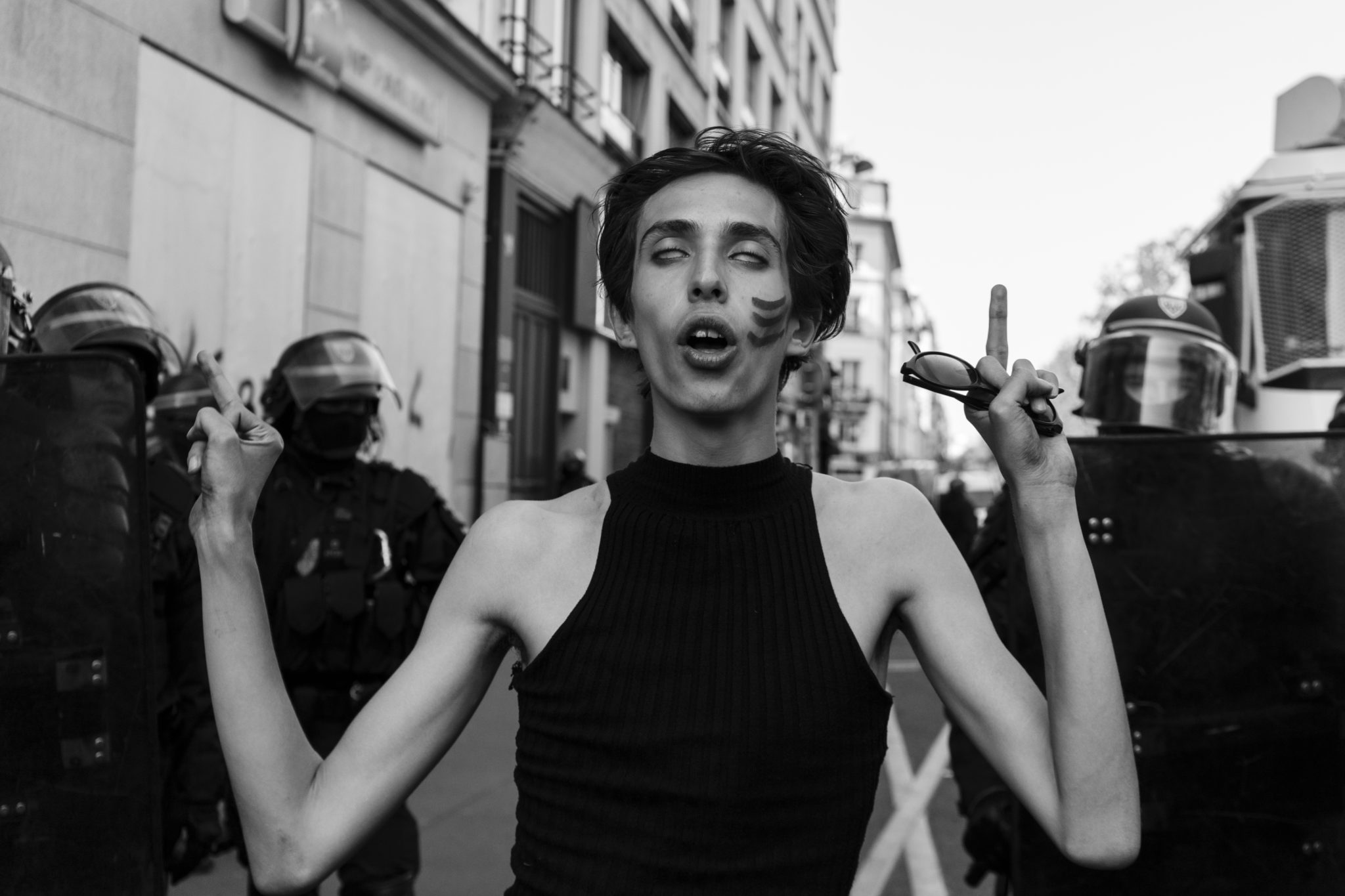 'I had a happy childhood. My parents are still together, and we went on holiday every year. Maybe this is the root of my fascination for violence – the idea that there's more to life than a quiet existence in Deventer. That real life happens elsewhere.'
There is also – though he's loath to admit it – an addictive aspect to it. The yellow vests don't seem likely to stop anytime soon, so every Saturday offers a new opportunity for an adrenalin kick. And every Saturday, Versteeg is overtaken by the irrational, uncontrolled hope that the yellow vests will take things a step further. 'If I see less than ten cars burning, I think to myself: boring! And I'm never quite satisfied unless I get a shot of someone who's just lost their hand.'
He thinks being forced to take it easy for a few weeks is a good thing. 'The demonstrations tire me out. It's getting to be too much, especially with all the travelling from Paris to Nijmegen and back. Photographically too, it's not as satisfying as it used to be – it gets a bit repetitive after a while.'
Crossroads
Versteeg is at a crossroads in his life anyway. 'I'm reaching the conclusion that the life I've lived these past years is coming to an end. As a photographer, I'd like to develop in other areas, and as a young researcher, it's also time I made more of an effort to profile myself. I do have this need to assert myself – to get the most out of myself. Maybe because I started out with only a vocational degree (VMBO). With every step up the ladder, I thought: I'm probably reaching too high. Now I've completed my PhD, and I need a new challenge.'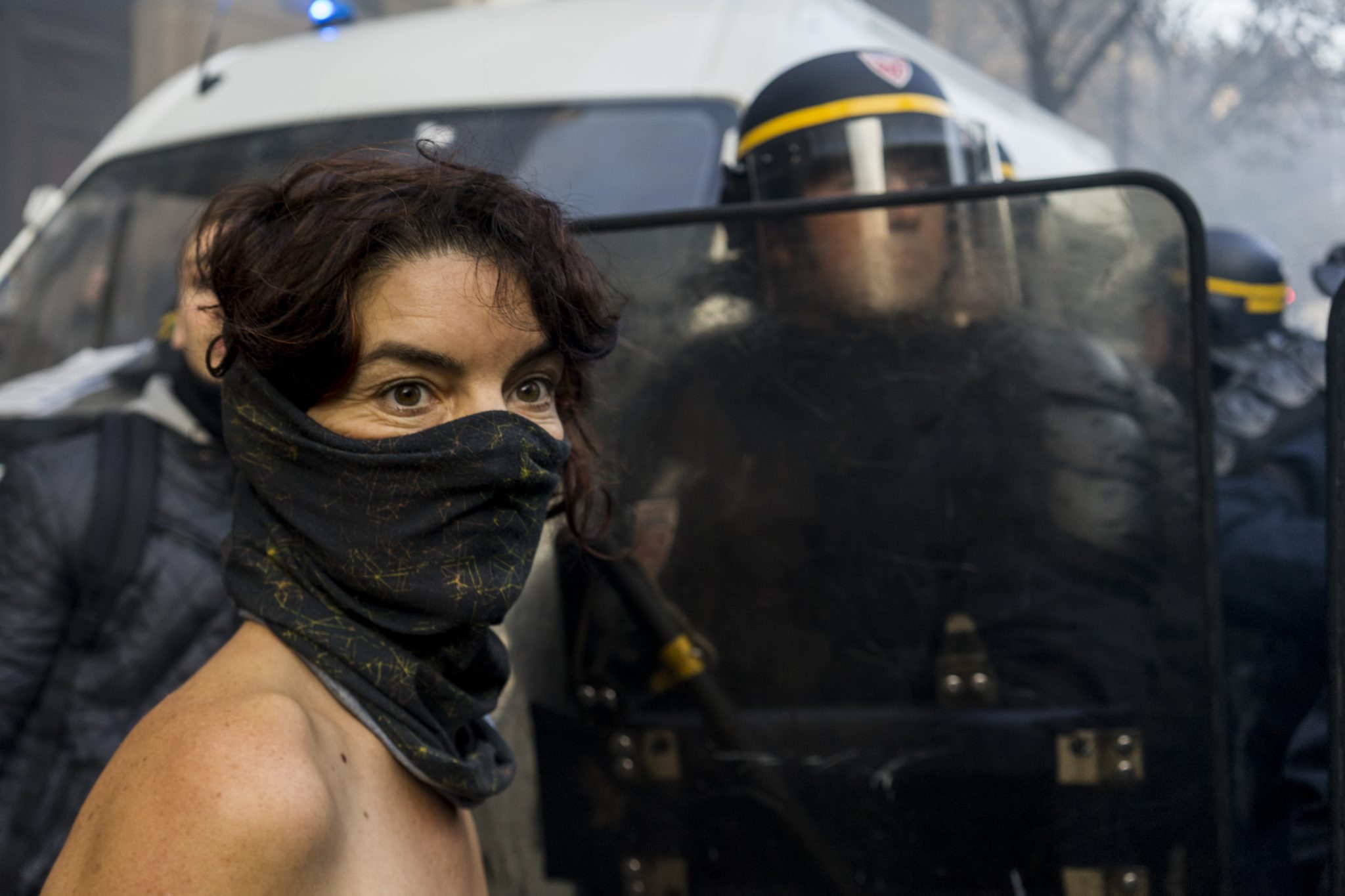 Paris has become his city. Versteeg first arrived there on an Erasmus grant and was given the opportunity to write a PhD on the history of war photography. In the winter of 2015, while struggling with a writer's block on his PhD research, terrorists attacked the office of cartoonist magazine Charlie Hebdo. This was followed two days later by a hostage-taking in a Jewish supermarket, not far from his studio. Versteeg used his camera to capture the confusion and fear that took hold of the French capital, and that only deepened later that year with the Bataclan bloodbath.
He feels at home in Paris, but the call of the Netherlands is strong. Versteeg's girlfriend – a Spanish brain scientist – really wants children, and he himself is also keen, although he prefers to raise them in the Netherlands rather than in metropolitan Paris. 'I grew up in Deventer, in a terrace house with a garden. It's how I imagine family life. Now I live in a busy city, without any nature around. It's very valuable to grow up in a place where you can catch a glimpse of a sparrow.'
At the same time, Versteeg is also toying with the idea of a radically different lifestyle: that of war journalist. In East Ukraine for example. As part of his current research, Versteeg analyses the social media posts of a radical pro-Russian militia in the area. Clearly, he already has some affinity with the war there.
'Becoming a war photographer would be a logical next step. I've gotten to know myself as a person who remains calm in violent situations.' But the idea of turning his back on academia doesn't appeal to him. 'I find it important for photography to co-exist with my work as a researcher. The combination keeps me healthy. At the same time, researchers sometimes run the risk of getting divorced from reality. My work as a journalist helps me keep my feet firmly on the ground.'
Blue skies
There is another factor drawing Versteeg back to the Netherlands. His father, a former sailor with beard and tattoo, suffers from Alzheimer's. 'It's good for me to spend time with him, and to relieve my mother a little. I take my dad out for walks or cycling, and we chat. These are my truly happy moments, which no amount of photographing a bunch of idiots in Paris can compete with.'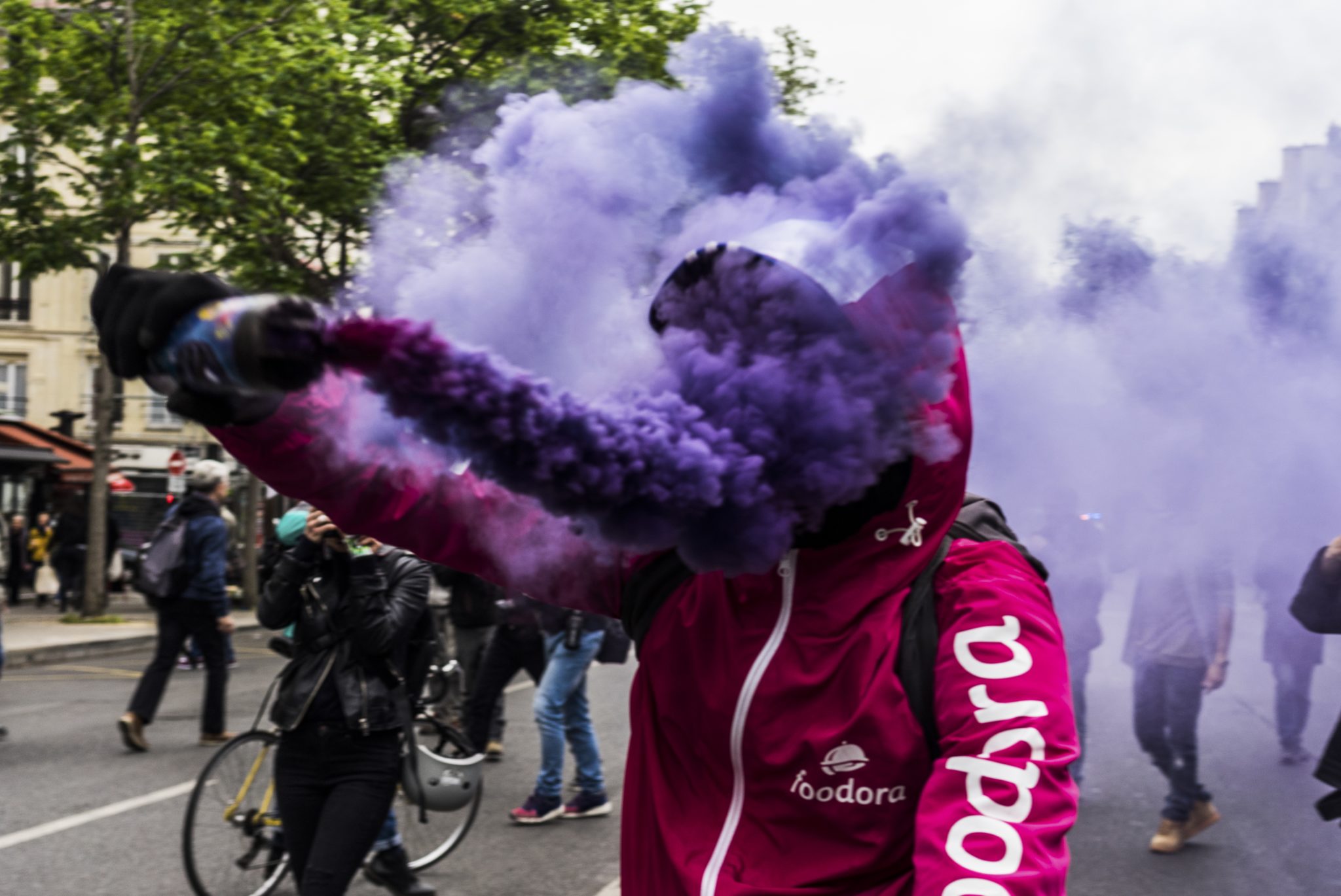 Sometimes, Versteeg grabs his camera and captures his father in his own confused world. 'He enjoys that. 'Is that me?' he asks when I show him the pictures. Just the other day, he was looking out the window, and he asked me: 'Did you make that beautiful blue sky?' Spending time with my father, I learn in a very tender, moving, and also poetical way to look at the world through his eyes. And I learn so much from it – it makes me realise: you could see it that way too!'
Still, there are some among his own photographs that Versteeg would rather not look at. A shot he took that clearly shows the panic in his father's eyes. Or a photograph of him playing with Lego. 'It's hard to see a strong man like my father like this. The roles have switched: I'm now the one who helps him understand things. At the same time, I think: this is how it is now, and it has to be seen and captured.'
Just as with the Paris riots, Versteeg's camera helps him keep some distance. 'The camera objectifies reality. I'm there, but there's something between me and reality. With my father, luckily I need this distance less and less.'