Blue white ties in an old-fashioned pub: a night with stock investment association Pecunia Causa
If you think studying and investing in stocks is not something regular students would do, think again. Vox joins one of Pecunia Causa's evening meetings in Café 't Haantje. 'Investing in stocks is a competition in predicting the future.'
Chatting away, with a glass of beer in their hands, students mill around the bar of Café 't Haantje. As a rule, this café on the Daalseweg tends to attract 'real Nijmegen people', but tonight the owner is pulling beer for a group of students in ties – all wearing the same tie, in fact, one with diagonal stripes.
The term stock market investment tends to conjure up Wall Street-type scenes. Or maybe the Amsterdam Zuidas. Not an old-fashioned pub in Nijmegen-Oost. But appearances can be misleading: this is the monthly meeting of the Nijmegen stock investment association Pecunia Causa. And Café 't Haantje is the chosen location for their gatherings, on the last Monday of every month.
'The goal is not to win as much money as possible. If you want to get rich, you can do it in your own time!'
Pecunia Causa ('for the sake of the money') was created in 2009 as a split-off from ESV Student Association. These days, 'Pecunia' (as its members call it for short) has approximately sixty members. Most are Economics and Business Economics students, but the association also welcomes other students, PhD students and interested parties. 'All our meetings are open to the public,' says Joris Hoefnagel (21), the Association's recently appointed Secretary. 'Last year we were joined by a couple of Medical students. One of our missions is to help people with little or no experience of stock investment.'
€ 85
Tonight's crowd is small: only twelve students have gathered in 't Haantje. Tonight's meeting happens to coincide with a big ESV event, explains former President Koen Smeets (22). 'We didn't think about it. Half our active members are there now.' But the hard core is present, as are three newcomers.
'To become a member of the association, you have to buy approximately € 85 in our investment fund,' explains Smeets. 'We then use this money to collectively invest in stocks.' At the moment, the association's treasury contains approximately € 6000 worth of shares. Every month, members make a pitch for shares they believe the association should purchase or sell. The other members then vote on it. Smeets. 'Of course, our goal is to make a profit: we want our equity portfolio to be worth as much as possible.'
'To get a really high return, we'd have to meet up much more often,' says Hoefnagel. 'Getting together each month isn't enough to respond effectively to the stock market. The thing is: we're not in it for the big money; we just want to make investing accessible. The goal of our investment fund is to practise 'for real', and show students how much fun stock investment is, not win as much money as possible. If you want to get rich, you can do it in your own time!'
Crypto currency
Once everyone's arrived, the students make their way to a small room at the back of the pub. Apart from a beamer, there's nothing to suggest that serious economic matters will shortly be discussed. The walls are covered in old paintings, a couple of barstools are scattered around the room, and old beer barrels hang above the beer tap. Tonight it's the first meeting of this academic year, and the new board, of which Hoefnagel's a member, is welcomed in with an official blow of the hammer.
Hoefnagel starts his presentation with an overview of the macro-economic news. Trump's latest tweets, the effect of Brexit on the exchange rate of the pound and the current value of gold. With the aid of a carefully crafted PowerPoint presentation full of graphs and diagrams, he quietly explains the trends. 'What you see here is an inverted yield curve,' says Hoefnagel as he points to a dip in the graph. For a layperson, his lecture is nearly impossible to follow, but Hoefnagel's audience nod and follow attentively.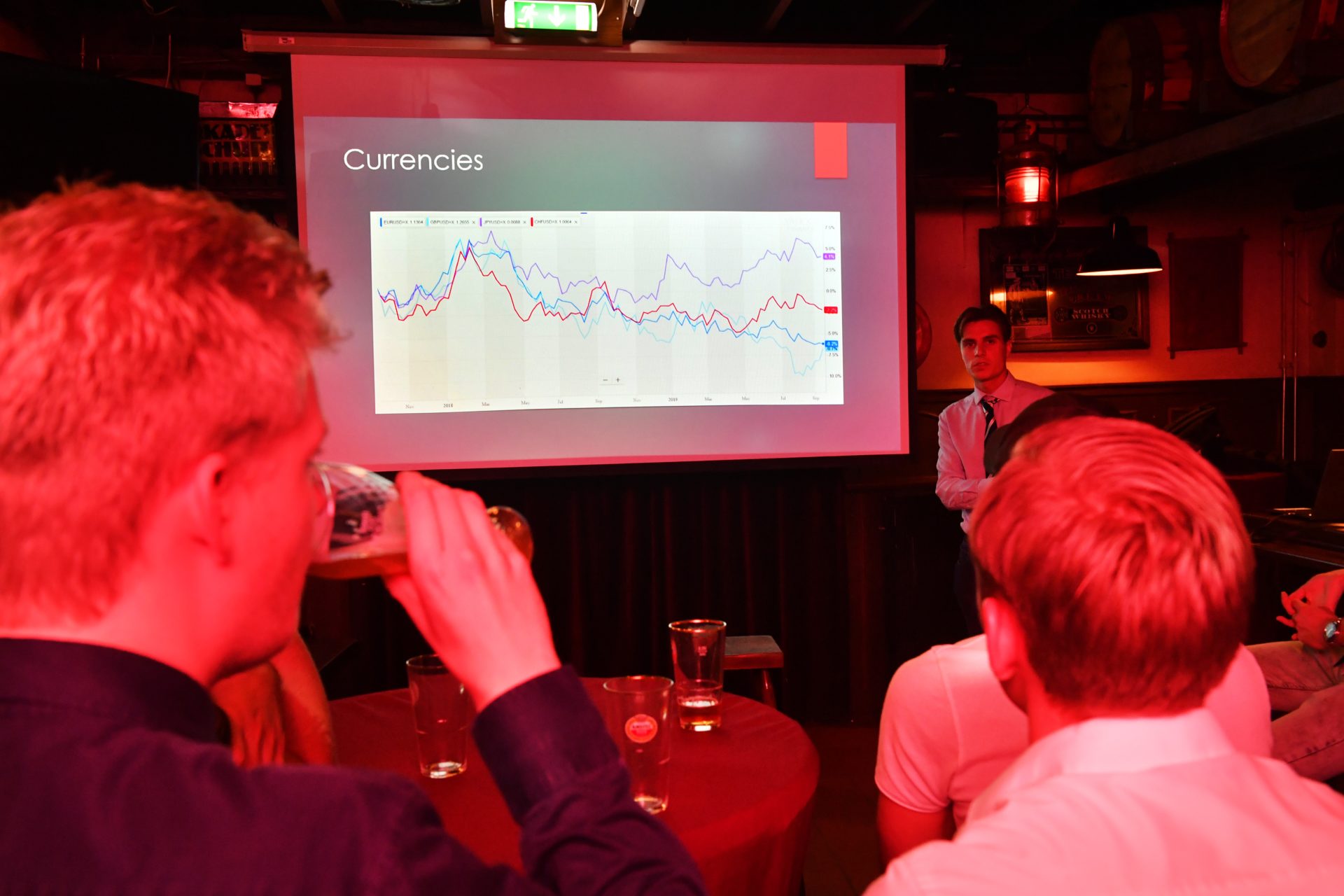 This meeting is the first for Economics student Clemens Jongen (21). A spontaneous decision, he explains during the break. 'This morning, we discussed stock investment in class. A classmate told us about tonight's meeting. I thought it would be fun to attend.' He's an investor himself. 'Alongside my studies I work in a printing machine company. I use most of the money I earn to invest in stocks.' He's particularly interested in pharmaceutical companies. 'I don't understand much about it, but the pharmaceutical industry is usually a safe bet. Everyone gets sick in the end, so the demand for medicines never drops.'
PhD student Natalia Lielczyk (33) walks in during the break. She's one of the association's senior members. She moved from Poland to Nijmegen eight years ago, and is now about to complete her PhD in Computational Neuroscience. She discovered Pecunia by coincidence. 'One of my flatmates was organising a movie evening at our house, and some Pecunia members were invited. I thought they were such fun, intelligent people that I wanted to join them.' Lielczyk has been investing for years – not only in stocks, but also in crypto currency. 'But my friends weren't in the least interested in stock investment. At Pecunia, I finally found the peers I was looking for.'
Gambling
A brief inquiry reveals that all Pecunia members present also trade in stocks outside the association. What's the appeal of investing in stocks? 'Of course, you can put your money in a savings account,' says Hoefnagel, 'But interest rates are so low these days – you barely make any profit. Investing in stocks nearly always yields a higher profit in the long run.' And it's fun too, says Smeets. 'I first became interested in the stock market at secondary school. Investing in stocks is a kind of competition in predicting the future. It combines so many aspects: economics, politics, but also risk taking and gambling.'
Some Pecunia members invest tens of thousands of euros, says Smeets. 'One member even manages an investment fund for a big bank. These funds can be as large as € 50,000.' Most people, though, only invest a few hundred or one thousand euros, says Smeets. 'I personally purchase index shares, which means I invest money in a fund that buys a bit of everything that's available on the market. The odds of losing a lot of money are then pretty low. But I also invest in higher risk funds via Robeco.'
'My friends weren't in the least interested in stock investment. At Pecunia, I finally found the peers I was looking for'
What's the added value of the association for students? Smeets: 'Especially if you're just getting started, it can be difficult to find the right information or know how to trade. Here you get to practise. And we also share our knowledge: some people know about currency trading, others about crypto currency.' Lielczyk recently gave a lecture on the latter topic, she explains. 'I've learned almost everything I know from YouTube and internet forums. Now I can pass on this information. It's much more fun – and better – to discuss things with other people. Our discussions here are really high level!'
Viagra
After the break, former board member Martijn Van Os (22) makes a pitch for Pfizer, a pharmaceutical company in which the students are considering buying shares. 'You're probably not familiar with the name Pfizer,' he says, 'but this is the company behind Viagra and Xanax. I think they're going to make it big.' Despite some critical questions about the drop in market value over the past year, most students seem convinced. The company's ethics are briefly discussed: do the students really want to invest in a company that buys up patents and then sells the medicines for a much higher price on the market? 'Financially, they look great,' says Van Os. 'And Pfizer also does good things: it develops the medicines people need.' Ten minutes later all the critics have been reassured: with a unanimous 'yes', it's decided that Pecunia will buy € 500 worth of shares.
The ease with which the students decide to buy shares brings to mind scenes from Wall Street, with stockbrokers investing huge sums as if it was nothing. How does this type of liberal association fit in with Nijmegen's left-wing politics? 'We're an investment association, it's true, but that doesn't mean we're all fraternity types,' says Hoefnagel. 'Our members cover the entire political spectrum. Some are pro-Trump, others vote for PvdA. These days there are also lots of green and sustainable companies to invest in. It's certainly not just one or the other.'
And the well-known Nijmegen atmosphere is very much present, says Smeets. 'We're not very competitive among ourselves. And we enjoy helping each other.' Hoefnagel: 'Investment associations in other cities tend to hold their meetings in university lecture halls. In Rotterdam, for example, members meet at the university every week to discuss their investments. We don't want to do that. The main thing is having fun, whether you're a beginner or a senior Economics student and future professional investor.' Van Os: 'Of course, we take our investments seriously. But I much prefer to make a pitch with a beer in my hand.'