Working in Sierra Leone, Anna Simon (41) saw people die in droves. The specialist in internal medicine from Nijmegen has written a book about her experiences as an Ebola doctor.
A tiny two-year-old girl with pigtails lies quietly on a huge camp bed. Not long ago, somebody must have lovingly plaited her hair, thinks Doctor Anna Simon as she strokes Kadiatu's head. Was it her mother? Kadiatu had been brought to the Ebola clinic by ambulance, sitting on her grandad's lap. Her parents were already dead.
Anna Simon held the little girl's hand as she died. It was 12 December 2014, Kailahun, Sierra Leone. Fighting back her tears, the doctor left the tent. She took off her two pairs of gloves, plastic overalls, cap and safety goggles. 'This is one of the few times that I'm not covered in sweat when I get undressed,' she jots down in her diary.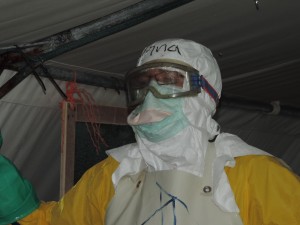 Personal symbol
The little girl in question now adorns the cover of Ebola – behind the mask, the book that Simon will be presenting tomorrow. She and her English nursing colleague Andy Dennis decided to turn her diary entries into a 290-page book describing her experiences. 'Kadiatu became our personal symbol of the Ebola epidemic,' she explains in a room on the second floor of Radboud university medical center.
The disease killed a horrific number of people. Many of those who died in the temporary African clinic where Simon worked, died alone. Simply because the staff working for Médecins Sans Frontières did not have time to sit with them. The danger of infection prevented medical staff from entering the 'high-risk' tent without protective clothing, and the Médecins Sans Frontières protocol does not allow doctors to wear the same plastic overalls for longer than an hour.
'The first time I put that suit on, I was overcome by heat and claustrophobia,' says the doctor from Nijmegen. 'I remember thinking 'How on earth am I going to treat patients and take blood wearing this?'' But she got used to it. In her book, she describes how all the tents had huge clocks so that the doctors could keep a close eye on the time they had left.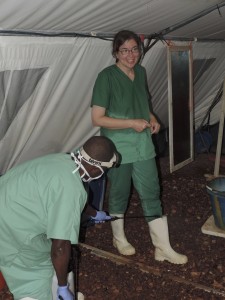 'When I first got to the clinic, it was pure chaos. Ambulances just kept arriving and you never knew what to expect when they opened the doors. I remember once – the first week I was there – a Land Rover turned up with nine people inside. Five adult women, one of whom was very pregnant. We helped them out of the car one by one. Next came three girls, aged around eleven. A little girl of about three stayed in her seat. I had to carry her into the clinic in my arms; she was too ill to walk.'
Once Simon had escorted the patients into the clinic, she had to change her overalls again. 'I just had to leave these people on a bed and let someone else take over.'
She and her colleague wrote the book so that their patients would not have died in vain. It is a tale that must be told, they say. Since working in Sierra Leone, Englishman Dennis has dedicated all his speeches for Médecins Sans Frontières to the little girl Kadiatu. Associate professor Simon passes on her experiences to students attending her lectures.
No children
Simon would not hesitate to return if a new epidemic were to break out. 'Partly because I'd like to think that people would do the same for us if something like that were to happen here.' But she isn't a doctor of tropical medicine. In fact, she'd never set foot in the tropics before travelling to Sierra Leone. She first encountered Ebola when she was helping Radboud university medical center to prepare for patients who had contracted the virus. 'I heard that Médecins Sans Frontières was looking for people to go out there and help, and I seemed to fit the bill. So I thought 'why not?''
Simon is single, has no children and is not responsible for elderly or sick relations. 'That makes the decision easier,' she explains.
Ebola broke out in a village in Guinea in 2013. The medical world did not respond swiftly enough and the virus soon took hold in West Africa. The population of Sierra Leone, where some 14,000 people contracted the disease, was most affected. Some 4,000 people died (from a population of just over 6 million). The epidemic claimed more than 11,000 victims worldwide. The World Health Organization declared Africa to be virtually free of Ebola in early 2016.
Her parents, although worried, were doctors themselves and understood why she needed to go. Simon's mother started a handiwork project: while her daughter was working in Sierra Leone, she knitted her a cardigan. 'It was a sort of talisman; if she knitted me a cardigan, I had to come home.' Her mother took the green cardigan with her when she went to meet Simon at Schiphol on her return. It was too big, because doctor Simon had lost five kilos.
Was she ever afraid of contracting Ebola herself? No, says the doctor from Nijmegen. 'It's like driving on a motorway. You're aware of the dangers so you make sure your car is safe and you wear your seatbelt. But you aren't scared the whole time you're driving.'
But people in the Netherlands were definitely scared. Simon's brother didn't want her to go near his children immediately after she got back. And she heard about a Dutch nurse who received angry emails from people who thought that her work in Sierra Leone would jeopardise the health of her children's classmates. 'That's tough,' says Simon, 'but it's natural to be scared and there's very little you can do. People's concept of the epidemic at home simply didn't match the real situation.'
The presentation of Ebola – behind the mask will take place at Books by Roelants, Thomas van Aquinostraat 1A, on Wednesday 11 May at 17.00. The book costs € 14.95 and has a Dutch translation.