'For many internationals, it's hard to get hired'
Employers and international students who want to work are still miles apart. A group of students has now started an initiative to make connections between them. Sean Eoghan Mclaughlin, one of the boosters of the initiative, and fellow international students James Robertson and Diana Poala Lopez Espinosa, talk about their experiences with finding work. 'It helps to try to learn Dutch.'
Why is working while studying is so important to you?
Diana: 'It is important to learn hands-on experience of what you are studying and implementing it in a professional world and not merely limit yourself to what it is taught in class. That is the main reason why I would like to get an internship.'
James: 'To me it is kind of different. My job is not related to my faculty. It is more a necessity to earn money alongside my studies and financing them. However, I also think that finding a job is an excellent opportunity to learn the language and locally integrate in a foreign country. Even if you wouldn't enjoy the job you'd still appreciate the money you earn with it. And spend it with care.
Sean: 'Moreover, I also think that working while studying adds the right amount of independence to living away from home and being able to find something on your own merits'.
Let's talk about your lives as students-workers in Nijmegen. What are your current jobs?
James: 'I work as a bartender in a food bar in the center of Nijmegen. It is a part time job, I need to work from 2 to 3, sometimes 4 times a week, except when I have exams. Fortunately they are quite flexible with me. I can organise my schedule just letting them know my availability 1 or 2 months in advance.'
Diana: 'I am not working per se, this year I am volunteering at the ISN, the International Student Network. I have a role as vice-president of 'treasure'. My main duty is to interact with all the incoming international students. We organise events, parties, trips, all sort of educational activities. This experience is really important for my professional growth. Actually, it gives me the hands-on experience for what I wish to do in the future. As a treasurer, I am also learning about finance.'
Sean: 'I used to have a job. I just needed to stop because I couldn't find a balance in studying and working anymore at that time. However now I am carrying my own start-up with other students and I am also volunteering at the ISN. Through the start-up I'm learning to discover the 'wheels and cogs' inherent in my studies and how the business world works.'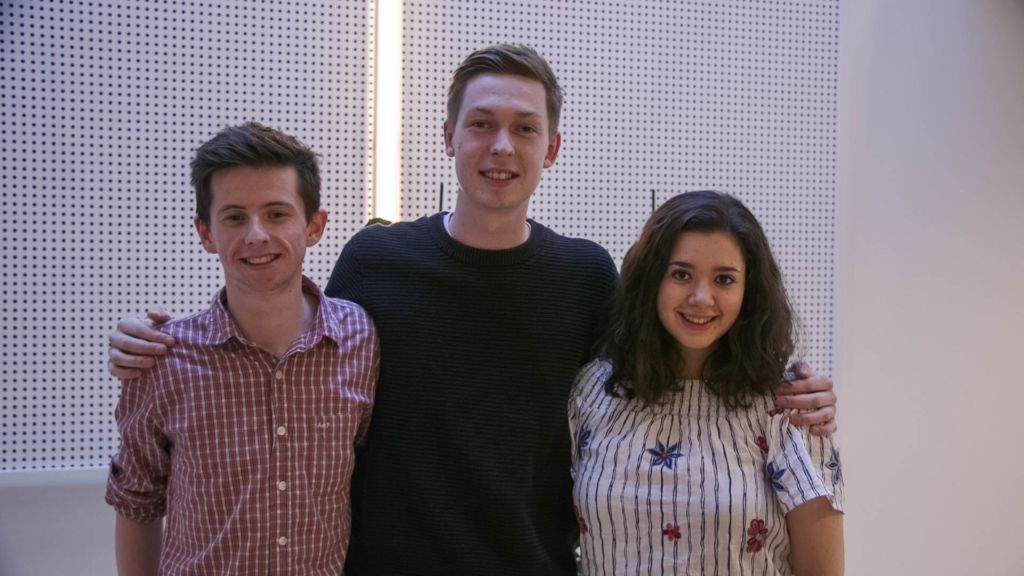 Did you find difficulties finding a job? And which kind of difficulties?
James: 'Personally, I never had too many difficulties in finding a job, it took longer than in Australia, where the process is very quick. Once I decided to apply as a bar-tender they employed me soon. However, I met many international students that told me how incredibly hard it was to get hired.'
Diana: 'I have a different experience than James, I am looking mostly for an internship for the next semester even in bigger and more international cities as Amsterdam or Utrecht. I am struggling, they do require a Dutch language certificate. To me the language barrier is the main hurdle.'
So should we agree that the language barrier is the main obstacle for international students in order to get employed?
James: 'I just want to add that if you are really actively trying to learn the language that would be much more appreciated than just say 'No, I do not speak Dutch'. The more you show your will to learn and improve, the more you are employable.'
Is the language requirement an 'unfair' request?
Sean: 'It is just realistic, we are foreigners in the Netherlands. If you are willing to learn Dutch or you are actually trying to do it, employees will take it in consideration. It is a 'what can I do for you' instead of a 'what can you do for me' mentality. If you want to engage in something you need to take the first step.'
Diana: 'My experience also enhances my ability to speak Dutch, we are learning the language just talking with local students. I would love to have lectures to learn the language better , but I do not have time and the Dutch courses are expensive. Perhaps that is the main issue for internationals.'
Which changes should be made in order to get international students deeper involved in the working process?
Diana: 'Many practical jobs proposed by the university, as washing the dishes in the canteen, are posted only in Dutch. That way, I really do not even feel taken in consideration for the position. That could be done in English. I mean, why do they need someone speaking Dutch for such practical duties? Especially in such an international environment!'
Sean: 'More leeway. During the exam periods is really hard to combine studies and work. Maybe the campus should make it a bit easier for international students to manage jobs.'
What are the incentives for a student to work and study at the same time?
Sean: 'The incentive is personal: pushing yourself beyond the comfort zone. Studying a full bachelor abroad gives the opportunity to explore life at 360 degrees'.'
Diana: 'The incentive is also given by the ease with which you can logistically balance studies and a job. Radboud University offers this kind of facilities, so jobs are opportunities and don't cause  additional stress. It is not the same as in Mexico City, where if you want to work you need to transport yourself at least an hour away. The traffic is horrible.'
James: 'To me its normal, in Australia it is the routine and my parents have always suggested me to work. Moreover, my current job is 200 meters down my road, how could I not enjoy that?'
Survey
International students want to work, and there is a need for contact with companies from Nijmegen. This is the opinion of a group of students (called International Students Work) who have conducted a survey under around hundred international students. According to the initiators of the project – the Irish Sean from this story is one of them – a job helps someone integrate in The Netherlands. Working is a way to get to know people and practice the language. Four students have organised it by themselves. Employers are being approached at the moment to see where international help could be needed. 'We are not aiming at exchange students, but at students who are in Nijmegen for a few years. The advantage for companies is that we have a lot of time; we do not have to go home during weekends and we can skip family birthdays.'
More information? Check internationalstudentswork.nl