Oatmeal cappuccino with soy cake: visiting the first vegan association
In Groningen, students have founded a vegan association. The first one of its kind in the Netherlands. VOX joined them for lunch. 'Our intention is to show non-vegans how easy and tasty vegan food can be.'
Before the Groningen Philosophy student Oskar Bakker (26) joined the Vegan Student Association (VSA), he'd never, in his own words, 'met another vegan'. With the exception of a lecturer who once told him he was a vegan, but how likely are you to have dinner with a lecturer? While his friends ordered hamburgers with cheese and mayonnaise, Bakker had to look for a vegan alternative. It wasn't hard, he said. It was more that he didn't quite fit in. 'You feel a bit like an outsider in the group.'
Opening party
So when Bakker saw Alicja Jeleńska (20)'s message on Facebook last August, he was immediately interested. The Polish student was planning to move to Groningen after the summer to join a Master's programme in International European Law. Jeleńska was wondering whether there was a vegan student association in Groningen. There wasn't, as it turned out. In fact, in all of the Netherlands there wasn't a single association like this. 'Shall we start one?' suggested Jeleńska on the Facebook group.
Half a year later, Jeleńska and Bakker are President and Vice President respectively of the first vegan student association in our country. Following an unexpected amount of media attention and a successful opening party, the association now has seventy members. What drives the students? And why do they find it important to form an association? VOX travelled to the far North for a closer look at the vegan student lifestyle.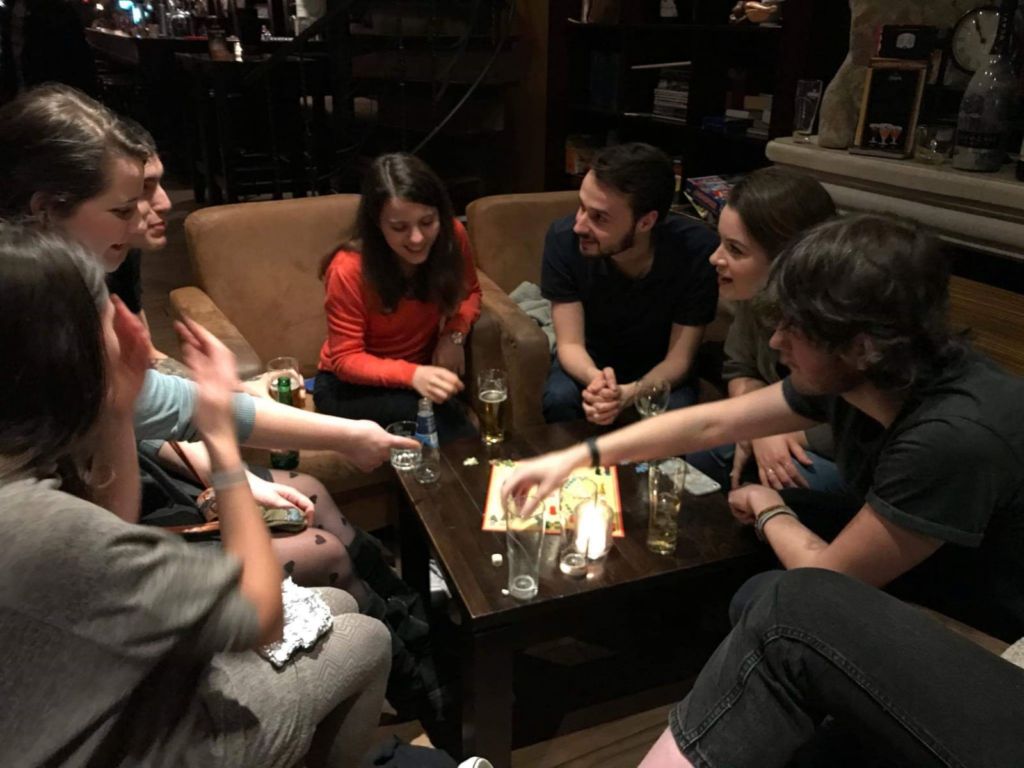 'Of course, you don't need a student association to be a vegan', says Jeleńska, as she pricks her fork in a vegan chocolate pie made with soy milk. 'But I thought it would be nice to find like-minded people.' She's joined at the table by the four other members of the VSA board. The location: Lust, a recently opened vegan café on the outskirts of the centre of Groningen. The counter displays at least five different kinds of vegan pie; the coffee menu lists oatmeal and soy cappuccinos. In addition to President Jeleńska and Vice President Bakker, there is Secretary Jeroen Ceulemans (26, Master's student in English Language and Culture), and Treasurer Sofia Lindholm (26, Master's student in Psychology).
The idea behind the association is to exchange ideas and get together to eat and drink, explain the students. All events are open to the public. Membership costs € 10 per year. Students from all faculties are represented, and the vast majority of members are women. Incidentally – an exclusively plant-based diet isn't compulsory. 'Most of our members are vegan, while some are vegetarian', says Ceulemans. 'We even have a few members who eat meat. Anyone who's interested is welcome. It's our intention to show non-vegans how easy and tasty vegan food can be.'
'Many people think vegan food is complicated and expensive'
In December – even before the association was officially launched – VSA held its first event: a screening of Dominion, a documentary on Australian factory farming. With vegan snacks and drinks. 'It was Animal Rights Day and we wanted to do something on this theme', says Jeleńska. 'The theatre hall of the University was packed. It can accommodate about 80 people. For us this was a sign that a lot of students are interested in the vegan lifestyle.' The association's launch party also drew a crowd, attracting at least one hundred visitors. In addition to animal-friendly snacks, the students also invited speakers, including Debby van Velzen from the Dutch Society for Veganism (Nederlandse Vereniging voor Veganisme). And a performance by singer-songwriter Shamey, also a vegan.
Real impact
Once a month, the association organises a potluck dinner, with everybody bringing something to eat. The latest development is vegan drinks on Sunday night. No 'bitterballen' are served, of course. Instead, VSA members binge on bread with hummus, marinated edamame beans and French fries. 'Did you know that not all wine and beer is vegan?' asks Jeleńska. 'So we also make a selection there.' Ultimately, the association wants to create an online database of vegan recipes and organise cooking workshops. 'We'll probably be able to organise these workshops here in the Lust kitchen', explains Ceulemans.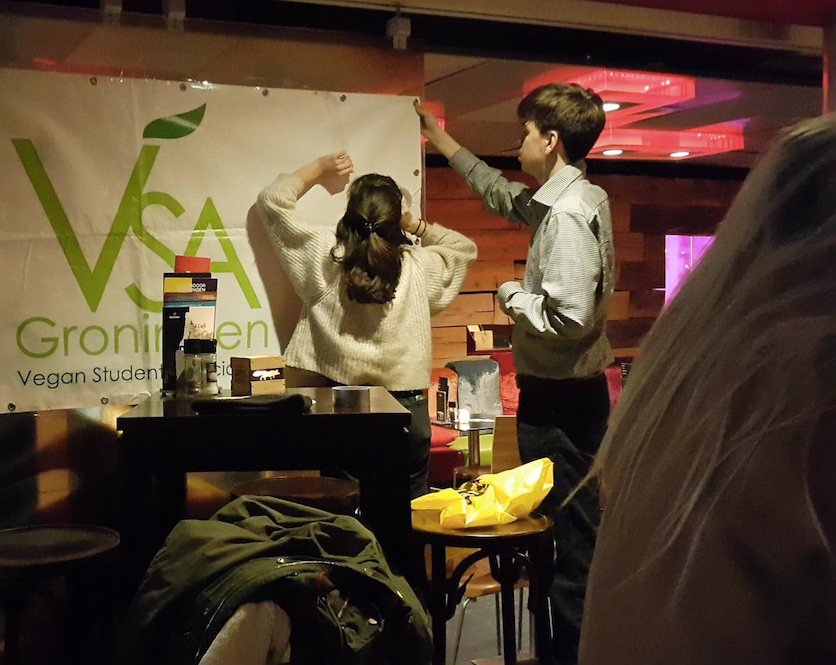 The drinks and potluck dinners are intended to create inspiration and conviviality, but in screening films and organising lectures, the students hope to have real impact, says Jeleńska. 'After we screened Dominion some visitors were so shocked by the malpractices in factory farming that they instantly turned vegan. One of them is now on one of our committees and responsible for the association's PR.' This kind of activism definitely has a place, say the students. 'Lots of people these days think about the climate and try to live more sustainably', says Lindholm, who became a vegan five years ago, as she sips her matcha latte. 'The University is also actively working on it, but there's still not enough attention paid to a plant-based diet. Most university restaurants still offer meat as the standard option.'
Hippies
By organising low-threshold events, the Board hopes to break through the prejudices surrounding veganism. 'Many people think vegan food is complicated and expensive', says Ceulemans. 'Or that we're extreme hippies.' Lindholm adds: 'Who only eats salad? Actually, I can't even remember the last time I made a salad. I live off French fries and hamburgers too. It's just that mine are made from meat substitutes.' 'Yesterday, we went to Domino's', says Jeleńska. Lindholm nods. 'Their vegan pizza is fantastic!'
Recipe for Vegan Burritos
Filling:
400g Kidney beans (black beans work as well)
100g Corn
1 Bell pepper
1 Clove of garlic
2 Spring onions
1 tbsp. Smoked paprika
1 tbsp. Cumin
1 tsp Turmeric
Salt & pepper to taste
Handful of coriander (optional)
Guacamole:
1 Avocado
1 Tomato
1 lime
Salt & pepper to taste
Cooking: Finely slice the garlic and onions and throw into a pan with some oil. Slice the bell pepper, and add it to the pan after a few minutes along with the kidney beans, the corn and the spices. Fry the mixture over medium to high heat for five minutes. You can add coriander at the end. During these five minutes you can make the guacamole by mashing the avocado and dicing the tomato. Mix them together, and add the juice of one lime along with salt and pepper.