Student and lonely (5): 'The fact that there are foreigners is simply ignored'
One of the biggest problems in modern student life is loneliness, also for internationals. It is much talked about by university officials and student representatives, but what is it like for students? Vox interviewed some of them about being lonely. This time: Evita Palma, from Latvia.
Evita Palma (27) started off her time at Radboud as an Artificial Intelligence student. 'I was living in Arnhem at the time, I love to travel, so I went looking for nearby universities.' In the beginning, she found it hard to connect to others in her programme. 'I was the only international student in my introduction group,' she says. 'And even though the programme is in English, a lot of the orientation activities were in Dutch. Even though we went on an international weekend, the host said "there are not many internationals here, you can just translate for them". I understand why they mix internationals in with the Dutch students, but there's just way more Dutch people. So in practice, the fact that there are foreigners is simply ignored.'
This is different from her experience in Latvia, she says. 'People here are less considerate of the fact that you might not be local,' she says. 'In Latvia, even if there were ten of us and one foreigner, we would still speak English and take into account that this one person is there.' According to Palma, students here are nice and helpful, but they lack consideration of their surroundings. 'I've had a few days during the intro week for this study where there were hours and hours without a single word of English. There were moments when somebody turns to me and says "So you're coming?" And I am like "Where?".'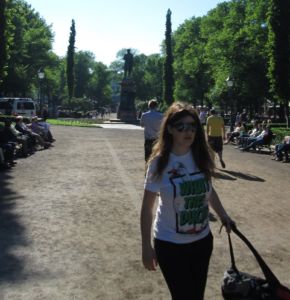 She managed to make a Dutch friend and a German friend, and formed a little group. 'But later it started falling apart. And then I got hit with depression so I didn't go out as much. Although I like meeting new people, it drains me a lot,' she says about that time.
Quit
The depression caused her to not meet her BSA. She got an extension, but quit her studies in spite of it. 'The study advisor was really helpful and was really pushing me to get help. I was really grateful. The university psychologist was the worst experience I've ever had. I was just told to go home. Eventually I got to a different psychologist through a friend and the improvement started, although he also advised me to quit my studies,' she says.
'The worst thing is when you start hanging out with people just because you don't want to be lonely.'
She switched to Business Administration and is doing a lot better now. However, she does not have many friends yet. 'I still basically have that one friend from the first year,' she discloses. 'The worst thing is when you start hanging out with people just because you don't want to be lonely. After orientation, cliques are formed and it's hard to make new friends. And in my current programme, there's also the age difference. There are a lot of 17-year-olds, whose hobbies are playing golf. And I don't really fit in.'
Six languages
Palma understands Dutch now, but does not speak it very well yet. She would want to learn, if she decides to stay. 'In every country international students go, they might be there for three or four years. If you like the country and want to stay, then you should learn the language. Dutch students that go abroad also don't learn the local language.' Learning a language is great, according to her, but it's a lot of work. 'So if you don't want to build your life here, there is no use for that language. I already speak five languages, so why would I learn a sixth that does not have much use outside the Netherlands?'
If she decides to stay, this will change, she says. 'I want to be a part of society and I have respect for the place I live in. But university environment is not the same as outside, so there shouldn't be a need for the language quite yet.'