Student association ESN is a success story of internationalisation
In 2017 the international student association ESN was just an idea. Now it has grown into one of the largest student organisations in Nijmegen. After merely three years from the first idea to its now third committee, it appears to be exactly the kind of success story internationalisation can be. But how does an organisation get there?
'To give all internationals a home in Nijmegen', says Nadina Zaharieva, ESN's current internal affairs manager, when asked about the main goal of Erasmus Student Network (ESN). According to Zaharieva and Marian Plohr, the organisation's current president, the integration of international students in Nijmegen has been ESN's central topic right from the start. And people have been agreeing with it. The organisation is starting 2020 with almost 600 members, deeming it the second largest on campus — with an influx of more Erasmus-students during the second semester to be expected.
All kind of backgrounds
According to Zaharieva and Plohr, members come from all kind of backgrounds. Including degree-seeking international students, Erasmus students and internationally minded Dutch students from both HAN and Radboud. This variety is a strong point for any organisation that aims to help students integrate in the Netherlands — but it also comes with certain challenges. Erasmus students, for example, are often not merely joining as non-active members, but are sitting as active students in the committees. Whether committee members only staying for the course of one semester rather than a full study year can result in organisational problems? 'No', agree the board representatives.
'We have a lot of member change, because there are many Erasmus students next to students who are enrolled for the entirety of a degree at Radboud. That makes constant promotion very important, but we view it more as an opportunity than a challenge. With this kind of movement, you get an influx of new ideas and a great foundation to get creative', says Zaharieva.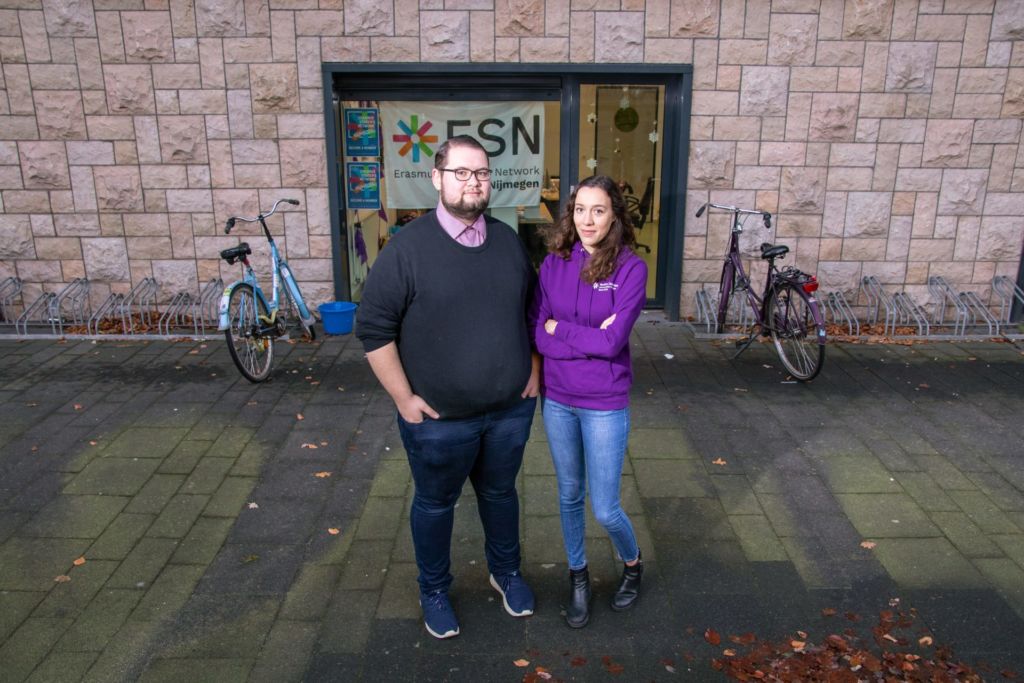 ISN or ESN?
But ESN, even though its name might make one suspect it, is not mainly targeting Erasmus students. 'We are an organisation for every internationally minded student', emphasise the board representatives. 'Every Dutch or international student is welcome.'
The reason for the name change at the beginning of 2019 from its original name, the International Student Network (ISN) Nijmegen, to the Erasmus Student Network (ESN) Nijmegen was merely bureaucratic. 'There was a vote on the national level of ESN', explains Zaharieva and smiles, 'So we took one for the team. Our stance towards integration of all internationally minded students, whatsoever, hasn't changed.'
To party or not to party
This aim to include all students, international and Dutch, is also reflected in the organisation's list of activities. ESN has been involved in events ranging topically from charities to parties, from galas to pub quizzes, and from language cafes to city trips. Members and non-members come to meet new people, get help with bureaucratic issues and language barriers that accompany moving to a foreign country and in general to have a good time.
'We want to give all internationals a home in Nijmegen'
'We know that people are different. So not everyone wants to party — some want to do a pub quiz. And we want to give all internationals a home in Nijmegen. So there will be something interesting for everyone', says Zaharieva.
A safe space
A variety of activities like that is crucial when approaching the challenges people can encounter during their time abroad. Challenges of international students that have stayed virtually the same since the founding of ESN, according to the organisation. 'The mere fact that someone has moved abroad is a challenge', says Plohr, 'It's a difficult situation, because there is no-one there to help. And it can be very lonely.'
Plohr speaks from experience, having studied in Great Britain after his high school diploma in Germany before moving to Nijmegen after studying in the Netherlands as an Erasmus student himself in 2016. And how is ESN tackling this problem? 'We try to be a constant provider of contact for students.', says Plohr, 'And by doing that, we have established a safe space for both international students and internationally minded Dutch students. And I wholeheartedly believe in the importance of that.'
'We are currently in the annual planning phase of the major events for 2020.', adds Zaharieva, 'I can't say more at the moment, but there will be some very interesting activities and definitely something fitting for everyone. Keep an eye out.'