Study associations may be switching to English…
Nijmegen study associations are welcoming more and more international students. But the student associations are remaining aloof. 'They did switch to English, but forgot about it within two sentences.'
The German Anna Bleeck will go down in history as the first international board member of V.C.M.W Sigma. The Molecular Life Sciences student has been an active member of the study association since her first year – she was one of the first student cohorts to be taught in English. That was two years ago, and she's seen the association undergo some major changes since then.
Of the approximately 550 members, 150 or so are now non-Dutch. The fact that Bleeck is the association's Internal Relations Officer this year is proof that Sigma is quickly becoming international. Admittedly, Bleeck does have a small advantage over other international students: her grand-mother is Dutch. 'I come from Aachen, just across the border, near Maastricht. We used to spend our holidays in Zeeland.' But she doesn't speak Dutch, so the working language of the new board is English.
'Many international students think we're just a club where people get drunk'
Still, Sigma still has a long way to go. Bleeck notices that many international students hesitate to become actively involved in the association. 'The Dutch directness scares some people off.' But language and culture are not the only barriers. Bleeck knows that international students in her circle are afraid to incur study delay. Active membership of an association is not an option for them.
'That's why it's important to explain to international students what a study association actually is,' says Bleeck. 'Many people think we're just a club where people get drunk.' She laughs: 'Of course, we do that too, but we do so much more besides. It's about making friends and getting to know other students.'
Language policy
Vox's short survey among the study associations of English-taught Bachelor's programmes shows that Sigma is not the only association with fewer active international members. At the Psychology association SpiN, Secretary Heleen van Renesse explains that international students focus more on their studies. According to Jurian van der Waal from Synergy (Business Administration), cultural differences prevent many internationals from taking the first step. But, as he says, internationals who are members appreciate it all the more, and keep coming back.
In their communication with members, associations are slowly switching to English. SPiN, the association that has the most international members (approximately 850) has a bilingual language policy: their website is bilingual (even though the English website is less detailed), as are their social media and newsletters. The association's General Assembly will also 'probably' switch to English as of this year.
BeeVee (Biology), Babylon (Communication and Information Studies) and Synergy have similar policies. BeeVee only has a bilingual newsletter for the parents – communication with members usually takes place only in English. Babylon uses both Dutch and English on social media, but as of this year their magazine is in English. Synergy does 'almost everything' in English, with the occasional Dutch translation. Only the General Assembly is still in Dutch.
Sigma and CognAC (Artificial Intelligence) opted for a different strategy: they switched completely to English. It's no coincidence that these associations represent programmes without a Dutch-taught equivalent: their students are used to communicating in English.
The biggest challenge, even for an English-speaking association like Sigma, is not only to communicate with students in English, but also to help them feel at ease during social gatherings. Sigma board member Anna Bleeck thinks things are certainly moving in the right direction. 'In the first year, international students kind of form their own separate little group. At get-togethers, people used to speak primarily Dutch. Now you hear English more and more often.'
… but student associations remain firmly Dutch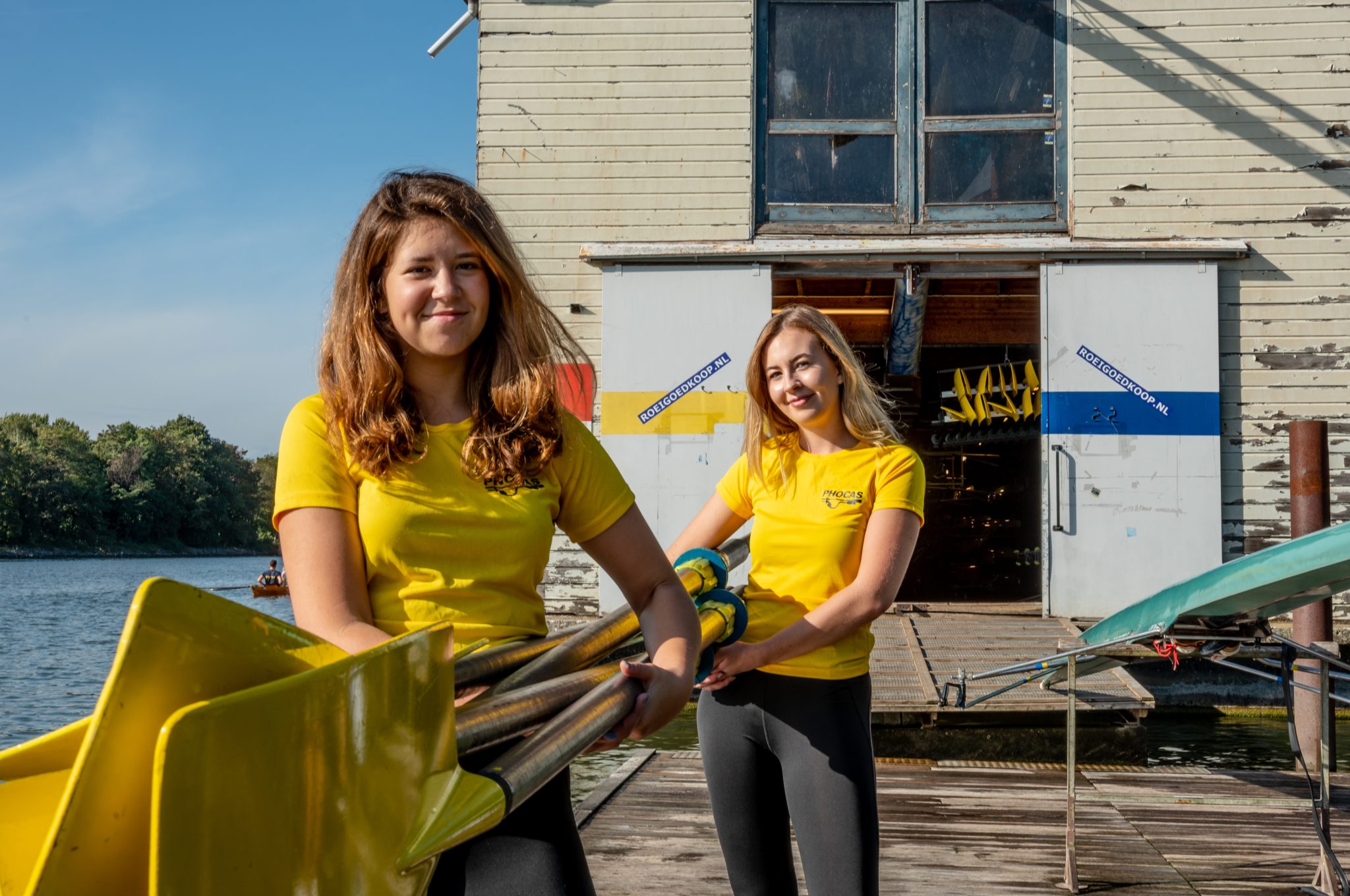 While study associations are increasingly opening their doors to international students, the big student associations in Nijmegen remain strongholds of the Dutch language. Ovum Novum has no international members, Carolus Magnus only one at the moment. At Phocas, you can count internationals on the fingers of both hands.
The University would like the big student associations to open up to international students. The associations themselves are under no pressure. The Presidents of Carol Magnus, Ovum Novum and Phocas all three indicate that international students are welcome. But if they don't speak Dutch, they'll have a hard time integrating in the traditional Dutch-language environment of a student association. The associations feel no pressure to become more international, in part because few international students are interested in becoming members.
The German Marie Wolter (Life Sciences, HAN) and the Turkish Alara Er (International Business Communication) are exceptions. Last year, they both decided to join the Phocas rowing association. During Introduction Week, they left their e-mail address with the association, and have remained active members to this day.
The odd ones out
To walk into Phocas without speaking a word of Dutch the two students did have to overcome quite a barrier. 'We felt welcome, but were definitely the odd ones out,' says Wolter. 'All the other students spoke Dutch among themselves. If we were there, they did switch to English, but forgot about it within two sentences.'
Wolter and Er were lucky to meet a small group of members with whom they got along very well. 'They were happy to spend time with internationals like us,' says Er. Together, they formed a team.
Being members of Phocas gives Wolter and Er a double advantage: they get to practise their favourite sport, and it helps them integrate in Dutch student life. 'In the beginning, we mainly came for the rowing,' says Wolter. 'Now we also often take part in social activities. I never miss a party.'
'We'll always be outsiders in a way'
Wolter and Er don't believe in creating separate teams with only international students – a potential solution to help internationals feel more at ease. 'It would only further isolate the international team from the larger group.'
Er and Wolter are not particularly surprised that Ovum Novum and Carolus Magnus struggle to attract international students. 'These associations are mainly about having a good time,' says Er. 'Even more than at Phocas, this means you have to understand the culture. The jokes, the language, the drinking culture. At Phocas, at least, you always have the sport.'
And yet, Phocas too has its traditions, which may be difficult for foreign students to understand. According to Er and Wolter, this makes it 'unthinkable' for either of them to become board members. 'We'll always be outsiders in a way.'
Meer lezen over Internationalisering? Bekijk dan ons dossier.