'There's more at stake than the colour of Pete's skin'
For the past few years, the arrival of saint Nicolas in the Netherlands has gone hand in hand with the discussion about Black Pete, especially now that protest group Majority Perspective has taken the matter to court. But is the court the right place for a discussion like this? Radboud Reflects organised a lecture today, about these and other questions.

Last week, Majority Perspective started summary proceedings against, among others, the NTR, the state and the city of Zaanstad. The goal was to strip Pete of all racist stereotypes during the arrival party. The black paint, golden earrings and stereotypical behaviours should be prohibited, according to the protest group. It was supposed to be an expression of racism and a violation of the UN Convention on the Rights of the Child.
Rogier Meijerink of Marjority Perspective told de Volkskrant that the news unchained a storm of angry reactions on social media against him and the protest group.
Skin colour
Major Bruls already told De Gelderlander that there's no place for the announced demonstrations against Black Pete during the arrival in Nijmegen. This once again shows how the topic is discussed in society. But is this really something that need to be dealt with in court? And what can a judge do in a case like this? What is this discussion really about? Professor Jurisprucence Roel Schutgens and political philosopher Mathijs van de Sande answered these questions in a lunch lecture this afternoon.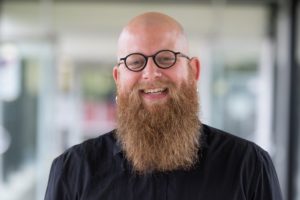 'I understand why the protest group decided to take this matter to court', Van de Sande says before the lecture. 'But it should not have come this far and it shows our government's weakness. It is a shame that Rutte says that politics have nothing to do with this. By not taking a critical stand point as government, you don't take the rights of this minority seriously. Even though the government is there to protect them.'
'We have to acknowledge that the Netherlands still knows a great deal of inequality'
Van de Sande understands that politicians rather stay far from the matter: 'Nobody wants to defend an unpopular opinion.' But according to him, the discussion is about much more than just whether we should allow Black Pete to excist. It is about who decides what racism is and how we deal with our colonial past. Black Pete is just the symbol of this discussion.
'That is the reason why people react so violently. They know that there is more at stake than Pete's skin colour. It touches a painful nerve in our society. That is not fun, but we have to acknowledge that the Netherlands still knows a great deal of inequality.'
Public resources
Of course Van de Sande understands that most people probably don't have racist intentions. He thinks that it's more a question of who has the last word. 'If a certain group says they feel something is a problem, you have to take that seriously. If the government does not acknowledge it, this minority has the right to take the matter to court.'
But he would rather see a different solution. It is his opinion that this is a job for public organisations, like municipalities. 'Saint Nicolas' arrival is organised with public resources. Because of that, everybody should be taken into account. These public organisations say they have nothing to do with the discussion, but with their policies, they disadvantage this minority.'