'We want 'BOM' instructor Fred van Lent to stay'
Even after his retirement, sports instructor Fred van Lent should be allowed to continue his lessons 'Bewegen op Muziek' (moving to music). A group of sports centre members has started a petition. 'Fred's BOM lessons are very important to me.'

It is a little like watching the Witch Doctor video by local band De Staat: Bewegen op Muziek (BOM). For an hour, you do exercise to a catchy playlist, while an instructor in the middle of the room shows you what to do. By the end of this year, Fred van Lent, one of the original BOM instructors, will retire. It's a forced retirement: he would prefer to continue for a long time, and his clients support him – they even started a petition.
'By the end of December, I will be 66 years and four months old, and I officially have to stop working,' says Van Lent on the phone. Rules are rules, his supervisor said. The university labour agreement states that employees have to leave the job by the time they hit the retirement age.
Beatles
But while some people can't wait to reach that age, Van Lent wants to continue working. Or at least still teach his Sunday morning lessons, something he has been doing for years. 'I still feel healthy and the clients are happy. With me, people feel that I love the music. Wouldn't it be a shame if I can't continue that? I understand that at some point, you have to make room for younger people, but I am in nobody's way. It even generates money! I will do it as a volunteer, if necessary.'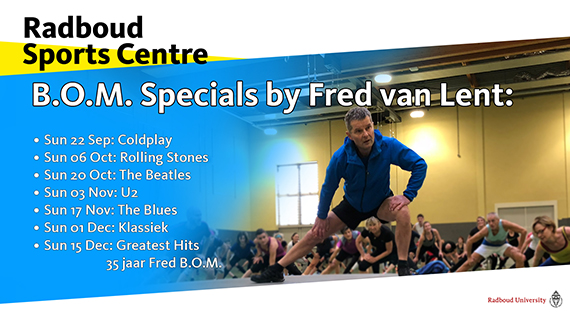 The popularity of the BOM lessons during the week is decreasing, the sport instructor adds, the Radboud Sports Centre has even asked him for advice about that. 'Because my lessons are always very full, partially because I use themes. Last week, I did a special where I exclusively used music from Abbey Road by The Beatles.' Van Lent is also the only male BOM instructor.
Very popular
To support the sports instructor, regular 'bommer' Wim Wiegerinck has started a petition: Van Lent has to stay. Every Sunday during the BOM lesson, people can sign – with pen and paper. Wiegerinck hopes that the Sports Centre will reconsider its decision. 'If someone is still competent, and wants to continue – even as a volunteer – shouldn't that be possible? Professors are also allowed to work for an additional five years, right?
For Wiegerinck, who is a researcher at the SSN Adaptive Intelligence and the Donders Institute, 'bomming' is very important. 'I am not a natural born athlete, but Freds combination of music choices and exercises help me through the hour. His themed lessons with special music are very popular. Not to dismiss any other instructor, of course.'
With Wiegerinck, Van Lent hopes for more flexibility from the Sports Centre. 'They are very strict now. If it was up to me, we would just see how long it goes well. I can also lower the frequency, to once every two weeks, for example.'
'Standard policy'
Radboud Sports Centre Rob Cuppen: 'I did not know about this petition. It is standard policy that people retire at 66. A few months ago, Radboud Services has stressed that there has to be a very special reason to deviate from that rule. Don't forget that bomming is a physically heavy sport.'