Bioinformatician is pole dancing world champion: 'Sponsors are still welcome'
Besides being a bioinformatician, Nijmegen scientist and associate professor Hanka Venselaar is now also the world champion in pole dancing. She won the Artistic Pole Senior Doubles with Maaike van Santvoort at the world championship in Poland on Saturday.
Hanka Venselaar is no stranger to the podium, but winning a world championship and hearing the Wilhelmus is a new experience. The bioinformatician from Nijmegen does pole dancing in her spare time; she's also a trainer at the Nijmegen student pole dancing association Lasya.
Venselaar and Van Santvoort were in Poland for almost a full week. 'We arrived on Tuesday because we had to attend the opening ceremony on Wednesday. Then we had our match on Saturday, and we came back on Sunday', Venselaar says. Now, she's returning to Nijmegen with a gold medal.
She goes on to explain that, in a technical sport like pole dancing, people don't tend to push their bodies to the limit in championship finals. 'It's not like ice skating, where you give it everything you've got until the very end. It's more comparable to gymnastics; it's a part of gymnastics, really. You practice one specific routine, which you then try to perform flawlessly.'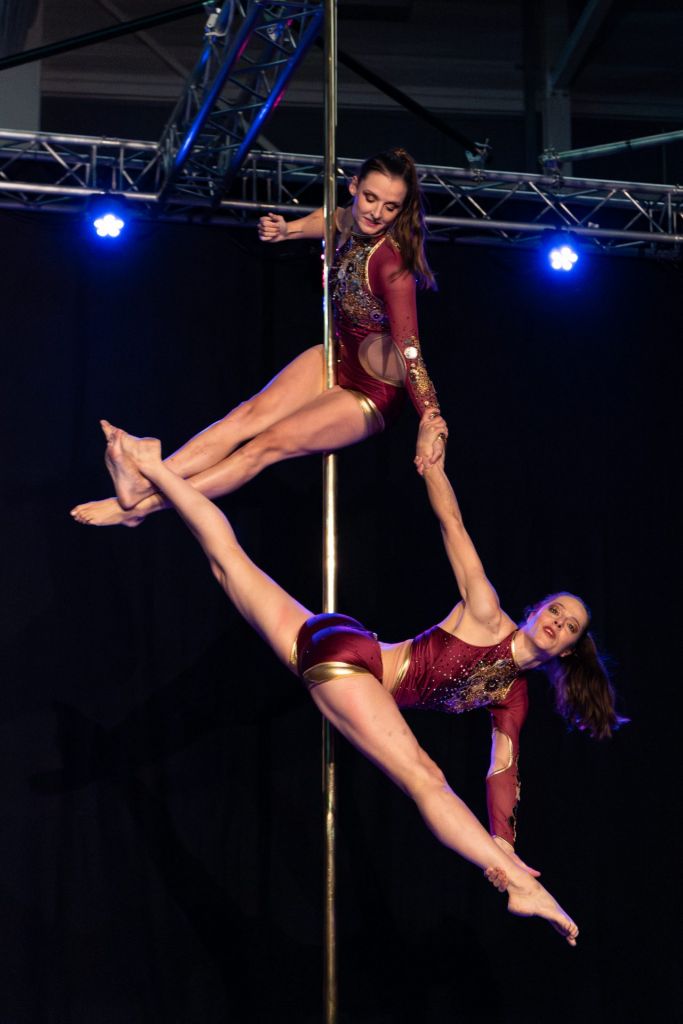 Did you know what to expect from your competition?
'Everybody had to qualify for the championship. We qualified by winning nationals, like many of our opponents. Video footage of those national championships can be published online, but we opted not to do so. We did know what routine Poland was planning, but it's still a jury sport; sometimes the scores are unexpected.'
Is this your most extraordinary victory?
'It certainly makes the list, but my first victory at the European Championships in 2010 was a huge surprise as well. I also have a lot of good memories of various special locations or acts.'
This sport seems unlikely to make you rich.
'It actually costs me money. We had to take care of our own transportation and admission fees. So, sponsors are still very welcome! The sport is still relatively young. People are lobbying to turn it into an Olympic sport, which would change a lot. However, it is already a very international sport. This year, there were 500 athletes from various countries all over the world.
It's a very physically demanding sport, but what about the mental aspect?
'You have to memorise the routine, but that is something you train for. Maaike and I have been training since January. We were very well prepared.'
What did your colleagues have to say about your victory?
'Not everybody knows, and I tend not to mention it if no one asks. But I do get approached more because of the increasing publicity. Some of my colleagues are very surprised; they didn't know I did pole dancing.'
Do you have any other pole dancing ambitions?
'I want to keep doing it as long as it's fun; that's my main motivation. Maaike and I will be heading to Italy in April, for a show we wanted to perform simply because the theatre looked beautiful.'
Is it easy to balance that and your work?
'Bioinformatics allows for a very flexible work environment. So, I can work in many different places. The combination really works for me. You can't spend all day exercising, and, personally speaking, I can't spend all day behind my computer. I train before or after work, and very rarely when the computer is busy processing. We practice cooperative dances once per week, and I work on my strength and dexterity on the other days. I rarely sit still.'
Translated by Jasper Pesch