Student Mike Foppen ran a 'bizarre race' in a deserted Goffertpark
Running records are usually broken under the gaze of crowds of cheering spectators. The Nijmegen student Mike Foppen had his moment of glory this summer in a deserted Goffertpark. The race was kept secret to discourage spectators. 
Not many runners can boast of holding a Dutch title. Fewer still boast two. And only one of them shares one of his two records to the hundredth of a second with one of his great role models. Mike Foppen, Master's student of Work, Organisation and Health at Radboud University, happens to be that person.
Last July in the Nijmegen Gofferpark, he smashed the Dutch 5 km road record that had stood for 23 years. With a time of 13 minutes and 31 seconds, Foppen was a whole 15 seconds faster than Kamiel Maase, one of the most successful Dutch runners of all time, who covered the same distance in 13:46 in 1997.
Another record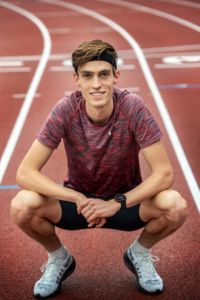 Less than a month later, Foppen broke another Dutch record. In the Monaco Diamond League, an international race known as the runners' Champions League, Foppen achieved a record time of 13:13:06 for 5000 metres on a track. The exact Dutch record, to the hundredth of a second, held since 2002 by none other than Kamiel Maase.
'It was really crazy', Foppen remembers with a grin. 'You expect one of the two to be one hundredth of a second slower, but no. We actually share the record now. An improvement and a match of Kamiel's records, that's something to be really proud of. He's such a big name in the Dutch running world.'
Twenty-three-year-old Foppen, who alongside his running career also studies part-time, has really broken through into the major league this past year. Not only did he run a great race at the Diamond League and break two Dutch records, he also won two medals in the Dutch Championships in September: Gold in the 5000 metres and bronze in the 1500 metres.
On his bike
'I was in good shape this year', concludes Foppen modestly. 'I was lucky to be able to train outdoors, which meant I could keep running even during the lockdown in spring. During the training sessions, I almost broke the Dutch record a few times. I had to wait for an official race to show the outside world what I was capable of.'
That moment came on 19 July, when he broke the 5 km record in a convincing manner. 'This was also the most bizarre race I've ever run.' The race, which took place in the Gofferpark, was kept secret by the organisation, to avoid large groups of spectators.
That Sunday morning there was only a handful of Dutch and international top runners doing warm-up exercises in a watery sun in a deserted Goffertpark. 'It was so strange! I live just around the corner. My alarm went off at 7 a.m., I grabbed a bite to eat and got on my bike. I put my bike up against a tree and ran some laps to warm up. This isn't how I usually prepare for a race.'
'People stared at us in amazement as we ran past them at full speed'
To make it even more absurd: the course wasn't marked out and the runners didn't wear race numbers. Apart from the start and finish lines, there was nothing to suggest that this was an international running race. 'So we ran the risk of people walking across the track. Someone actually had to cycle in front of us to direct people away from the course. Luckily it was early, so the park was pretty empty, except for some people walking their dog. They didn't know what had hit them. They stared at us in amazement as we ran past them at full speed.'
Olympics
After such a perfect year, Foppen hopes to maintain his great form in 2021. 'Despite my personal growth and racing results I didn't manage to qualify for the Olympics because the World Athletics Association put the qualification on hold due to the pandemic. It's a bit of a blemish on my 2020; I know I would have made it. But if I manage to keep in shape, I'll qualify in the next round.'
'And my expectations for the Olympics? I don't want to presume too much. If I qualify and am allowed to take part, that would be a great achievement in itself. I need to focus on qualifying first.'