Chalking the pavement to protest against street harassment during witch night
Many women feel unsafe while walking the streets at night. To draw more attention to this issue, the collective Catcalls of Nimma is holding the Witch Night of Nijmegen on Saturday. 'We want to reclaim the night.'
'Will you text me when you get home?' or 'I'll walk you home'. They are phrases most women know all too well, said by a concerned friend after a night out. The night is often felt to be unsafe, especially by women. Exactly for this reason a witch night is being held in the city this weekend.
A witch night? Are women taking to the streets while wearing pointy hats and carrying broomsticks? 'No, the term refers to the witch trials during the Middle Ages', says former student Judith Holzmann (24) of the collective Catcalls of Nimma, famous for their chalk protests against street harassment. 'In those days, women were accused of witchcraft and brutally tortured. The term witch had a negative connotation. Now we use it to show the power of women.'
Murder of a microbiologist
The witch night is a protest march which has existed for years. The first witch night took place in 1975 in Philadelphia. There it was called: 'Take back the night'. The protest arose as a reaction to the murder of microbiologist Susan Alexander Speeth, who was stabbed while walking home from work. After this, women in the American city took to the streets with banners, pans, and torches. In doing so, they wanted to show and let it be heard that the night is supposed to be safe for everyone.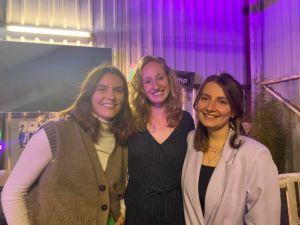 Three years later, in 1978, the first witch night in the Netherlands took place. In total, ten cities participated, Nijmegen being one of them. The phenomenon was repeated several times later on. Saturday a new edition will take place. This time in a modern outfit: the torches and pans have been replaced by pavement chalk.
'We want to organise something big as Catcalls of Nimma', says Holzmann. 'We first thought of a guerrilla action, where we secretly chalk out examples of street harassment in the centre of Nijmegen at night.' It would be an enlarged version of what Catcalls of Nimma has been doing for two years. Together with Yana van de Sande (24) –Artificial Intelligence student – and Roos van den Oever (23) – public administration student – Holzmann chalks out texts about street harassment in various places in Nijmegen. 'We receive true stories on our Instagram account and then chalk out the statements at the location where they were made. Think of the Kronenburg Park or near the train station.'
Discriminating and homophobic statements
Meanwhile, these chalk texts have appeared in dozens of places in Nijmegen. 'We talked to someone from the Wereldvrouwenhuis (Global Women's House, ed.) and she told us about the witch nights. We saw the old scrapbooks and were enthusiastic immediatly. It fits us perfectly.' No sneaky action in the middle of the night. But rather attracting immediate attention with a massive protest.
'Street harassment is just as much a problem for men as for women'
At least, with some adjustments, says Holzman. 'The witch night used to be for women only, but street harassment is just as much a problem for men as for women.' Furthermore, street harassment does not only cover sexual remarks, she further explains. 'Discriminating or homophobic statements are also made. It affects a large group of people. With the Witch Night, we not only want to draw attention to street harassment against women, but to everyone who suffers because of it.' She encourages everyone to join in, including men, queers and others who feel affected. 'The more diversity, the better we can reclaim the night.'
Chalk stops
The Witch Night of Nijmegen is planned for Saturday. 'The idea is that from 9 to 10:30 pm we will chalk out as much as possible in the centre of Nijmegen. We will walk a route together and stop at various 'chalk stops' to record expressions of street harassment. Participants can then write their own experiences on the Nijmegen paving stones, or receive suggestions based on submissions.'
Furthermore, there will be a free workshop that evening that will explain how best to act as a bystander in case of street harassment. At the same time, in another room of the Marienburg Library, the organisers will hold a discussion on (street) harassment. After the march, the evening will be concluded with a party in café de Plak. 'You don't have to participate in everything. Everyone can decide for themselves which part they want to participate in. The main thing is to draw as much attention as possible to street harassment', concludes Holzmann.
Programme
8 to 9 pm: Workshops at the Marienburg Library
9 to 10:30 pm: Evening march (Starting at the library)
From 10:30 pm: Closing party at café de Plak
Participation is free of charge, more information can be found online.