From Parkinson Professor to Patient: How Jacques Duysens Unintentionally Gained a 'Unique Insight' in His Own Research
After researching Parkinson's disease for years, emeritus professor Jacques Duysens is now struggling with the disorder himself. However, he does not let it control his life. Duysens prefers to focus on the positive side. 'This is a unique opportunity to do research as a scientist and as a patient.'
'As you can see, sitting still is a bit difficult', emeritus professor Jacques Duysens (76) apologises. He sits at the table in the damp morning sun in his garden on the Kwakkenberg in Nijmegen-East.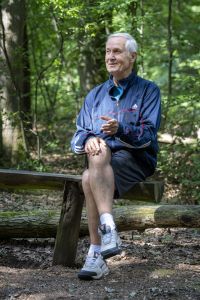 Some birds are happily tweeting in the background. In his left hand, he effortlessly holds a cup of coffee, sipping it occasionally, while his right hand and leg continuously tremble along restlessly.
Born in Belgium, Duysens suffers from Parkinson's disease, a disorder where certain parts of the brain become impaired and cannot sufficiently send signals to the rest of the body anymore, which causes muscles or organs to malfunction. Symptoms include tremors in the arms or legs, difficulty walking, impaired balance, and muscle stiffness; mood swings, loss of smell, and trouble sleeping can also occur.
Twist of Fate
Duysens experienced for himself that fate works in mysterious ways. The emeritus professor researched the disease himself for years. First at Radboud University, then at the Catholic University of Leuven.
Duysens is co-founder of a laboratory specialised in walking at the Radboudumc where patients' mobility is being researched; he trained several employees that now take care of him as a patient.
But back to the beginning. Born in Antwerp, Duysens later moved to Leuven as a student of Medicine and Psychology. 'With that combination, I was mostly interested in the research on how the brain controls the body', he says. 'After my studies, I left for Canada, firstly to get a masters and then a PhD in the way animals walk. It was a really fun time.'
After his PhD, he went for a postdoctoral in Washington. 'But when I was around thirty years old, I sadly had to return home untimely', Duysens recalls. 'Obligatory military service. I had managed to postpone it a few times as a doctor, but that time I couldn't get around it anymore.'
'I live on the edge of the woods, so in five minutes, I am surrounded by greenery'
Even though he regretfully never got to finish his postdoctoral, the forced return did provide new opportunities. After his service, he returned to the university in Leuven in 1979 as a research assistant in the visual system of humans. He later became a lecturer at the same university.
A position opened up at the department of Medical Physics and Biophysics at Radboud University in 1987. Duysens was interested in the position and moved to Nijmegen.
'One of the things I studied here was the motor control of the body (how the brain sends information from the central nervous system to the rest of the body, ed.) and I founded a small laboratory in this department where we could specifically research walking. You can measure people's muscle activity with electrodes on the body, and with video and 3D analyses, you can observe disruptions in patients' walking patterns, including those of a lot of Parkinson patients, compared to healthy people.'
Duysens later started partially working at the Maartens clinic as a researcher in rehabilitation. At the turn of the century, he became a professor at the department of Medical Physics and Biophysics; later on, he also became a professor at the department of rehabilitation. The last years of Duysen's career were spent back at the Catholic University of Leuven as a professor, before he retired in 2012.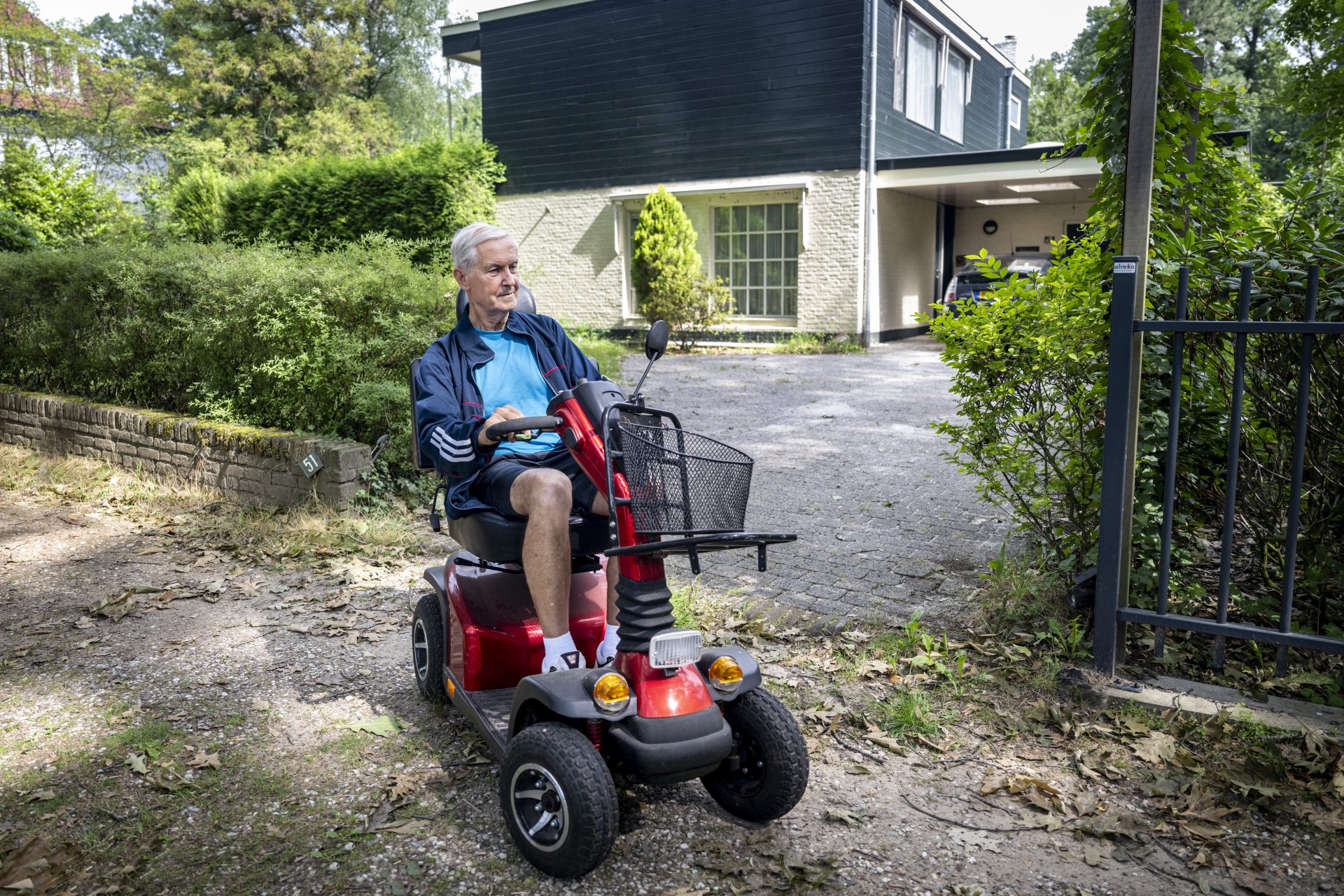 He thoroughly enjoys his retirement. 'I like to walk and bike. I live on the edge of the woods, so in five minutes, I am surrounded by greenery. The scenery of Nijmegen is really beautiful anyway, with a big variety of natural areas.'
Duysen also remains active in the academic field. 'I frequently visited Brazil, where I knew a few scientists, in the first five years of my retirement. I helped set up a laboratory specialised in walking and helped to do research there. And it was, of course, an ideal opportunity to explore the country', he says with a wink.
But then his retirement took an unexpected turn. 'I noticed that my senses of smell and taste worsened', he says. 'That is one of the first signs of Parkinson. I immediately feared that I had it. But you keep telling yourself that it is something else.'
'It is confrontational: every time you decline, you give up a bit of freedom'
The native Belgian decided to visit the general practitioner after other symptoms started showing up, like the tremors in his hand. He was sent to a neurologist, and in 2017, he finally heard what he himself had already diagnosed: Duysens has Parkinson.
Duysens did not let the horrible news keep him down. 'I did think, "well, darn it" when I got the diagnosis. And it is confrontational too, because every time you decline, you give up a bit of freedom. But you know that you have to keep going. At first, I biked on a regular bike, then on an electric one. After a fall, I traded it for a tricycle. I can still bike wonderfully on that.'
'I can also still walk', he continues. 'I cannot do long distances anymore, but I still go out into the woods every day when the weather is nice. I take breaks when necessary. And thanks to my mobility scooter, I can still go anywhere independently if it is too far to walk.'
Garden work
'I still help my wife in the garden', he says proudly. 'It stormed a while back, so I was occupied for days cleaning up outside. It is a nice way to spend the day – one that works really well for me.'
To prove his point, Duysens walks over to some greenery in his backyard and slowly sits down. He grabs some weeds and pulls them out of the ground in one move. He laughs. 'Well, that was a functional squat.'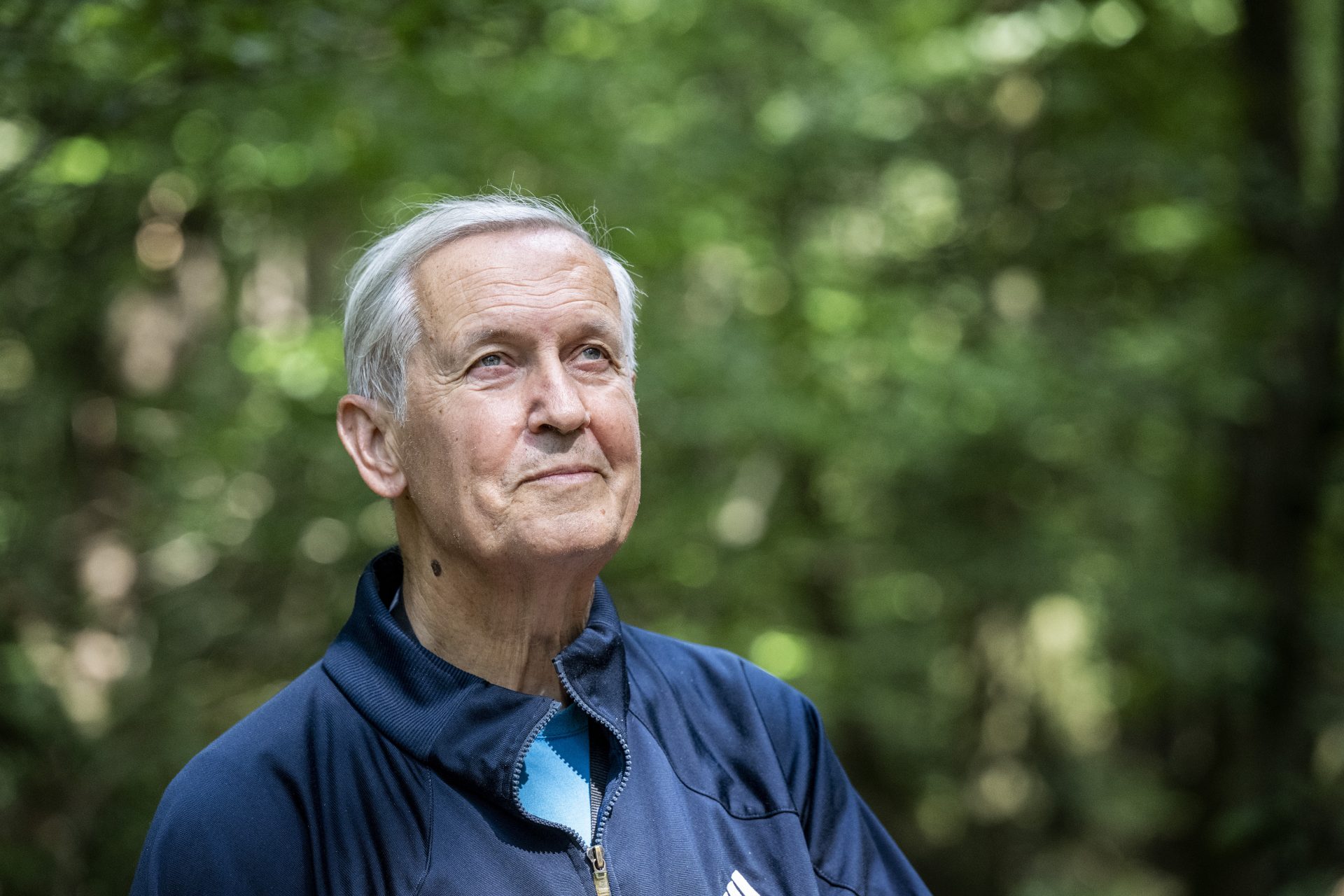 'The symptoms you don't see are worse', says Duysens. 'The disease also affects you internally. Not all organs are working as they should. For example, I have to go to the bathroom a lot, and I sleep uneasily.'
Duysens likes to exercise, he says. He goes to a badminton group for people with Parkinson every Monday evening. On top of that, he dances in a club for people with the disease.
The paradox is that forced goal-oriented movements go really well, even though Parkinson affects movement, Duysen explains. That has to do with an urgency in which the body has to react, and therefore movements suddenly do go well. That happens because an unaffected part of the brain is suddenly activated.
'So, when I see a shuttle flying towards me, I can react quite appropriately and quickly hit it back to the other side. The same goes for dancing to music: that suddenly goes way better because the music causes another part of the brain to be active.'
'I can now write from the perspective of a researcher and a patient'
When Duysens talks about the disease, he does so extensively and attentively. Even passionately. He does not see his status as a patient as something solely negative. 'On the contrary, this is a unique opportunity for science. I can now write from the perspective of a researcher and a patient. The first thing I did when I got the diagnosis was read more about the disease. In my most recent article, which was published a few months ago, I describe what I observed myself and what I thought was happening, but with scientific substantiations.'
Duysens does not just do research but also participates in studies as a patient. He also serves as a test subject for students or coworkers, sometimes risking his own body.
Future
'The notorious 'retropulsion test' has someone stand behind you, put their hands on your shoulders and suddenly pull you backwards', says Duysens. 'Someone with Parkinson has difficulty moving backwards and has a bigger chance to fall over. That is why it is important to determine how well someone can still do this and how the body reacts to unexpected movements.'
'They have developed platforms that can quickly move forwards and therefore simulate a certain retropulsion (a sudden backwards movement, EB.) to make the test more accurate', he continues. 'In that way, the force of the pull backwards can be measured more precisely.' He smiles. 'I immediately jumped on that thing, they didn't have to ask me twice.'
'Parkinson is not the end of your life'
Duysens highlights the importance of these types of tests during a walk in the woods by his home. 'I got jumped here by an unleashed dog recently. That is very dangerous, because stepping backwards and catching myself is really difficult – and so I fell back. Thankfully I was helped by bystanders and I ended up with just some scrapes and bruises.'
'A Parkinson diagnosis is not the end of your life', Duysens emphasises. 'There are still so many ways for you to move and do things. Of course, it's good to be aware that you will die eventually, but you shouldn't think of that all the time. I wouldn't want to miss the past couple years for the world. That is the attitude I try to give to other patients as much as possible too.'
What will his future look like? That is unsure, he says. 'The disease will worsen over time. So I will have to move one day because I will not be able to live independently anymore, and I will also have to look into the possibilities of euthanasia.' He falls silent for a brief moment, before a determined look appears in his eyes. 'But you can postpone that process as far as possible by moving a lot, so that is definitely what I'll be doing until that time comes.'
Translated by Milou Aluy-van der Meij