New director must sharply navigate Radboud Services
Gerben Smit, the new director of Radboud Services, has his work cut out for him with the financial challenges the university faces. However, he is not troubled. 'If you sort through some budgets, you can save a considerable amount without harming the organization,' he says.
Radboud Services employs 1300 people, equivalent to 900 full-time positions, providing support services for the university. Smit (born in 1970) took on the role of the new director of these services starting January 1st, acting as the interim director until then.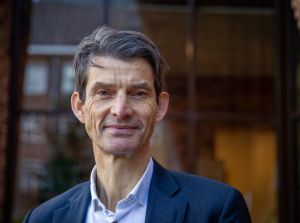 In the coming months, Smit wants to use his time to get to know the various divisions, departments, and faculties better. He points to his bag. 'I always have my office with me,' says Smit, who has been working at Radboud University for seven years, including as the director of Campus & Facilities.
'This morning, I started in the Elinor Ostrom Building, but I enjoy working across the entire campus. The occasional chat with a porter lets me maintain a connection, apart from all the formal meetings with employees and the directors of Radboud Services.'
A bit of excess
Due to inflation, rising energy costs, and a new collective labor agreement, Smit will have a smaller budget than his predecessors, but the new director claims not to have a specific amount to save. 'The entire university aims to present a balanced budget by 2027,' he says. 'That's what we are working towards.'
According to Smit, Radboud Services has a significant budget. However, the organization will need to be reined in somewhat for the foreseeable future. 'For example, we have hired a lot of consultants in the past; something that we can cut back on. Another example is the amount of warehouse- and office space; that might be reduced as well.'
'Occasionally, we do things that don't really align with the university's strategy. We can stop doing this'
The new director's motto seems to be to pick the low-hanging fruit first. 'If you scrutinize some budgets, you can sometimes save a significant amount without harming the organization. Occasionally, there is simply a bit of excess, and we do things that don't really align with the university's strategy. We can stop doing this.'
Smit assures that there is no prospect of layoffs. Additionally, the recruitment of new personnel will continue at the same pace as before. However, expansion in staff positions is no longer under consideration. 'If new tasks were to come our way, we will consciously examine how to address them and how they will be funded. We are very deliberate in handling new job openings.'
Smit cannot elaborate on the case of Radboud Academy, which needs significant budget cuts and is leaving Huize Heyendael. 'Pim van Zanen, Division Director of Marketing and Communications, has addressed that with you. I have only had this role for eight days and haven't had the opportunity to delve into it thoroughly.'
No expansion of Huygens Building
The budget cuts also have implications for the Campus Plan, outlining the campus vision for 2030. 'We have always said that this is a living document that we can adjust when changes occur. The world looks different now than when the plan was presented. Costs have risen in the construction industry, and other factors, such as the current number of students and campus occupancy, also play a role.'
The new construction for humanities in the Spinoza Building is still expected to be completed by 2027, but Campus & Facilities is currently working on an adjustment to the ten-year plan. This will be presented to the Board of Directors in early 2025. It is anticipated that there will be some changes compared to the current Campus Plan. 'For example, the current plan includes an expansion of the Huygens Building. However, we now see that it seems financially unfeasible as initially planned and proposed. Nevertheless, we are still discussing this with the faculty.'
Robots
As the new director, Smit aims to think primarily in terms of the future. 'What will be needed in five years? How will the services evolve, and how do we involve our people in that?' he openly wonders. 'Suddenly, Artificial Intelligence has become crucial in the hospitality industry. What are the developments in that area? That is the future for me.'
This doesn't mean that we will be served by robots in the Refter in the short term. 'Seventy-five percent of the innovation budget should go to our people so that they can continue to develop. It is normal for our services to evolve; we need to involve our people in that. As the director, I want to create conditions that enable people to do their work well.'
What Radboud Services will look like in five years? 'It would be great to align professional services with the faculties, setting common goals,' says Smit. 'That's what we're working towards in our business operations: simplifying processes to reduce workload. We want to align our services even more with our target groups: students, employees, and campus visitors.'
Six divisions
The aim of Radboud Services is to support education and research at Radboud University. Radboud Services consists of six divisions: Academic Affairs, Campus & Facilities, Information & Library Services, Marketing & Communication, Human Resources, and Finance & Control. The administrative department of Radboud Services is the Business Office.
Translated by Siri Joustra