Political scientist Auke attracts thousands of 'map porn' lovers on Instagram
A map of the most embarrassing cities or towns in Europe. Or a rainbow flag that divides Hungary into six even strips. The Instagram account Atlasova doesn't offer your average 'map porn'. Political scientist Auke Roos is one of the founders.
The Instagram account Atlasova.world saw the light of day last April with a post about the smallest country in Europe: Vatican City. New illustrations followed soon after, including state visits by King Willem-Alexander and a map of countries that recognize the Armenian Genocide.
Geographical fun facts
The men behind the curtain are graphical designer Frans van der Fleuten (36) and political scientist Auke Roos (29). The latter did his bachelor's in political science at Radboud University, after which he left for Milan for a master's in international relations. The thing Van der Vleuten and Roos have in common is that they are both map nerds.
The idea behind Atlasova: presenting geographical fun facts in an attractive manner. Some of the topics are rather serious – about the great empires in human history, for example. More often they are lighter in nature: like how snoring is depicted in different countries. Or they visualize which part of the world is closer to the American state of Georgia, and which part is closer to the country of Georgia in the Caucasus. 'It's mainly for entertainment purposes', says Roos. 'But we try to stay as close to fact as possible.'
Nerdy
The account seems to be a hit. It has almost 14.000 followers on Instagram, half a year after its founding. The followers come from all over the world. 'We serve a niche', says Roos. 'Ninety percent of our followers are men, almost all a bit nerdy.'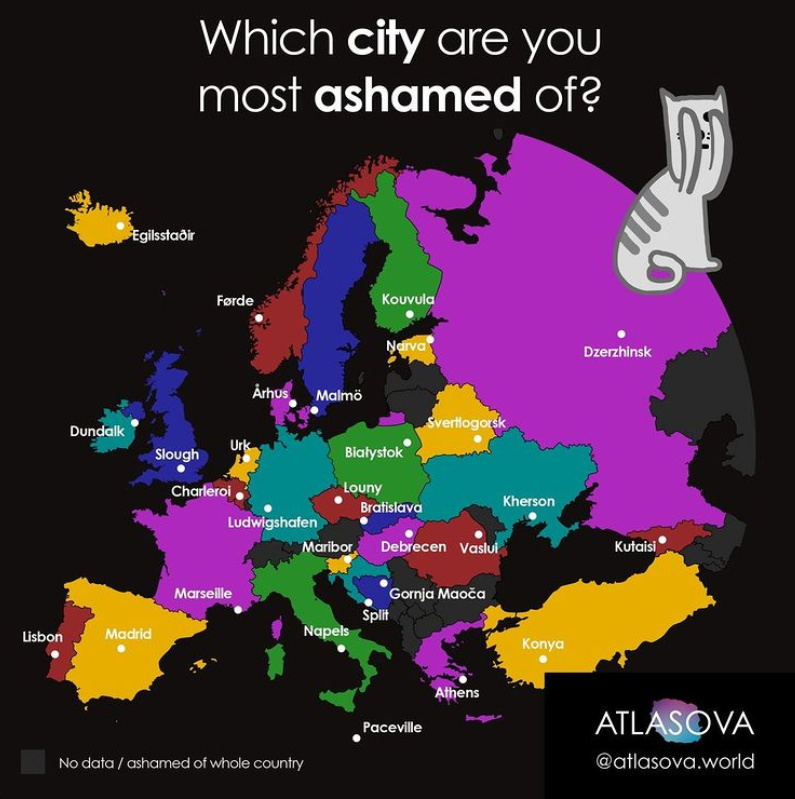 Roos and Van der Vleuten have managed to go viral on more than one occasion. For example, when they asked their followers which city or town in their country they are most ashamed of, after which they made a map. Urk had the questionable honour in the Netherlands, the Belgians chose Charleroi, also known as the ugliest city on earth. Roos: 'This post spoke to people's imagination and provoked a lot of discussions. We made it to the frontpage of Reddit and Dumpert (a Dutch image and video sharing website, MN).'
The map Roos views as his favourite, is that of Hungary, divided into six equal strips of land forming the rainbow flag. 'We posted it during the European Football Championship, when there was a lot to do about the rainbow flag in Hungary.' The result: 1700 comments – both by angry Orbán fans and people showing their support to the LHBTI-community.
Posters
Eventually the founders hope to turn Atlasova into a business. They dream of a web shop, where they can sell their own products. 'We hope to quickly get started on selling posters', says Roos. 'And next year we hope to expand with other products. Ice cubes in the shape of Iceland, for example, and a tear-off calendar.'