Radboud University upholds lower tuition fee for Ukrainian students
In the academic year 2023/2024, Ukrainian students in Nijmegen will again pay the tuition fee for European students. At many other Dutch educational institutes, Ukrainian students will need to pay the tuition fee for non-European students starting next year, which is more expensive by thousands of euros.
Sofiia Shtohryn feels relieved. The Ukrainian student started her studies in Biology in September 2021 at Radboud University, after which the war broke out and she had to stay in the Netherlands out of necessity. In February, she told Vox about her financial concerns if the tuition fee were to be raised. Now it turns out that the (lower) European tuition fee still applies for the next academic year in Nijmegen.
The normal tuition fee amounts to approximately 2,200 euros. Students from outside of the European Economic Area (EEA) – the EU countries and Liechtenstein, Norway and Iceland – pay around 10,000 euros for the tuition fee. An exception was made for students from Ukraine: they could pay the tuition fee for the EEA. Radboud University will uphold this tuition fee again next year.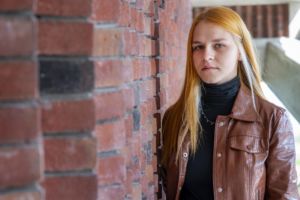 'I was hoping for it and also expecting it, but it's good that they have now announced it', says Shtohryn. However, it is still a proposal from the Executive Board that has to be approved by the University Joint Assembly (UGV). Yet, that seems to be merely a formality.
Many hours
Shtohryn doesn't know what she would have done if the tuition fee had been raised. 'I would have needed to work many more hours, making everything very difficult.' Although she now has more clarity about the coming year, it is still uncertain about what will happen after that. 'Future decisions about the tuition fee will depend on the situation at that time in Ukraine.'
This year, 26 Ukrainian students have made use of the tuition discount. The university expects another 45 users in the next academic year. Because of this, the university will generate 340,000 euros less income, compared to a situation where the 45 Ukrainians would pay the higher tuition fee. However, one can doubt whether in that case the same amount of students would have enrolled.
Exception
Radboud University's prolonged discount for Ukrainian students is an exception, as not all Dutch universities and colleges will uphold a similar discount. News coverage from de Volkskrant reveals that most colleges will apply a higher price, including the HAN University of Applied Sciences. There, students who have started their studies at a lower price, can finish their education at that same lower price. For Ukrainians who have finished their high school education in the Netherlands, it will be a lot more expensive to go to college.
Due to the current situation in Ukraine, also at their universities, many students will still come to the Netherlands, says Shtohryn. But that remains difficult and very expensive, she adds.
Translated by Sophie Verhoeven