Spinoza Prize winner Klaas Landsman likes peace, quiet and brain teasers
Professor Klaas Landsman is the recipient of this year's 2.5 million euro Spinoza Prize - the highest distinction in Dutch academia. Landsman plans to use the money to create a new centre for mathematics, physics and philosophy, as well as an art chapel.
Professor of Mathematical Physics Klaas Landsman had his future all planned out: he would move to Schiermonnikoog – or an even smaller, uninhabited, island – where he would spend his life thinking in perfect solitude. One phone call informing him he had won the prestigious 2.5 million euro Spinoza Prize put an end to that dream. 'I remember thinking: well, there goes my peace and quiet!'
He then hopped on his bike to buy some Bossche bollen – 'happiness guaranteed' – and is now in a celebratory mood. 'In the end, I got exactly what I wanted. I still have a lot of ideas, but I can't implement them all.' His ultimate dream is to establish an interdisciplinary centre in Nijmegen, the likes of which the world has never seen. The centre would combine mathematics and physics with the philosophy and history of science. 'That's what the award is all about: doing something no one's done before.'
Coincidence
Bringing together the right researchers is no easy feat. 'Finding someone who can understand the mathematics of black holes and also philosophise about it is extremely difficult', explains the mathematician. This unique interdisciplinarity is precisely why the NWO (the Dutch Research Council, ed.) awarded this year's Spinoza Prize to Landsman. He sees the problem as a personal challenge. 'It's just another thing to conquer.'
"Reflecting on questions like this is what makes life worthwhile"
Landsman loves a good brain teaser. One of his research projects focuses on coincidence: a concurrence of events or circumstances with no apparent connection. 'The thought alone is enough to drive you crazy; it just doesn't gel with the way we think. When something happens with no apparent reason, it's like it comes out of nowhere. But nothing comes out of nowhere.' For some physicists, this is reason to dismiss coincidence as an unscientific flaw of quantum mechanics. For Landsman, it's an invitation to create an extremely precise definition of coincidence.
Despite its theoretical underpinnings, mathematical research contributed to important practical discoveries like the computer. 'Computers were the result of seemingly unrelated theoretical research. And they didn't even take that long to develop. Fifty years from now, fundamental research like this into coincidence and determinism may well spark unique ideas that help us solve major problems.'
Higher level
Even if his research never generates practical results, Landsman still finds it worthwhile. 'I was inspired by American physicist Robert Wilson, who needed a billion dollars to build a particle accelerator. A US senator asked him how the accelerator could help improve the security of the country. His response: it has nothing to do with defending our country except to make it worth defending.' The same is true of Landsman's research. 'We can reach a higher level by reflecting on questions like this. That's what makes it worthwhile.'
While this may sound elitist, there is considerable interest in popular science lectures about coincidence. Landsman recently spoke at the sold-out Paradiso venue. 'In a lecture like that, maybe five percent is about quantum mechanics. The remaining ninety-five percent is much better because my final question is related to quantum mechanics. That's how you spark an interest in science.'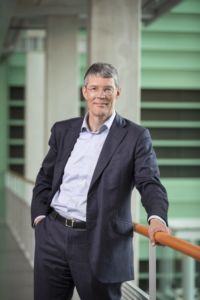 Mixed feelings
Admittedly, Landsman had mixed feelings about winning this award. Not only because he so longed for that secluded island, but also because he had previously voiced strong concerns in op-eds about huge sums of money in science. Since them, the situation has improved. 'Especially at the NWO. Whereas before, Spinoza winners could win with all applications they submitted, now it's almost impossible to stockpile subsidies like that.'
According to Landsman, very little money is spent on mathematics in general and interdisciplinary mathematical research in particular. 'You have to be nominated for this prize', he says. 'If I had to submit an application for my plans, my chance of winning would be zero. Society is much more willing to pay for experimental physics and astronomy – like the High Field Magnet Laboratory behind the Huygens building. My prize money wouldn't pay for an hour's worth of electricity, so to speak.'
"I want to create a quiet space to reflect and achieve deeper insights"
According to Landsman, a huge sum of money for an underfunded discipline is easier to defend – especially considering his plans to spend most of it on joint projects in the Netherlands. For example, having several professors supervise PhD candidates improves the quality of the supervision and allows multiple researchers to benefit from the prize money.
In his quest for peace and quiet, Landsman may have found a solution. 'Do you know the Rothko Chapel in Texas? That's where his best work can be admired in an austere atmosphere. It's a unique place to reflect and look inward. That's the kind of place I want to create on campus.'
The idea is to create an inspiring space where people can meet, chat, reflect and achieve deeper insights. 'The Rothko Chapel creates a kind of spiritual experience.' What would the NWO think of this plan? 'I'm not sure, but a beautiful painting in a space like that would be a worthwhile investment.'