These first years are being addressed as 'mister' or 'miss' (and that's not necessary)
Most first years are around 18 years old. But there were also a few noticeably older mentees present during the introduction two weeks ago. Who are they, and what will they be doing? 'If you'd told me five years ago that I would be studying psychology, I would have called you mad.'
Usually, it's the son following his father's footsteps, but for Frans van der Molen it's exactly the other way around. His son went to study at Radboud University years ago, and now its his turn. At 66, Van der Molen could claim to have been the oldest participant of the intro two weeks ago. He had his first lecture today.
'I always thought: as soon as I am able, I'll study history', says the man from Groesbeek. 'I retired last year, so now I'm able.
Van der Molen used to work as a manager in the technology sector, and he graduated a Technical College back in the day. He had always been interested in history; that was the reason for his volunteer work at the Bevrijdingsmuseum. 'My father was a history teacher. On holidays, he took me to museums all over Europe. He was a wonderful storyteller.'
'I always thought: as soon as I am able, I'll study history'
By studying history, the grandfather of four grandchildren hopes to better understand the present. Why did Russia invade Ukraine? How did humanity get to this point in history?
Psychology
Berry Thomassen on the other hand is more interested in individual people. He will be studying psychology after a career as a technical draftsman. He is 47 years old. 'I was completely burnt out in 2016', he explains. 'That's how I wound up at a coach, and I found out that I really wanted to study.'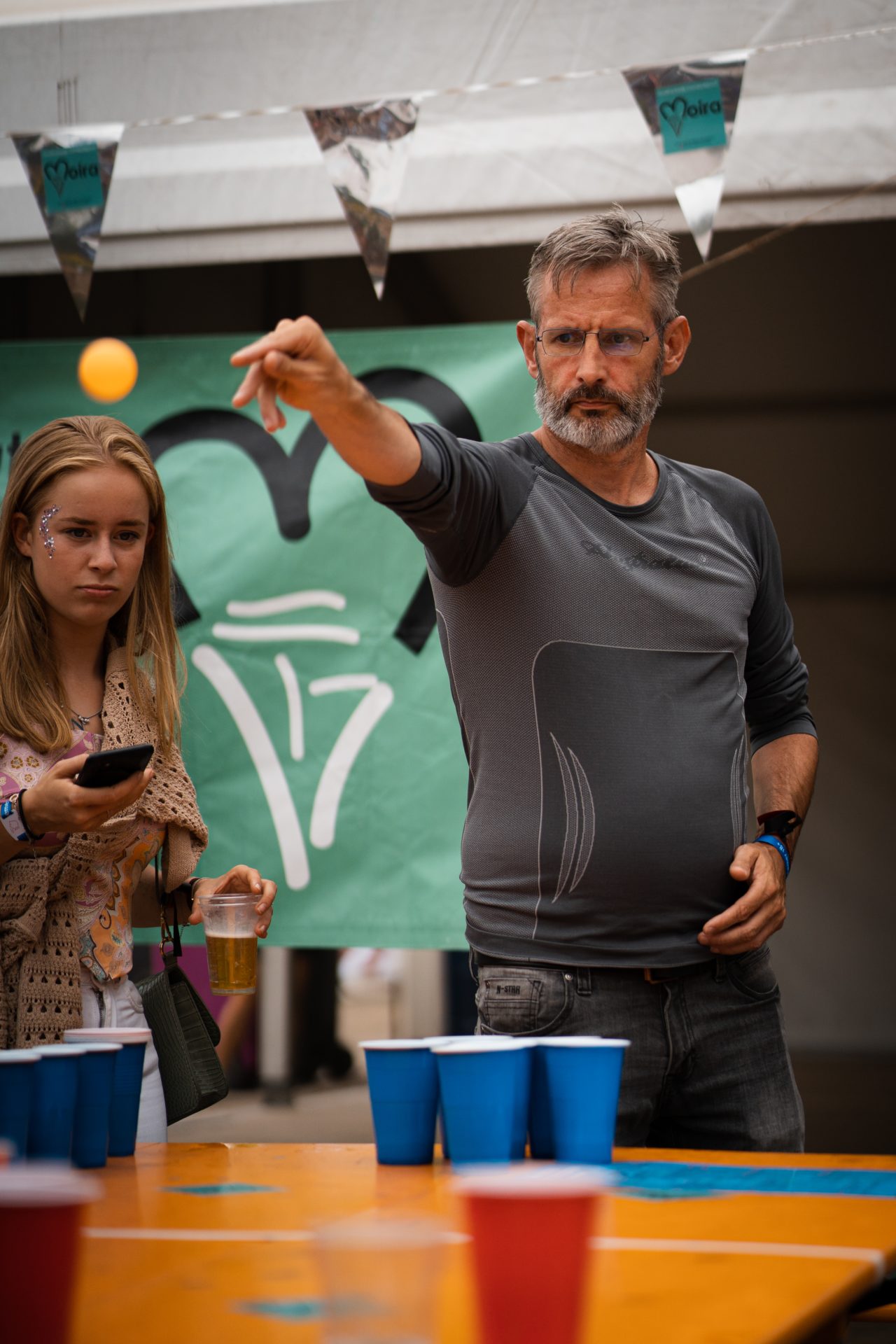 Due to various circumstances, that option was not available to Thomassen when he graduated from secondary technical school as a young man. Nevertheless, last year he started the first year of technical business administration at the University of Applied Sciences. 'Then I discovered that with a first-year diploma you can also start a university study.'
He followed an English course, did a math test, and was admitted to the psychology course at Radboud University. He's still a little surprised about the particular turns his life has taken. 'If you'd told me this five years ago, I would have called you mad.'
If all goes well, he hopes to start working as a psychologist after completing his studies. But until then it's going to be a lot of work, because besides studying he'll have to keep drawing to be able to afford it all. He will be travelling to campus from Barneveld.
He was not familiar with Nijmegen until two weeks ago. 'I passed on the A73 sometimes, but during the introduction I saw for the first time what a beautiful city it is, especially the older part.'
Unemployment
An introduction surrounded by 18- and 19-year-old students is an odd experience, 65-year old Tonnie van de Burgt says. Two weeks ago, she had to convince her intro group not to address her as 'Miss'. She was present almost every day in party city Nijmegen, though she did give a wide berth to the café's. 'I'm no stranger to bars, but only if I'm able to drink', she says. Van den Burgt travelled by car from Budel in Brabant every day. She will be studying art history.
'I've always wanted to follow that course, but there was a lot of unemployment in the eighties, so I made the safe choice to do IT; at least in that area there was no shortage of jobs.'
'I don't want to sit among 150 young students'
Van de Burgt did very well as a woman in the IT sector. The last few years she was an independent contractor for municipalities, among other clients. But when she began approaching retirement age, the mother of two grown children decided that it was high time to study art history. She chose Nijmegen because the course at Radboud University is highly regarded and because the number of first years is limited. 'I don't want to sit among 150 young students, that would really make me feel like an old bat.'
Van de Burgt has been fascinated by art history, and particularly the history of costumes, ever since secondary school. She's looking forward to the courses of the teachers she met two weeks ago. And she suspects that her current phase in life might work to her advantage. 'I'm used to focusing on my work for 40 to 50 hours a week. I'm a lot more restful than I was at age 20. Other students will be going to town or looking for a relationship, but I'm already past all that. I've never been one for housework, and I intend to keep it that way.'
The 66-year-old Frans van der Molen is a little apprehensive about how his brain will cope. He's afraid that studying will progress more slowly now than it did at age 20. 'This course is not going to be a piece of cake; I'll have to work hard.' His son, who preceded him at Radboud University, joined Carlos Magnus, but for Frans that's not on the agenda.
Translated by Jasper Pesch.