Ukrainian refugee Marta got to experience Dutch student life: 'I felt included again'
Since November 2021, the Radboud Welcomes Newcomers project offers students with a refugee background a chance to continue their education and embrace the Dutch culture. With the help of a buddy, students who were forced to leave their home countries can pick up where they have left off.
Among the students who participated in the Radboud Welcomes Newcomers (RWN) project is Marta Yeromina from Ukraine. The 17-year-old, who moved to the Netherlands due to the war in her home country, joined RWN for a couple of months last year to get a first impression of university after finishing secondary school in Ukraine.
Try-out
'I had no idea what to expect of student life in the Netherlands. But I had a very pleasant experience, so I didn't have to think much about choosing where to continue my studies', says Yeromina, who is now enrolled in a regular study programme at Radboud.
'I had no idea what to expect of student life in the Netherlands'
The RWN project is designed as a 10-week period, in which students choose a course of their liking and participate in the course's lectures, projects, and assignments. Participation in the project is symbolic: students do not receive study credits at the end. Students can participate as many times as they wish and try out different courses. The requirement for participation is English language proficiency and meeting the necessary academic requirements, meaning that students have to have at least finished secondary school to participate.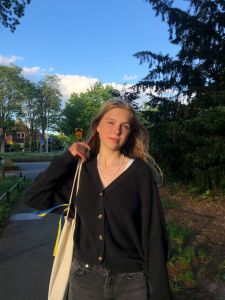 Buddy
One of the key concepts of the project is the role of a buddy. Buddies are regular Radboud students who act as a mentor to project participants. They meet with the students on a weekly (or on-call) basis to go through any study-related difficulties with them or to simply participate in Dutch activities together.
'The relationship between buddies and students is special and mutually beneficial', says Lia Kleuskens, the main coordinator of the project. 'Students receive a gentle landing into a new reality, and buddies gain insight into new cultures.' According to Yeromina, her buddy had a lot of impact on her experience in the new country. 'My buddy really helped me get out of my shell. Participating in the activities made me feel welcome and less lonely', says Yeromina.
Afghan crisis
The role of a buddy is just one of the updates to the project. Initially, RWN came into existence during the Afghan crisis, when the Academic Affairs department set up the project to allow Afghani students with a refugee background to integrate into the Dutch academic and cultural system. Since then, the project has broadened its scope and now welcomes students of more than nineteen nationalities with refugee backgrounds.
'My life drastically changed when I became a refugee'
Soon after her arrival to the Netherlands, the change in Yeromina's residency status allowed her to enrol for a full-time degree at university. Right now, she is in the first year of the Arts and Culture Studies bachelor. After becoming an official student herself, Yeromina decided to return to the project – but this time as a buddy: 'My life drastically changed when I became a refugee, thanks to my buddy I felt connected to reality and included again. She pushed me to continue with my studies and get comfortable with my new life in the Netherlands. I want to be a part of that push for someone else in a similar situation.'
'The project is still not finalized', coordinator Kleuskens says. At the moment,
RWN
is looking for more students to participate as buddies, since the
number 
of students with a refugee background interested in joining keeps on rising. 
Radboud students 
who are interested
in becoming a buddy can register
via
the university's website.