A virtual campus visit, especially for international students
This Thursday, Radboud University organises its first virtual open day. Thousands of students from over a hundred countries will pay an online visit to campus. 'A weekend in Nijmegen is too expensive for many international students', says Liz Bouten, Events Marketeer and organiser of the event.

Why a virtual open day?
Universities outside the Netherlands have been doing this for a while, and the universities in Twente and Wageningen both also organised one. Radboud university is often present at online 'University Fairs' now, where universities can present themselves to international students. 'The step to our own virtual open day was a small one', says Liz Bouten, Event Marketeer.
For whom is the open day organised?
For international students, first and foremost. 'A weekend in Nijmegen is too expensive for many international students', says Bouten. 'But Dutch-speaking students who are interested in an English programme are also welcome.'
How does it work?
Students who are interested have to sign up first. Thursday, they can attend presentations of several study programmes at www.ru.nl/vod, just like during a real open day, with or without their parents. During the live stream of the videos, they can ask the speakers questions through a chat programme. The questions are either answered by the speaker directly, or by an employee through the chat.
There is also a lot of practical information available. There are videos to explain the application process and about Nijmegen as a student city. On top of that, there's specific information for students from different countries, in which their education system is compared to the Dutch system. It is also possible to take a virtual walk on campus.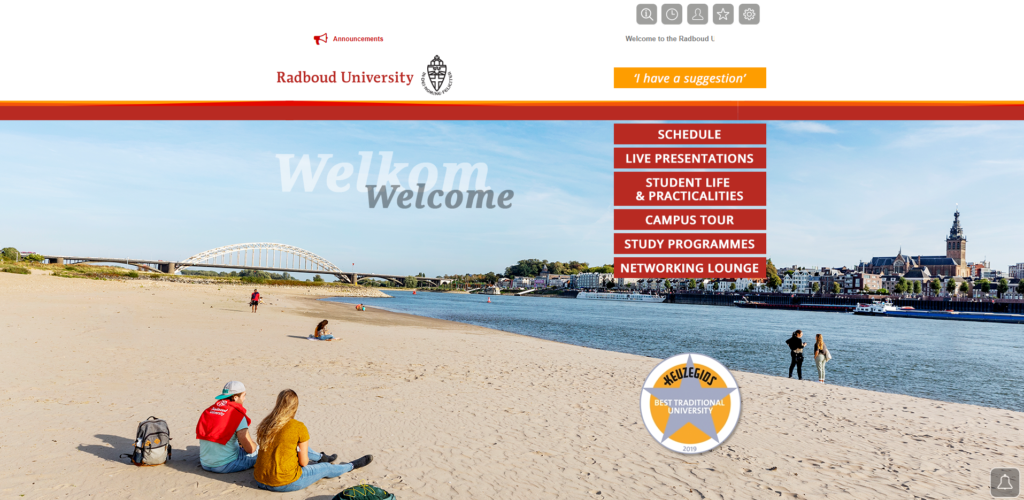 What's the lay-out of the programme?
The first presentation starts Thursday around 9.00, the last one around 17.00. Because many visitors live in different time zones, the presentations can be viewed during the whole day. On the 16th of February, there is a second virtual open day.
Who will make an appearance?
On Sunday night, the 20th, there were 1043 registrations from students with 104 different nationalities. The countries with the most applicants are, in order, The Netherlands, Germany, Indonesia, Romania, Italy, Brasil, the US, Bulgaria and Turkey. 40 percent of all students who have applied is interested in a bachelor programme, 58 percent in a master programme and 2 percent in a PhD. Bouten: 'I would be satisfied of half of these people actually attends.'
In comparison: during a normal open day for international master students, around 80 students show up, for bachelor students around 60. For German students, there are separate open days, which usually attract around 200 students.
So the normal open days will soon cease to exist?
No, there are no plans to quit organising open days which people attend physically. 'The open day for international students will definitely stay', says Bouten. 'In the end, nothing beats meeting face-to-face.'