Four stars in de Volkskrant: The Yearlings' boyhood dream
After a twelve year break, the new record by the alt-country band The Yearlings from Utrecht has received nothing but praise. 'Skywriting is a lot more personal than our earlier work,' says frontman and assistant professor of English Language Olaf Koeneman. 'I'm not holding back anymore.'
The Yearlings have been making music that blends guitar pop with country since 1999. Two successful records and dozens of gigs later, the group split up in 2006. 'People were busy with their new families,' says Olaf Koeneman, leaning back comfortably in his chair on the seventh floor of the Erasmus Building.
Four years ago, the English professor got restless again. 'In the meantime, all the band members had established their families,' he says. 'And I thought: they probably would enjoy getting out of the house in the evening. And it turned out to be true (laughs).'
So now there is Skywriting. The new Yearlings record receives one positive review after the other. They received four stars in de Volkskrant only last week. Those in the know like to compare their music to R.E.M., and the music is clearly influenced by Wilco, Ryan Adams, and the Jayhawks.
Koeneman, 48, is not only the driving force behind the band, one of its two vocalists, and the group's guitarist: he also wrote the music and lyrics for most of the songs on the album. 'I steer the band in a musical direction that sounds good to me,' says the Utrecht native, now with his feet on the chair.
'But the songs only really take shape in the rehearsal space.'
A reviewer wrote that your music had become 'more mature, more layered, and more powerful'.
'We really surprised ourselves in that regard. When we first started, we wanted to do something in the style of our idols. Now our music is far more a mix of everything I listen to. We wanted to improve on our previous work, in the technical sense too. The record is also a lot more personal; it is more about us. Maybe you need to be older and more self-confident to write more about yourself – that's true for me at least. I used to be a bit more vague, and would talk about types other than myself. I'm not holding back anymore.'
In 'My Deliverance' you sing: I'm older now / I don't need a motorcycle / standing on the lawn / I don't need no retro car / but I picked up my guitar.
'That song is about being enthusiastic about our new start, even though our surroundings have changed a lot. A lot of bands that would play with us no longer exist. This feels good, but strange at the same time. I feel a deep connection with the bands that are left. It is a bit like we are the last of the Mohicans, who can't do much else other than make records.'
Where do you get your inspiration from?
'There is no doubt that it has to do with what music you listen to. In my case the guitar pop from the eighties – R.E.M. was my first big love. And the first bands that introduced me to alternative country like Ryan Adams and The Jayhawks are also part of the Yearlings' particular sound. Once the melody is all there, I start coming up with lyrics. Sometimes the melody evokes a certain atmosphere, but that is not always the case.'
Is the song 'The Breaking My Heart Part' written from life?
'That is an over-the-top country song, a magnification of the heartbreak that I suffered over the past five years. It is somewhat longer and slower, a bit more like Wilco. I wanted to make the song larger than life; it seemed like a fitting end to the record.'
What do the four stars in the Volkskrant mean to the Yearlings' frontman?
'When I received a message from our drummer that morning, I was truly euphoric. The Volkskrant reviewers get boatloads of music sent in to them. I had never thought they would review us, let alone so positively. It is a boyhood dream come true. More bookings are rolling in, and the number of listeners on Spotify is increasing.'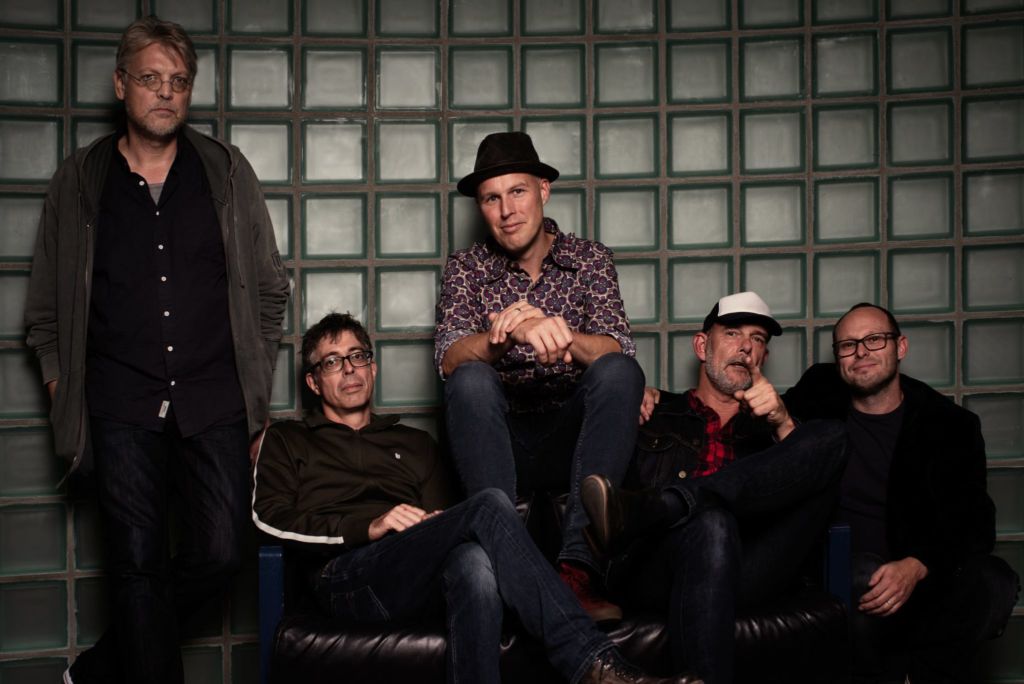 Koeneman thinks for a moment while a few drops of rain hit the window. 'When you are young, everything comes naturally. But if you have a job with responsibilities and a family like the other members of the band, then making a good record is a lot less natural. You are more grateful for the recognition than before.'
Do you listen to music in the office?
'Never. Music is for evenings and weekends. Colleagues and students know I play in a band, but I don't advertise it.'
'Music is for evenings and weekends'
'Although there is some overlap between my work and our music. Creating a linguistic theory is comparable to creating a perfect song. You try to find the inspiration that makes something understandable, and you use a certain technique to express it, just like you need melodic solutions when writing a song. At a certain point, you accept the thought you have formulated or the melody you have composed. But making music is still a lot more instinctive than academia.'
Final question: who is Evelene, the protagonist of the first single?
'Nobody. After the single was released, I realised that I had a lot of students called Evelien over the last few years. They all commented on our video (laughs). It is a girl's name that is very singable, and which fit the melody perfectly. Although I had to find a good way to spell it. Evelien doesn't sound the same in English. Luckily, Evelene turned out to be a real name too.'