Summer school over a pancake
As normal as we Dutch think having pancakes with sirup for dinner is, it looks quite strange to foreigners. Over two hundred international students, researchers and teachers arrived in Nijmegen for the Radboud Summer School this week. Why did they come, asked reporter Jozien Wijkhuijs over a pancake dinner on a boat.

Students Maria (Mexico), Wojtek (Poland) and Przemek (Poland), follow the course Decision analysis: theory & practice. They put salami on their pancake.
Maria: 'In Mexico, we eat small pancakes for breakfast, so eating them like this is not really normal for me. It is a nice way to end the day, we had to get up early this morning to go to class.'
Przemek: 'I typed in 'decision analysis' and 'summer school' in Google, and this course popped up first. After that, I heard that my friend Wojtek had been here twice before. So we decided to go together.'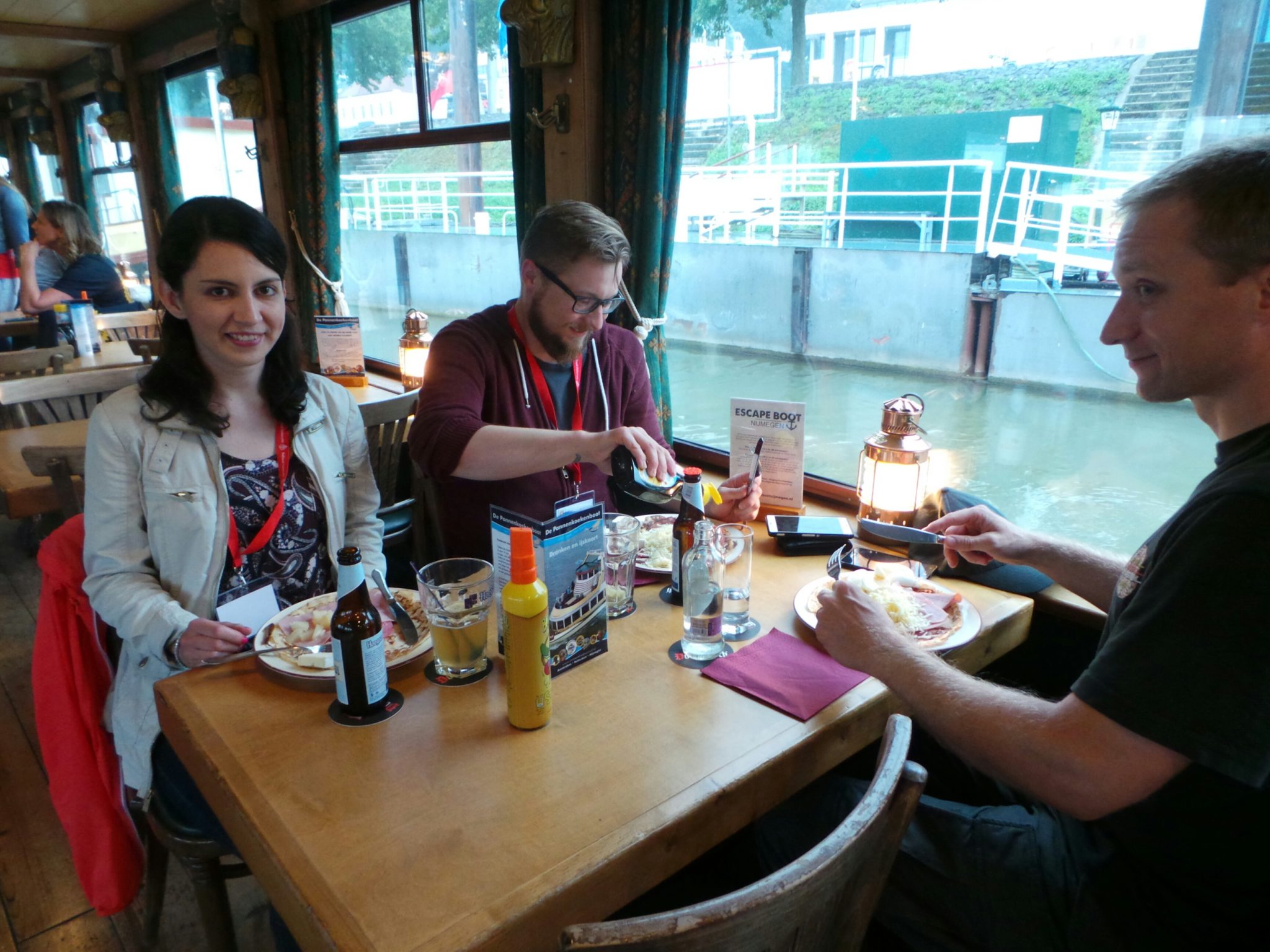 Wojtek: 'I really enjoyed the other times here at Radboud University. The courses are interesting and engaging, and the social programme is very good as well. It is ok to sit in class in August. I can take a vacation later this year.'
Przemek: 'When? You always work! But, I do agree with Wojtek. This is like vacation, I rest while I listen to interesting lectures. The course is about the process of decision-making, what the process around that is and how you can analyse those decisions afterwards.'
Wojtek: 'So we can decide afterwards if the decision to come here, or to put salami on this pancake, was the right one.'
Enyi (Taiwan), Margaret (Scotland) and Lianne (Netherlands) teach the course Excellence beyond borders. Their class is attended by teachers, researchers and people from the ministry. They prefer savory pancakes.
Enyi: 'Of course this Summer School has to be in Summer, because that is the moment that people who work in this field have the time to come.'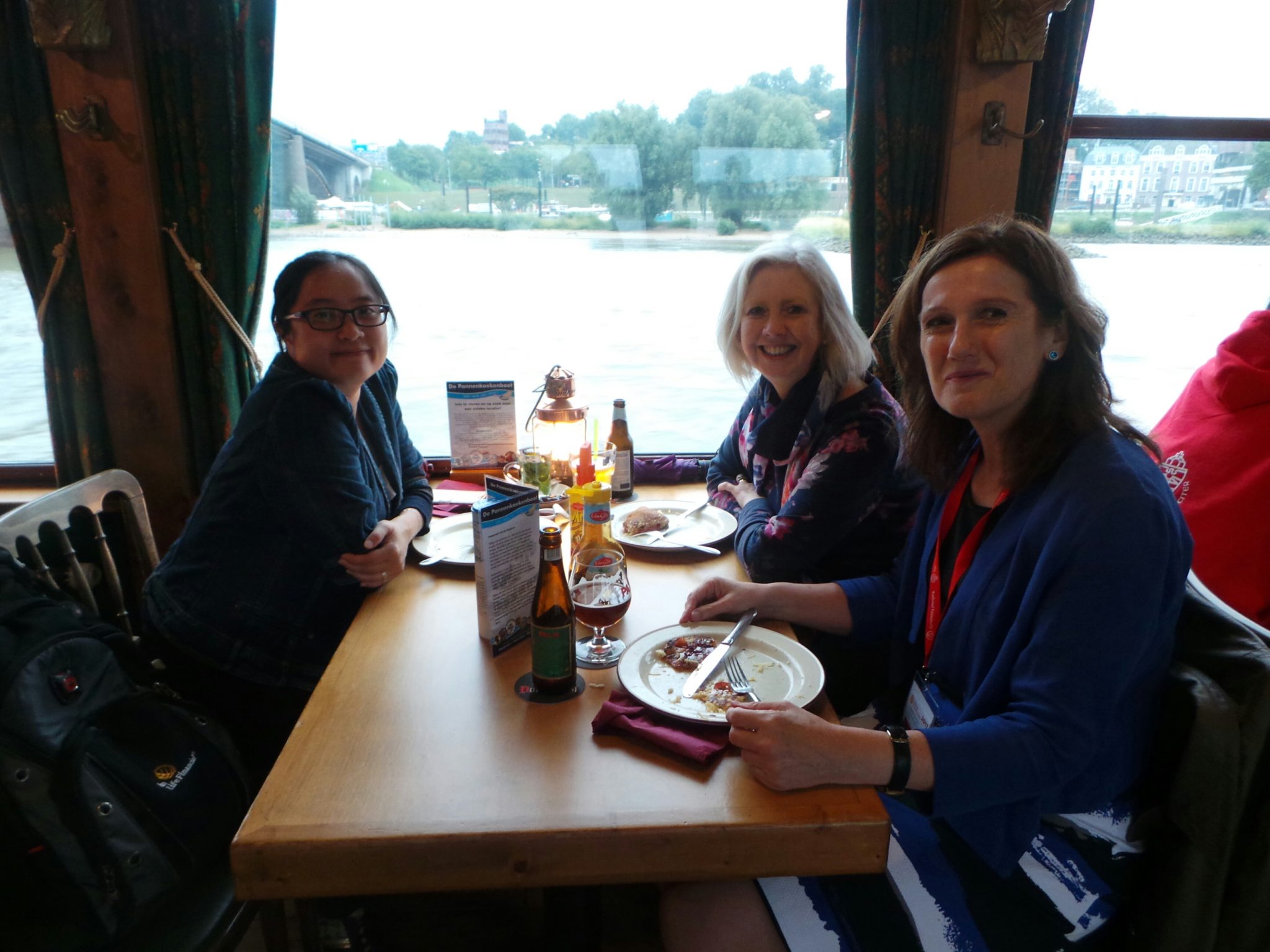 Lianne: 'We want to teach in Summer School for various reasons, but mostly because we are very ambitious. We want to improve education as a whole, that takes a lot of effort. People come from all over the world to attend our lectures and they are so motivated. That is a learning experience for the teacher as well, and it is very fun.'
Margaret: 'This is my first time on a pancake boat. Sailing and eating, how could you beat that? I am not a sweet tooth, so I only eat savory things on my pancake.'
Lianne: 'I stick to bacon and sirup, like most Dutch people.'
Researchers Manolis, Hannah, Sarah, Ailsa and Marie-Louise (all from Scotland) take the course The ins and outs of kidneys: from physiomics to transplantation. They are surprised that there are hardboiled eggs to put on pancakes.
Marie-Louise: 'The week is very well-organised. Lunch was top notch, for example.'
Ailsa: 'Not just that. The programme is very useful in our job as kidney researchers. We all work at the University of Edinburgh. This is not a holiday for us, but work.'
Marie-Louise: 'They took us to the anatomy museum, where we saw a cervix after multiple childbirths. That just looked wrong.'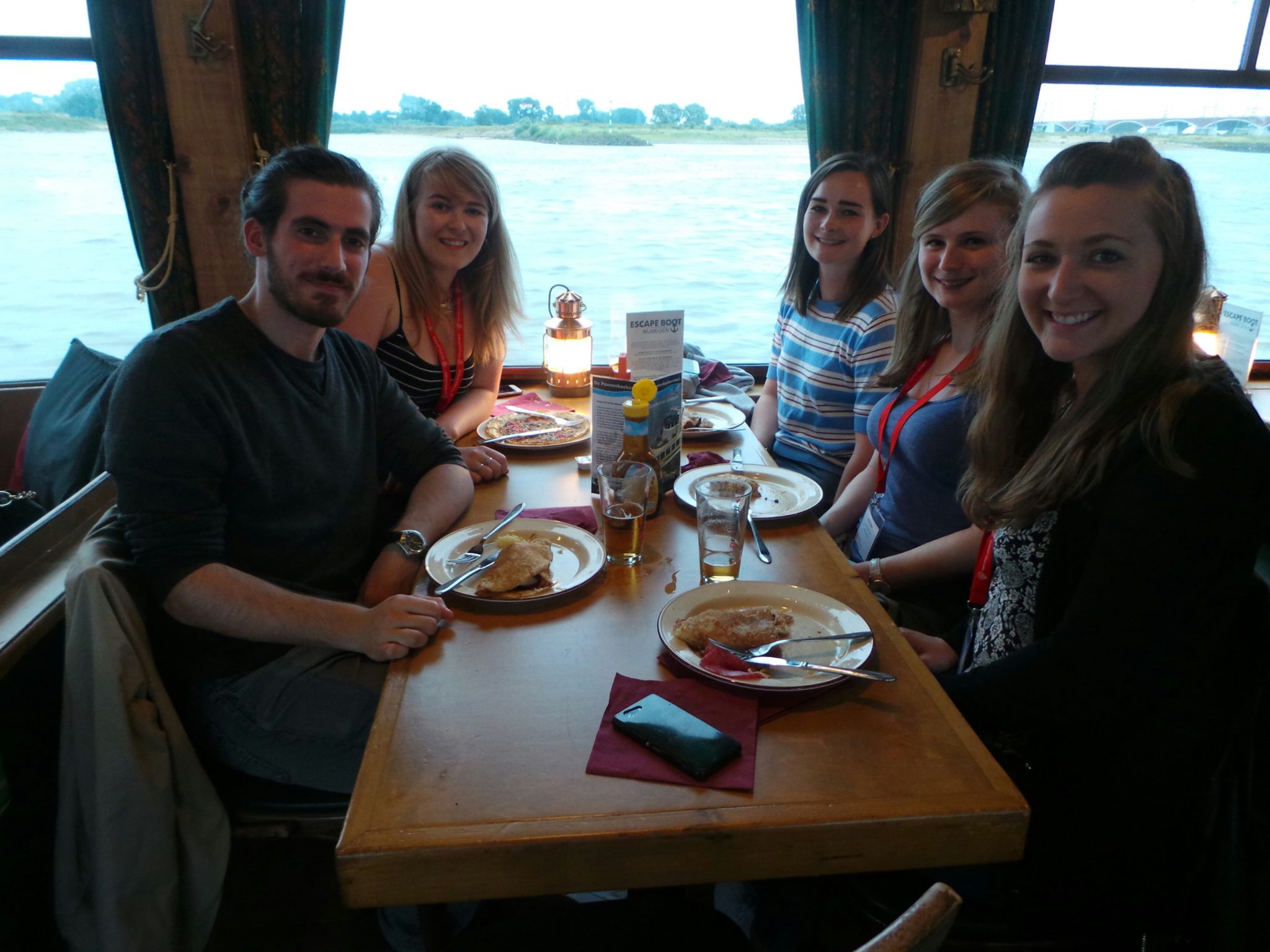 Sarah: 'I thought it was interesting!'
Sarah: 'This trip at the pancake boat is a bit weird for us. In Edinburgh we only eat pancakes for dinner the day before Lent. You could not find a restaurant like this.'
Marie-Louise: 'There were even hardboiled eggs to put on them!'
Hannah: 'I just went for the fruit sprinkles.'