They will never forget Heumensoord
A little over two years ago, dozens of busses drove to Heumensoord. How are the former inhabitants of the camp doing now? Vox visits three of them.

Saad Alklif (30)
'I love Nijmegen, and especially the people in Nijmegen. Unfortunately, I have been living in Malden for a year now, and I do not know anybody here. I live there with my wife and five-year-old daughter, in an appartement that is too small. My daughter has no space to play, and if she does, the neighbours complain. Hopefully, I can go back to Nijmegen as soon as possible.
I work as a cook at Café de Plak for eight hours a week. The people there have become my second family. Before I had to flee my country, I also worked as a cook, for example for the luxury hotel chain Four Seasons. Because of that, I have worked in many places: in Kuwait, Saudi Arabia, Jordan, Dubai… I got used to being away from home, luckily.
As long as Assad is in power, I can't go back. I would go back to jail. I was there for three months already, because I refused to be extorted by the regime. They have hurt me a lot – I still lie awake because of that. Especially in Heumensoord, I did not sleep, I hated it there. A few months ago, I went back there. It made me so sad I cried a little. I went back to De Plak immediately – and they comforted me there.'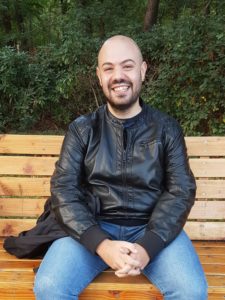 Mouaz Morad (27)
'Mixed feelings dominate when I recall Heumensoord. The living conditions were awful. At the same time, it was a fine way to get to know Nijmegen. Whether I feel home now? Nijmegen is a nice place to be. After Heumensoord, the government appointed me a social rental home in Ridderkerk, near Rotterdam. I don't know anybody there, so I looked for a place in Nijmegen. That is how I ended up with artist René Donders – he rents out rooms in his house in Bottendaal.
Four days a week, I take a language course at Radboud University. It is not really my thing to learn a language with a course, I'd rather just talk to a lot of people. But everybody around me speaks English, so that makes it harder. The rest of my days I try to fill as much as possible – free time scares me. I quickly feel useless. That is something more refugees feel. They are in a position in which they do not have a social network yet, they don't speak the language and they can't work.'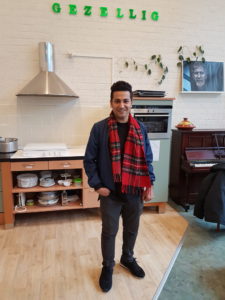 Majid Howizi (30)
'When I arrived in Heumensoord, I was shocked. The camp was so big, with so many tents. The people looked very unhappy, I had never seem something like it. Luckily, it got better over time: more and more refugees came to the camp and a library opened. By then, I could use my time better, by reading books.
In Nijmegen, I have made many friends. I work as a volunteer at Gezellig (a living room where many refugees come together in the Nijmegen center). I organise languages courses there. It's good that this place exists, it really connects people. We are a community. On top of that, I often sit in on classes at the university of applied sciences.
I come from the south of Iran and I am a part of the religious minority of the Sunni muslims. It wasn't for the money that I fled – I was a succesful business man. My family members were arrested and that is why I decided to come to the Netherlands. Syrians automatically get a residence permit, but that does not apply to me. Next week, I will hear from the judge if I can stay. My lawyer says it will be alright.'