Every year since I've lived far from my hometown I managed to add a new dish to my family's Christmas lunch compilation. They are all aware now and, I must say, a little worried about the unexpected combination I'm going to bring them. This time it will be even more spectacular to see my grandmother and relatives to try something really far from them, also geographically speaking.
Christmas is really spread around the world as a celebration and the aspect of gathering together and exchanging presents is now also common in eastern new generations, for example in Japan or China.

Porkkanalaatiko
Ingredients for 4 people:
1. Carrot mash:
1 kg carrots
5 dl water
½ tea spoon salt
2. Rice porridge:
2dl water
1 ½ dl porridge rice
5dl milk
3. And:
2 eggs
2 table spoon syrup
1 ½ teaspoon salt
1 ½ tea spoon white pepper
¼ tea spoon nutmeg
1 table spoon butter
4. On the top:
1 tablespoon breadcrumbs
2 tablespoon butter
Preparation
Peel and cut the carrots. Boil with salt until cooked. Mash them. Heat the water to 100 degrees and add the rice. Cook until the water has absorbed rice. Add the milk and put the cover of the pot on. Poach with mild heat about 40 minutes. After 40 minutes add carrot mash to the porridge. Let it cool down. Preheat the oven to 150 degrees. Add the eggs and the species. Spread some butter all over the inside part of the casserole. Pour the mixture to the casserole. Sprinkle the breadcrumbs and the butter on the top and cook in the oven for 40 minutes.
Leave the casserole to cool down for 5 minutes and then it's ready to enjoy!
At the same time, some aspects of Christmas are really unique for every country: weather, history, culture, economics. Food and eating is an essential part of every feast, something everybody really looks forward to and that makes that day stand out. And on Christmas day every family maintains some special dishes that we do not cook so frequently. During the last two weeks I have asked to some of my European friends here what they cook on the 25th of December and I would like to share with you what an international Christmas lunch would look like. This meal will start in Finland and finish in Spain.
As a first dish, my friend Kriska told me that Finnish people go crazy for rice and carrots casserole, as they call it Porkkanalaatiko. And this is a typical recipe directly from the Finnish sacred book of cooking that Kriska kindly translated for us. In Southern Italy we believe that Santa Claus actually comes from a region in Finland, Lapland. So this is a fact that makes Finnish recipes even more appealing.
For our second dish, we have to move a bit to the south of Europe, landing to Austria. My flatmate Laura is from Styria, a region in the south-east of the country where surprisingly, it is really common to have fried fish on Christmas day. Of course not sea fish but lake fish, carp to be precise.
Carp fishing is really popular in the lakes of Styria, and especially before Christmas, there are competitions where fisherman try to catch the biggest carp to win a prize, but most importantly, to share and cook the fish on Christmas day. This custom goes back to the Catholic influence on Austrian Christmas. According to the church, meat is forbidden in sacred feasts. Carp is hard to come by here in Nijmegen, so I won't add the recipe here, but make sure to have some if you ever end up in Austria during Christmas.
Finally, this dessert recommended by my friend Julia takes us to the warmer lands of Alicante, where Arab and Spanish culture are often intertwined. It's name is Turròn and can be described as a hard mixture of cooked honey, nuts, almonds and egg whites. A good characteristic of this dessert and probably one of the purposes for which it was created is the possibility of keeping it for a long time because, once cooked, it is really resistant to wither. Apparently, Arab soldiers brought it to Spain in the 10th century, since they needed food that was tasty and nourishing but still could survive long journeys. However, as you can see, also this dessert had some Christian influences in the following centuries, as it is covered by wafers.
This is a recipe you can make yourself: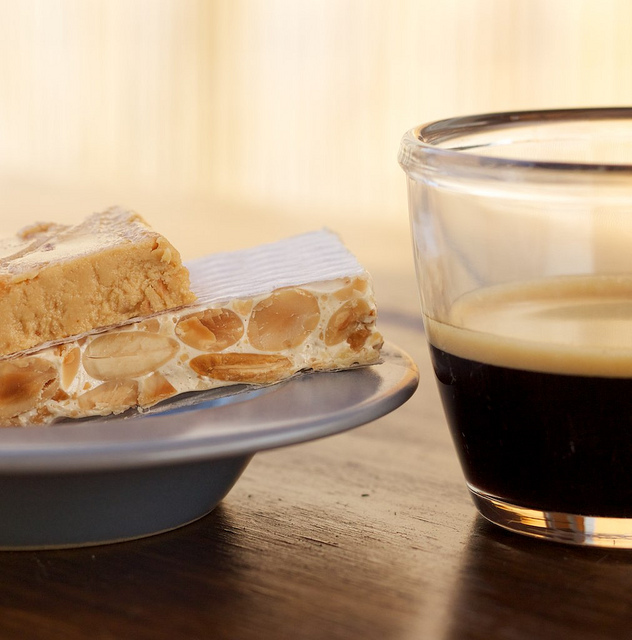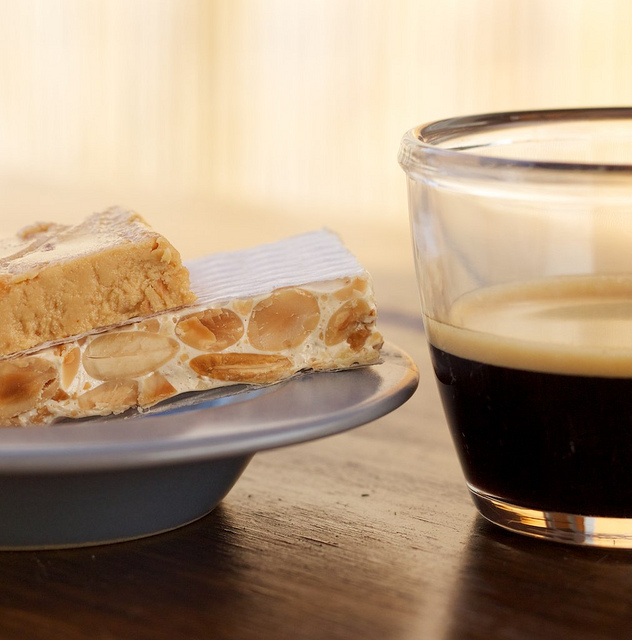 Turrón de Alicante
Ingredients:
350 grams of honey
200 grams of sugar
2 egg whites
650 grams of toasted almonds
3 tbs of water
4 drops of aniseed
1 pack of wafers
Preparation:
Whisk the egg whites until they form peaks. In a pan make a syrup with the water and sugar in another pan heat the honey and once its liquefied add to the syrup.
Mix well with a wooden spoon or spatula. Remove the syrup pan from the fire and add the honey. Mix well and put on the fire again until it turns into a caramel like substance. Add the cut up almonds, the aniseed drops and the egg whites.
Mix with the spatula or wooden spoon until all ingredients are well mixe. Pour the mix in oven paper trying to fold it and to create a regular shape and cover the mix with wafers.
Smooth the mix with a spatula, put a wooden board on top of the mold with a weigh, keep like this for a few days.
I wish you a delicious Christmas and a happy New year!