The cooking traveler: Lebanon
Who says that we can only be in one place at a time? Feeling the need to find a comfort zone in a foreign country, student Ilaria Corti, from Italy, talks about origins and traditions with other international students. All of this over a nice meal from their home country. This time, she 'visits' Lebanon with her friend Ryyan.
Some months ago, an Italian friend spent a research period in Lebanon. She came home with a lot of new experience after living in a refugee camp on the border with Syria for three months, including the sound of the bombs dropped just a few kilometers from where she was settled. She also brought back a lot of stories about Lebanese food, such as the incredible amount of sugar the Lebanese put in their tea, or the delicious and huge dinners she used to have almost every day.
Plus, she gave me a tool to fry falafel, all in the same shape. I couldn't wait to use it for one of my blogs. Surprisingly, a few weeks later, a new colleague named Ryyan was hired in my lab, directly from Beirut. The first day I met him, he immediately discouraged me to make falafel because he is not a fan, but we made up for it soon. I don't know stereotypes about Lebanese people but if even I did, Ryyan would not fit. He seemed very European. I tried to convince him to talk about Lebanese culture, but I got to know that he loves Britney Spears, he got married to himself a few years ago in an official ceremony, and he went to American schools, so he has been exposed to a very international environment for a long time.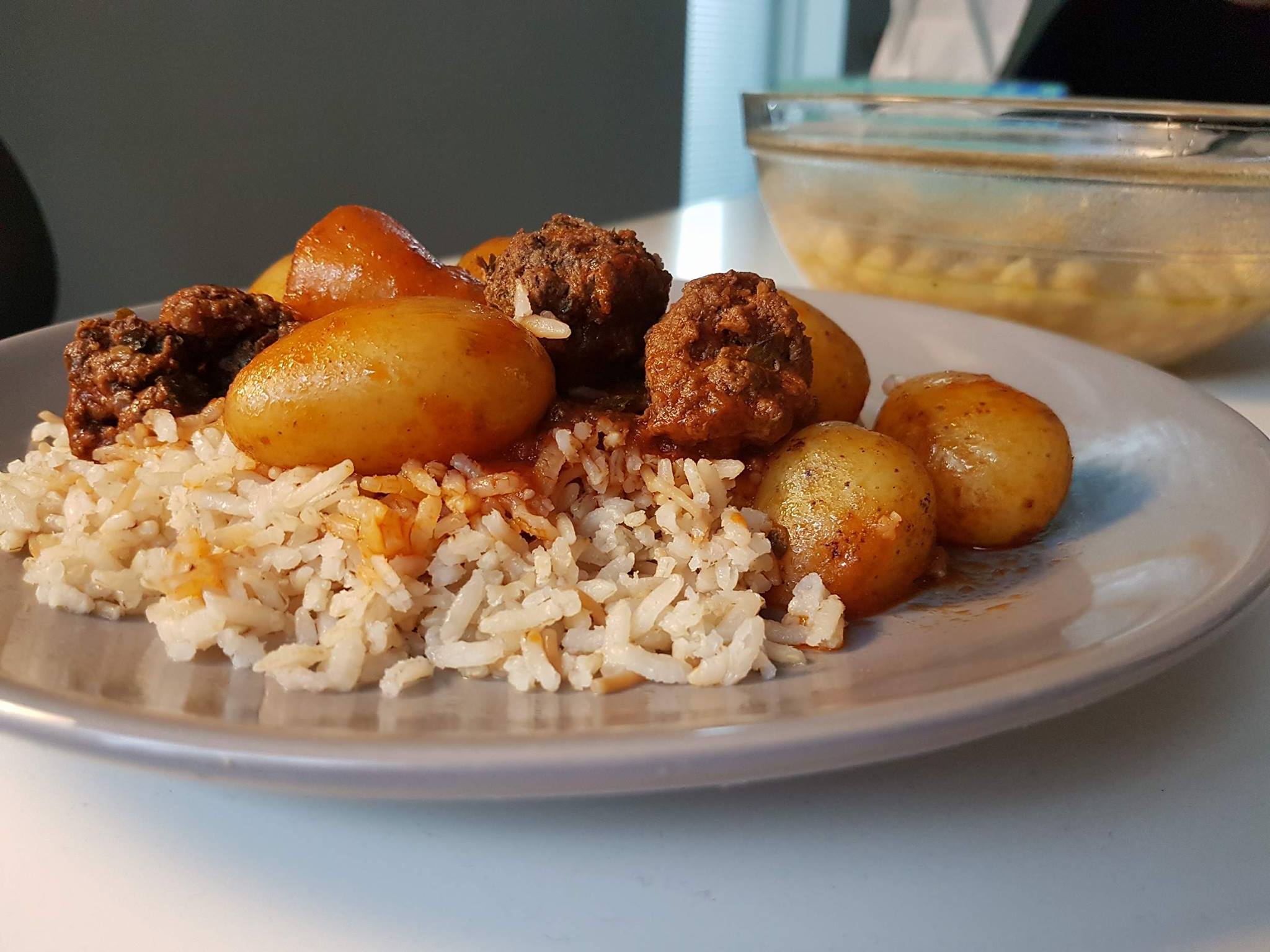 His way of cooking, however, is still very Lebanese and from home he carried an essential mix of spices that are impossible to find anywhere else. One of the main ingredients though is also common in the Netherlands: cinnamon. The dish we cooked together is called Kafta w Battata and I learnt that you can use spaghetti to help you cook a delicious rice. It seems unusual right? Go on with the recipe and you will see!
Here is the recipe for 5 people:
Kafta w Battata
Ingredients
500 grams of minced meat ( generally lamb but pork or beef is also fine)
1 white onion
1 cup of finely chopped Parsley
1 teaspoon of spices (in absence of Lebanese mixture you can use white pepper, cumin, cinnamon and anise)
500 g tomato sauce
400 g little potatoes
500 g brown rice
A handful of thin spaghetti
Extra virgin olive oil
Salt
Procedure
Mix the meat with the parsley, a chopped onion, the spices and a teaspoon of salt. If you have a blender, use it to cut the onions and the parsley. This way, the meat will stick together better.
Make the flavoured meat into golf-ball-sized balls. Cook them in a tall non-sticky pan with olive oil until they are brown all over, but don't stir too much at first otherwise they can be damaged. Once the meat balls are ready, add the tomato sauce and let it cook for 5 minutes. Then put the chopped potato. Cook everything for 40 minutes stirring occasionally or until potatoes are quite soft.
At the same time prepare the rice. Take a medium pot, cover the bottom with olive oil and heat it. Add a handful of thin spaghetti, after breaking them in pieces of about two centimeters. This procedure helps to understand when the oil is ready to fry the rice. When the spaghetti becomes a light brown color, it is time to add the brown rice and stir the mix for a while until the rice also starts to get golden. Then soak it in boiling water and cook for about 15 minutes.
Serve the Kafta on the top of the rice.
Buon appetito!