The cooking traveler: Nepal
Who says that we can only be in one place at a time? Feeling the need to find a comfort zone in a foreign country, student Ilaria Corti, from Italy, talks about origins and traditions with other international students. All of this over a nice meal from their home country. This time, she 'visits' Nepal with her flatmate Prativa.
Do you know when you are fed up with something and for fun you think about a place to disappear for a while? Well, for me that place would be Kathmandu, the capital of Nepal. That's why I was very curious when I met my flatmate Prativa, who is from there. I love hiking so one of my first questions was about the Himalayan chain, where almost all of the highest mountains in the world are. I asked, as a joke, if she ever reached the peak of the Mount Everest, the highest point on Earth. She replied that she stopped 'only' at the very beginning, 4000 meters. Well, that is really a matter of perspective.
Achar
2 big boiled red potatoes
1 boiled tomato
Half cucumber
Lemon juice
Cumin
Turmeric
Sesame + hemp seed mix
Half green chili pepper
In a big bowl, cut the boiled potatoes in little cubes, and do the same for the cucumber and the tomato. Chop the green chili pepper finely and add to the vegetables, together with a quarter teaspoon of cumin, turmeric (mainly to give some color) and sesame + hemp mix. Add the juice of a quarter of a lemon and some salt. Mix everything and serve it warm or cold.
As a dessert, spicy yogurt for 2 people:
100 grams Greek yogurt
1 banana
1 apple
Some cashew nuts
Cardamom
Clove
Honey
In a bowl chop the banana in little pieces, as well as the apple and a handful of cashew nuts. Mix it with the yogurt and put some cardamom and clove powder. Add some honey to make it sweeter.
This yogurt would also be perfect to eat under the Christmas tree for its warm flavours.
I can see that Nepal shares some traits of the Indian culture and some of the Chinese, with them being neighbors. Nepalese speak Nepali as the official language but Prativa says that most of the population speaks Hindi as well, especially because the TV channels broadcasting in Nepal in the past years was only in that language. Nepal moved from being a monarchy to a republic in 2008 and the rise of democratic, socialist and communist parties played a great role in the development of the country. The Nepalese calendar starts in April and many of the festivities are related to Hinduism, the most popular in the country, and to its fascinating mythology. Prativa is also Hindu and her diet is mainly vegetarian. I learnt to recognize when she is cooking because you can sense a special smellin our kitchen, given by some spices she uses like turmeric and cumin: of course I could not avoid to ask her to make something together. Talking about spices, she introduced me to a very interesting mix that I will try to make again, powder of black sesame seeds and hemp seeds. Hemp is a variety of the cannabis plant, but the seeds contain almost no THC, so it is legal to consume them and they also have a very delicate taste.
We used the sesame and hemp mix to garnish a salad which mixes boiled potatoes and cucumber. I have never thought about having cucumber with some cooked vegetables and it's delicious, now I basically cook it every week!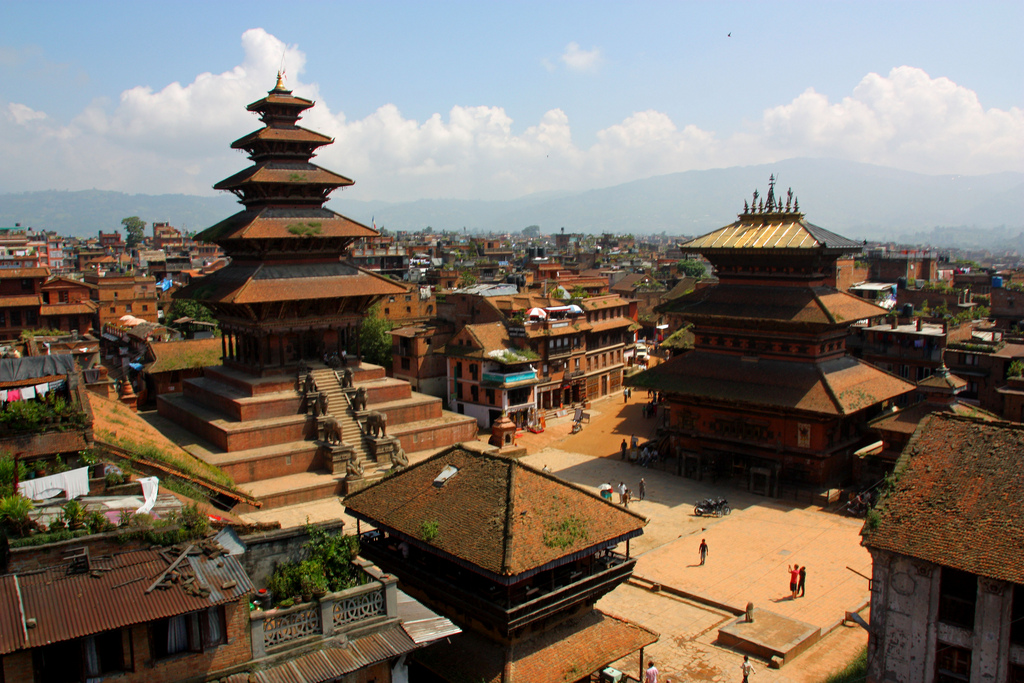 Prativa told me that it's not usual to wish buon appetito before starting eating in Nepal, so just try and enjoy!