Student Miki found shelter with Jelmer thanks to new couch surfing network
Action group Nijmeegse Wooncoalitie is very familiar with the room shortage among international students. To combat the issue, they've set up a couch surfing network. 'It only helps a little; it's certainly not the solution.'
Finding a room in the current housing crisis is already a major challenge, but international students find it even more difficult: they don't speak the language and they don't have a local network to aid them. To help these internationals find temporary housing, the action group Nijmeegse Wooncoalitie came up with a couch surfing network of (former) students who can offer them a place to sleep.
'The housing shortage is a major issue', according to Mo Quirijnen, one of the founders of the network. 'International students are especially affected. The current system has internationals receive temporary housing via the university, but they are then stuck with those rooms until the lease is up, which only deepens the issues.' Consequently, international students are either homeless for a while or pay two separate rents for a period.
Temporary Contracts
'Things are especially dire in August, when a lot of those temporary contracts are up', according to Quirijnen. That is why the Nijmeegse Wooncoalitie came up with the couch surfing network last summer. The concept is very simple: students that don't have a place to stay can sign up, and people offering places to stay can do the same. The action group will then match people up.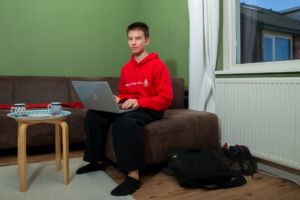 Right now, there are 25 international students on the list in search of housing. Several of them have found temporary spaces via the network. 'But we still need more sleeping spaces.'
'I expected finding a room would be easier'
One of those students is the 19-year-old Miki Marcu from Romania. He recently moved to Nijmegen for the bachelor course Philosophy, Politics and Society. He was unable to find a room in time for the new year, which meant that he was reliant on other people's help. Thanks to the couch surfing network he has been staying with former student Jelmer ('No last name, please') in Malvert since the start of the month.
'I expected finding a room would be easier', Marcu says. He blames himself. 'I didn't know I'd be studying in Nijmegen until very late in the summer, which meant I was late to sign up for room mediation by the university.
The 19-year-old is happy with his present accommodations with Jelmer. 'I get to use the bedroom, while Jelmer sleeps on the sofa in the living room. I'm incredibly lucky in that regard. Although we don't speak a lot, we get along great. We each have our own lives.'
Emergency Housing
However, this luxury won't last. 'We agreed that I would leave at the end of the month', according to Marcu. 'That makes sense, it is his house after all. I've always felt welcome at Jelmer's place, but I can imagine that he needs his own space.'
'Friends have told me that I can stay with them for a few days'
According to Quirijnen, emergency housing for international students, like that in other cities, would be a much better temporary solution. 'But Nijmegen doesn't have that yet. After a few months, the number of people in search of rooms does decline, but that's only temporary; we'll have the exact same issues next summer.'
What's in store for Marcu? After the interview, he messaged saying that he can stay with Jelmer for another month, until November. And after that? 'I have friends who told me that I can stay with them for a few days. At least I'll have a place to stay, but it's far from ideal. I hope I can find a room very soon.'