Swipe till you get thumb cramp
From a quick flirt to a long-lasting relationship: if you're looking for affinity, it's hard these days to avoid dating apps. With a simple swipe of the thumb, you select the people you find interesting enough to have a chat with – or more. The apps are hugely popular among students.
The diversity among dating apps is enormous. Tinder, Happn, Inner Circle, Grindr, Bumble and the newest addition in Nijmegen: Breeze. This is only a small selection of what's on offer in online dating. Every app has its own way of displaying potential matches, but the idea is always the same: you give everyone you fancy a like and then wait to see whether they do the same for you. The students we spoke to confirm our suspicion that dating apps are growing in popularity. Especially during the second lockdown, when the evening curfew was imposed, students reached for their phones for 'a bit of Tinder'.
Radboud University behavioural psychologist Johan Karremans specialises in relationships and understands the apps' popularity among students very well. 'Young adults have so many hormones coursing through their blood that it's logical at this age to be looking for a partner.'
Perfect match
Dating apps are highly suitable for this purpose, he explains. 'People are looking for the ideal partner. And of course, this ideal is different for everyone. But dating apps offer a much wider selection of potential partners, so they increase the odds of finding a perfect match.'
During the COVID-19 pandemic, the popularity of the apps increased further. The Rutgers Centre for Sexual and Reproductive Health and Rights had previously studied the use of dating apps among young adults and adult singles and concluded that the use of these apps has increased considerably since the first lockdown in 2020.
Many students recognise themselves in this description. In particular during the curfew period, they suffered from a lack of social interaction. 'For me Tinder is not so much about looking for a partner,' says a 21-year-old student. 'I mostly use it to get to know new people. Sitting on the sofa and watching Netflix every night gets boring very quickly.'
'Watching Netflix every night gets boring very quickly'
What also helps is the fact that the taboo on dating apps is slowly disappearing. A few years ago, it was still a bit embarrassing to have to admit that you had met your partner on Tinder, but it's become the norm now. Some of the students we talked to said that they knew someone who had found a long-term partner thanks to an app, while two of them met their own current partner online.
Use frequency varies per person: some people check a dating app at night when feeling lonely, while others swipe many times a day on different apps. 'I've tried pretty much everything,' says a 25-year-old student. 'I found the differences between the apps particularly striking: you really meet different kinds of people on different apps.'
The reasons people give for using Tinder or other dating apps vary greatly. Clearly not all students are looking for a long-term relationship. Below we list the four main reasons.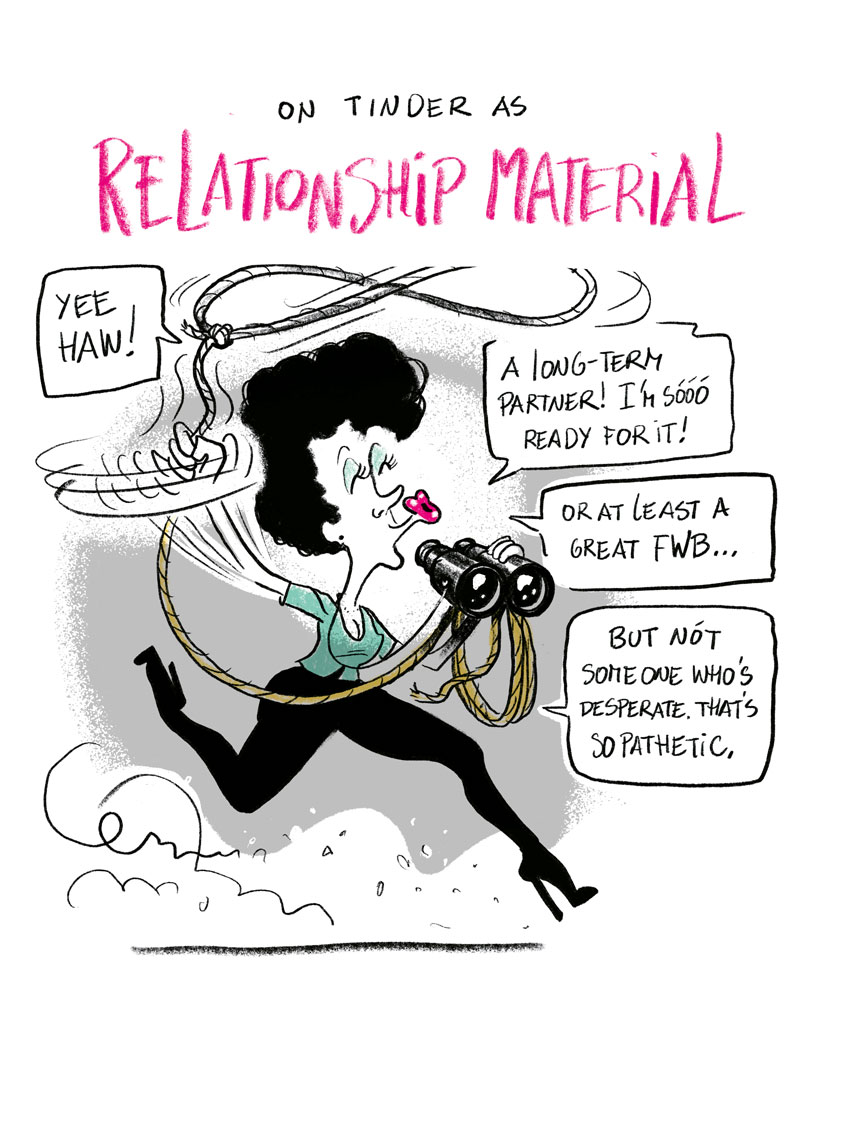 1. Looking for a long-term relationship
The most frequently given reason for using dating apps is obvious: finding a long-term partner. 'I downloaded Tinder because many of my friends were in a long-term relationship and I increasingly felt that I was ready for it too,' says an 18-year-old student. She's certainly not the only one: most of the students we interviewed indicated that they were looking for someone to date or a long-term partner.
It's logical, says behavioural psychologist Karremans, who looks for the explanation in human biology. 'Students are at an age when they're sexually ripe and looking for intimacy and sexual contact. The dating apps increase their chances of finding a successful relationship – in the broad sense of the word. They simply offer relatively more choice. Tinder is sometimes portrayed as a vulgar meat market, but there's nothing vulgar about it: it's quite normal, at least from a biological point of view.'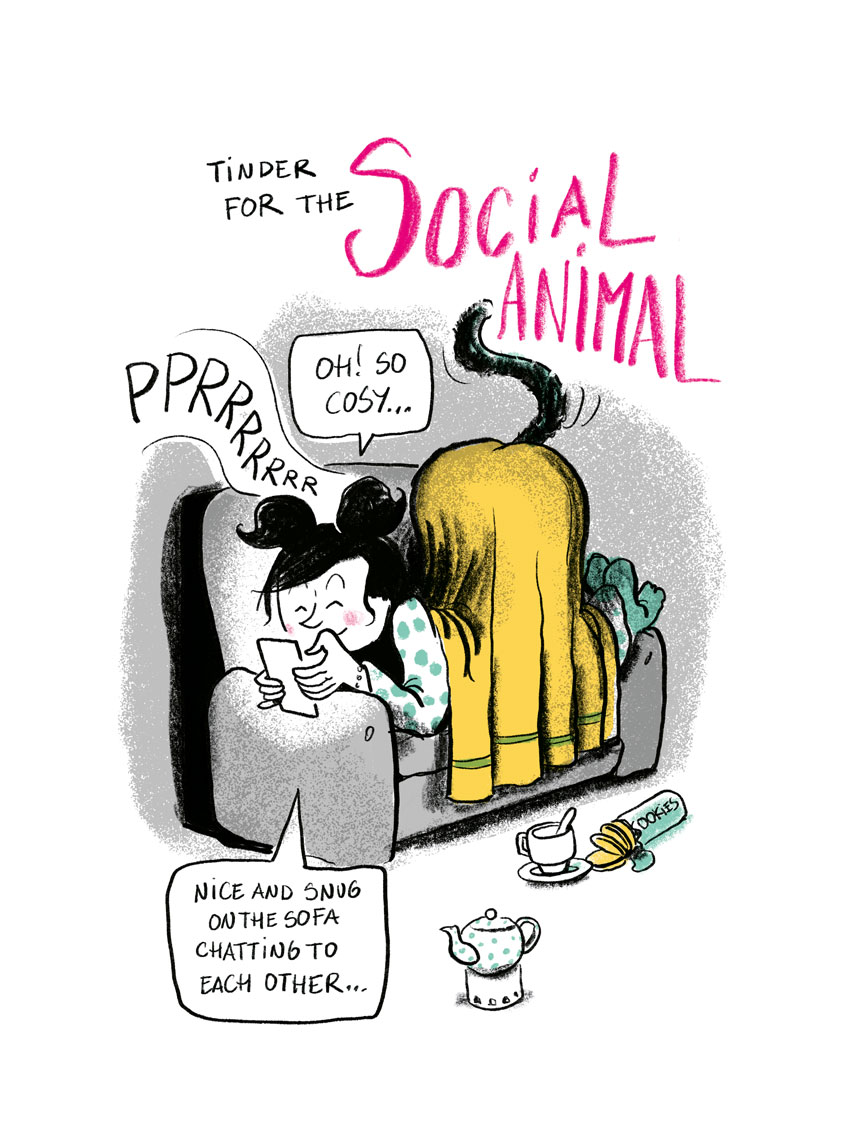 2. Social contact
Humans are social creatures. Contact with others is part of that, in whatever form. 'I mostly use Tinder to have fun conversations,' says a 23-year-old student. 'I enjoy the click with the other person, and I'm not so concerned about whether it will turn into a date.' Another student confirms this. 'Especially when I'm sitting on the sofa in the evening, I want to talk to someone. At times like this, a low-threshold app like Tinder makes it easier.'
'It differs from person to person,' adds Karremans. 'Extroverted people are more naturally inclined to seek contact with others. For them, it's a relatively small step to start using a dating app. But they also would have no trouble starting a spontaneous conversation in a bar or at work.'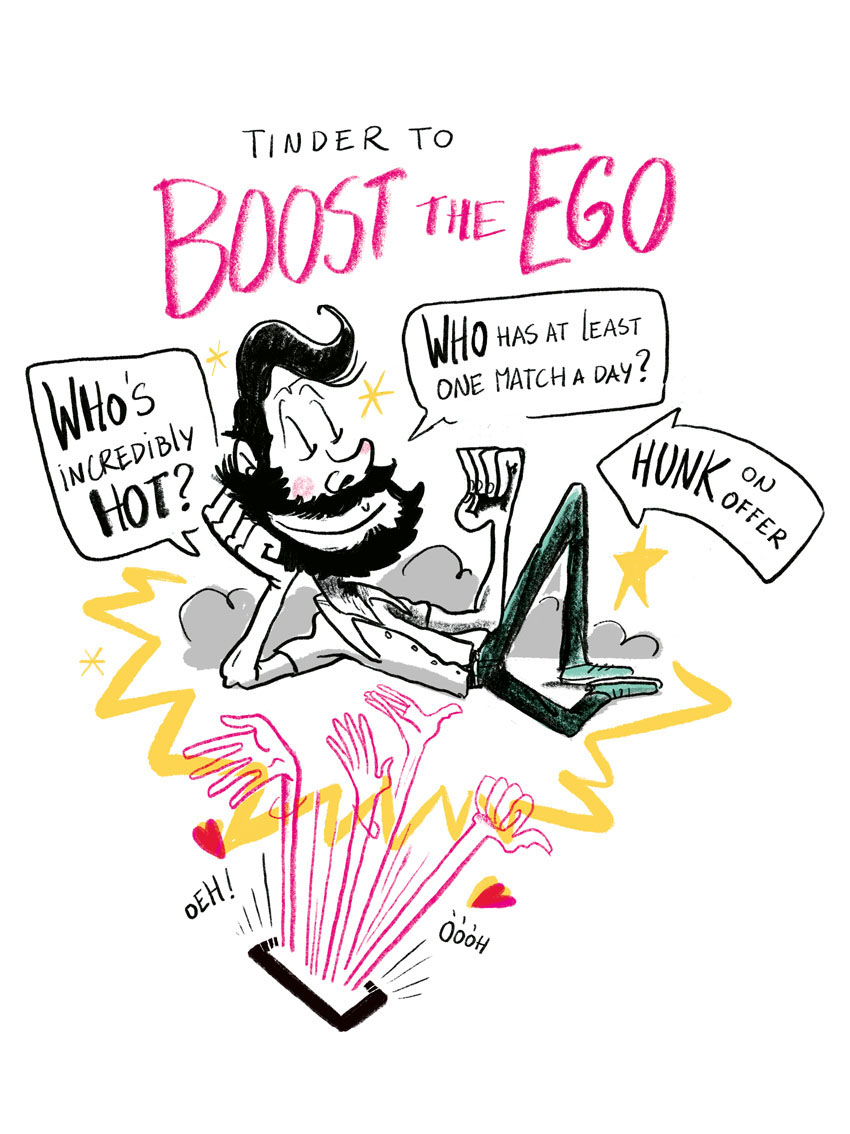 3. Ego boost
Who doesn't want people queuing up for them? Although few would admit it, having lots of matches is very pleasing to the ego. 'I really enjoy seeing how many women are interested in me,' admits a 25-year-old student.
'But there's more to it than just an ego boost,' says behavioural psychologist Karremans. 'It's also about assessing your value on the market. This may sound obvious, but it's how it works. When looking for a partner, we consciously or unconsciously look for people who fall within our 'league'. Clearly, it's much easier on an app than in real life.'
Some apps make use of different 'leagues'. The algorithm ensures that you generally see people who get approximately as many likes as you do, which increases the chances of a match. This is incidentally not the case for all apps.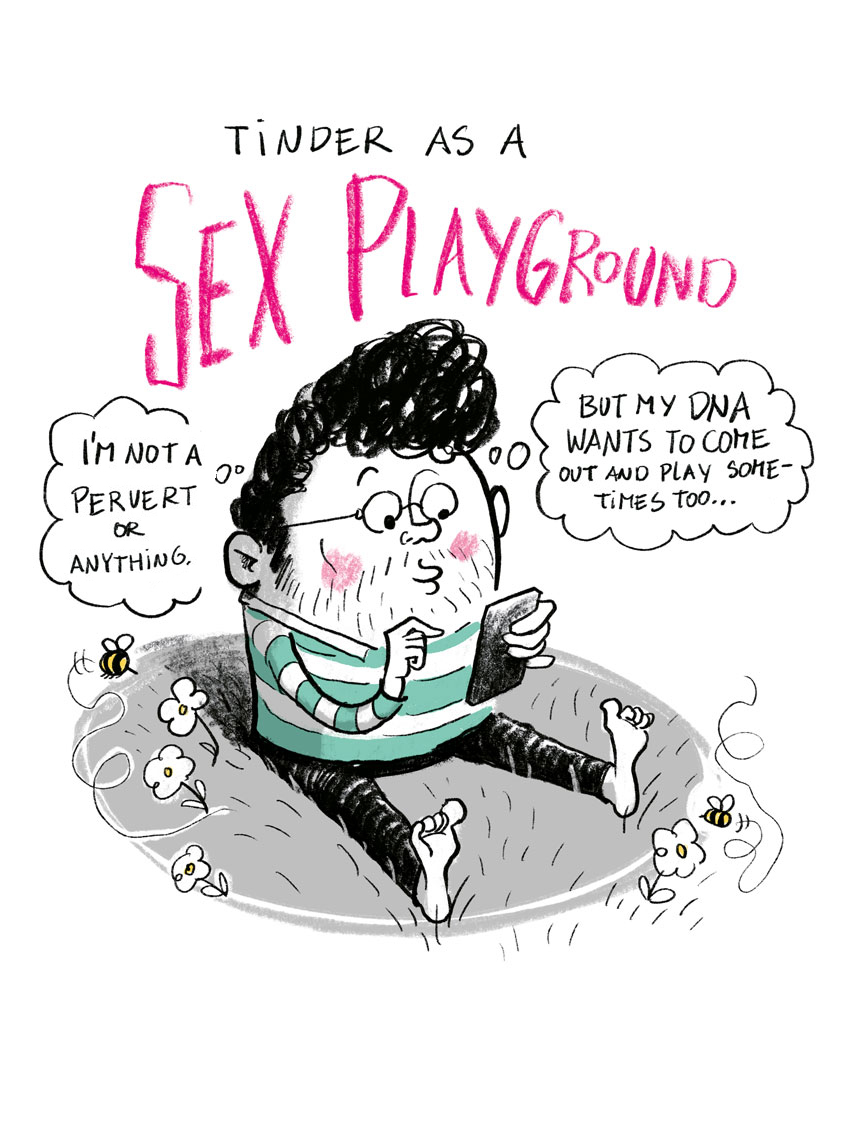 4. Looking for sex
It may still be a little taboo, but sex is definitely an important reason for using dating apps. Some people are looking for an ONS or FWB (for older readers: 'one-night stand' or 'friend-with-benefits'). In other words: a quick fuck or a sexual relationship. Of the students we spoke to, no one said they use the app for this purpose, but the majority knew someone who did. The difference also lies in the app people use. Some apps focus on romantic dates or social contacts, while others centre more on physical dates and sex.
Karremans: 'Biologically, sex is about reproduction. A relationship is a long-term investment, and some people prefer to have lots of sex with different partners. You can see it as a reproductive strategy. As evolved human beings, this isn't something we consciously admit to, but our underlying biological drive still work this way. And dating apps are very convenient in this respect.'
Dating apps for dummies
All dating apps are more or less based on the same principle. You create a profile and set a few preferences like age, gender and distance. You are then shown profiles of people that match your criteria. You swipe profiles left (no like) or right (like).
If two people like each other, there is a match and they can talk to each other.
Tinder. By far the most popular app. Created approximately eight years ago and the first dating app to really become famous. Who doesn't know the logo with the little red flame?
Happn. In this app, you see matches whom you have met in real life. The app keeps track of your location and if you are in the vicinity of someone with the app, this person will appear on your list of profiles.
Bumble. The same idea as Tinder, except that women have to make contact first if there is a match
Grindr. Also the same as Tinder, but for homosexual men. The equivalent for women is called Her.
Feeld. This app allows you to fill in much more information about your gender and sexual orientation, which gives it a more sexually open character. In part thanks to this, Feeld is also popular with couples and the BDSM community.
Breeze. New in Nijmegen. In this app, you don't talk to a match first, but you go on a date immediately. Note: Unlike the other apps on the list, this one is not free of charge.