Tim Hofman surprised by lack of code of conduct at university: 'Everyone: email the rector!'
During a Q&A on student wellbeing at Radboud Rocks, journalist and presenter Tim Hofman urged all students to send an email to rector magnificus Han van Krieken about the code of conduct of the university. 'If someone has something to say about Paul Bakker, call me.'
'If I go home tonight with my jaw intact, then that is a job well done', Tim Hofman jokes during the start of the conversation on student wellbeing at the Pieter Bondam square, which is completely filled with students. The journalist and presenter referred to an episode of BOOS in which he got hit by the son of real estate tycoon Ton Hendriks after he walked into their offices with a confetti cannon.
The Voice
At this edition of Radboud Rocks, Hofman is the main guest. Hofman is known because of his YouTube series BOOS, in which he helps people who have been wronged. The episode in which he exposed the sexual misconduct by jury members of The Voice of Holland, was viewed over ten million times.
At the beginning of the interview, Hofman, who is being interviewed on stage by historian Lema Salah, tells us that he 'failed Olympically' in his student days. 'I studied for four years at three universities, accumulated a 40.000 euro study debt and passed one course. But I am proof that things can also work out without a diploma.'
'I'm surprised you haven't burned down The Hague yet'
During his time as a student, Hofman suffered from mental problems, he said. 'I needed someone to ask me how I was doing, to tell me not to be so afraid. I was a hypochondriac, and it was only after a year that I realised that was a thing.'
Hofman was also open about an anxiety disorder and depression, which he suffered from in the past. 'That is part of who I am', he said. 'Just like I go to the hairdresser in the hope that he will do my hair well, I also go to the psychologist.'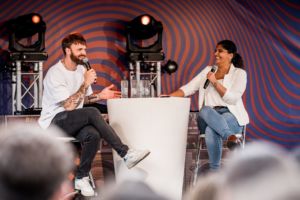 Moderator Lema Salah brought up a major student wellbeing survey from 2018, which showed, among other things, that many students feel lonely and suffer from performance pressure. 'Due to covid, that has only gotten worse', Salah said. 'How can we address that?' According to Hofman, there is only one solution for students: all of you go to the House of Representatives. I'm surprised you haven't burned down The Hague yet. Only the government can change this, they are responsible. You should all be on the train now, to make a fist.'
Code of conduct
Hofman received many questions from the audience about the situation at Radboud University. 'If someone has something to say about Paul Bakker, call me,' Hofman responded with a quip. He was referring to the professor who is still not allowed to teach at the university, after reports of inappropriate behaviour within the Faculty of Philosophy, Theology and Religious Studies.
Whether in a music competition, the media, politics or at the university: according to Hofman, power structures work the same everywhere. 'People acquire power and then abuse it. Sometimes consciously, sometimes not. We still have to take many steps in this direction.'
'You should see how quickly it is arranged if you send 250 emails a day'
When he heard that there was no general code of conduct at Radboud University, his face showed surprise. 'That's the trouble, because it means that you don't instruct the person in power how not to abuse his power.' At RTL and Talpa, too, there was probably no code of conduct, Hofman pointed out, after which the abuses at The Voice could occur.
Emails
Members of the University Student Council who were present at the time tried to make it clear in the hectic rush of the moment that talks with the Executive Board about a code of conduct to be adopted have been going on for almost the entire year. For the time being, the University's Works Council, which has the right of consent to the code, does not agree with the document before it. One of the points of contention last year was that it was not made clear enough that a sexual relationship between a student and a lecturer is unacceptable.
'Where is your rector?', Hofman asked the audience, after which he called upon the students present to send an e-mail en masse to the rector on Friday – the day after Ascension – with the request to get a code of conduct in order. 'That works! You should see how quickly it is arranged if you send 250 e-mails a day.'
Isabelle Kik and Rizka Simons, respectively the president of AKKUraatd and the president of the USR, were happy with Hofman's call after the Q&A. 'But we're also a bit anxious', says Kik, 'because we don't know how the Executive Board will respond to this. Normally, we as a student council work in a very decent and diplomatic way. But our possibilities are starting to run out. Something has to happen. Hopefully this will help.'